Posts Tagged 'Karachi Pakistan'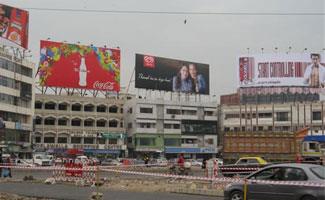 | | |
| --- | --- |
| KMC Administrator Karachi Shoaib Ahmed Siddiqui said the campaign of removal of illegal hoardings in the city was underway and will continue till the removal of all such boards. He also directed that the removal of illegal hoardings be speed up further. Inspecting the removal of illegal hoardings at Karsaz Road and near Hassan Square he instructed local taxes department to remove all those advertisements for which the concerned parties have not paid the advertisement fee. He said no illegal or unlawful practice will be tolerated in the city. He also directed all KMC departments to ensure performing their duties in accordance to the rules and regulations. | |
| | |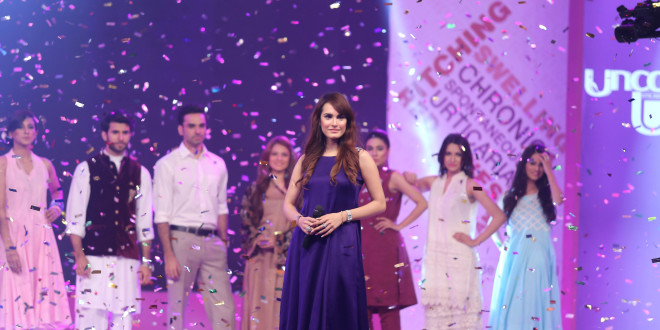 The group of prominent doctors and show biz personalities have organized an evening of science and art coming together to spread awareness about a debilitating skin condition known as Urticaria in collaboration with Novartis Pharma Pakistan recently. The presentation had the presence of people from different walks of life including showbiz galaxy, renowned dermatologists across the country, eminent celebrities, social organizations and media personnel. Secretary Information Sindh, Dr Zulfiqar Shalwani was the chief guest while Salma Kausar-Senior Medical Director of KMC, Country President Novartis Shahab Rizvi also graced the occasion. The event aspires to help improve patients' quality of life via dispersing an understanding of Urticaria through live performances and expert discussion. The live performances, beautifully choreographed to highlight the effects Urticaria has on social and professional lives of the victims, entailed a piece by Joshinder Chabbria, a real doctor patient interaction, and a theatrical ramp show lead by famous Model & Socialist Nadia Hussain. Each segment elaborates various aspects of a typical Urticaria patient's ordeal. Chronic Spontaneous Urticaria (CSU) is a severe form of skin allergy prevalent in Pakistan, which may affect anyone at any time.
It was highlighted that the effects of CSU are more than skin deep. Alongside the distressing physical symptoms, CSU can be a great psychological, social& economic burden.CSU's spontaneous nature may leave people living in isolation due to fear of unpredictable outbreaks.The highly interactive expert forum included discussions exploring the issues pertaining to Urticaria.Highly respectable dermatologists namely Dr. Shahid Abbas, Dr. Azer Rashid, Dr. Iqbal Tareen, Dr. Pervez Iqbal, Dr. Badar Dhannani , Dr. J I Bhatti, Dr. Afzal Lodhi, Dr.Hatim Ali Shah, Dr. Faisal Khilji, Dr.Sharf Ali Shah, Dr. Atif Kazmi, Dr. Saeed Haneef, Dr.Azeem Jahangeer , Dr. Haseeb Sajjad, Dr. Ijaz, Dr.Uzair Qureshi, Dr. Tariq Zaman, Dr. GM Cheema, Dr.Najia Ashraf,among others shared their valuable insights. The 1st ever patient group – The 'U within Association', also attended the event with innovative activities to promote public awareness about urticaria. The evening's finale was a great song dedicated to the Urticaria patients by the very famous Music Icon Natasha Baig and Pakistan Idol runner-up Sajid Khan. An interactive Q&A session all about Urticaria was also arranged in which eminent dermatologists shared their insights. The evening's finale was a great song dedicated to the Urticaria patients by Natasha Baig and Sajid Khan.
The event was well-attended by the people from different walks of life including famous film and TV artists, renowned doctors, well known social and health workers besides social organizations and media personnel. Mr. Zulfiqar Shilwani – Information Secretary Sindh and Dr. Salma Kausar – Senior Medical Director KMC participated as the guests of honour on the occasion. Mr. Shahab Rizvi – Country President Novartis welcomed the guests to the show.
Headquartered in Basel (Switzerland), Novartis has core businesses in pharmaceuticals, vaccines, consumer health, generics, eye care and animal health. The company employs nearly 115,000 people in over 140 countries worldwide to help save lives and improve the quality of life. The Group is present in Pakistan through Novartis Pakistan Limited.
Pakistan Council for Science and Technology (PCST), Islamabad has declared Prof Dr Muhammad Iqbal Choudhary, Director International Centre for Chemical and Biological Sciences (ICCBS), Karachi University (KU), the most productive scientists of Pakistan.
Dr Iqbal Choudhary was selected from around 1700 productive scientists of Pakistan. Under the umbrella of ICCBS, Dr. Iqbal Choudhary also heads HEJ Research Institute of Chemistry, KU and Dr. Panjwani Center for Molecular Medicine and Drug Research, KU.
The PCST, in its recent directory titled "Productive Scientists of Pakistan 2013-14", has ranked the KU scientist the top among 1700 productive scientists of Pakistan, employed in public/private sector Universities, colleges and R& D organistions, who have contributed in research, supervision of students and any other productive work during the period 1960-2013-14.
An official of the ICCBS said that the scoring system takes into account different factors from which the academic status and output of scientists and engineers is judged. These include research publications at national and international level, books written or edited, supervision of PhD, MPhil or MSc students, international awards, research grants won, impact factor of the journals in which the research papers were published, citation figures for the papers that were published in science citation index. As per the said criteria, in the field of chemistry, Dr Iqbal Choudhary has lead over 1700 productive scientists of Pakistan, he said. It is also pertinent to mention here that six more scientists of ICCBS-KU are included among the leading productive scientists of the country in the field of chemistry. The names of these scientists included Dr. Syed Ghulam Musharraf (17th rank), Prof. Dr. Atta-ur-Rahman, former Chairman of the Higher Education Commission Pakistan (20th), Dr. Zaheer-ul-Haq (24th), Prof. Dr. Khalid Muhammad Khan (28th), Dr. Muhammad Raza Shah (52nd) and Prof. Wiqar Uddin Ahmed (92nd).
Vice Chancellor Karachi University (KU) Prof Dr Muhammad Qaiser has congratulated these scientists on their great achievements.
Edit or Expand
Geo News senior anchor and renowned Pakistani journalist Hamid Mir was injured in a targeted-shooting here on Saturday evening.
Hamid Mir was heading to the Geo News office when his car was targeted by gunmen as it left the Jinnah International Airport on Shara-e-Faisal near the Natha Khan Bridge. The senior anchor was shot three times and was rushed to a private hospital where he underwent an operation.
Dr. Aamir Liaquat Hussain told Geo News that the operation was successful and prayed for Hamid Mir's quick recovery.
Gunmen in a car and riding two motorcycles opened fire on Hamid Mir's car a few kilometers away from the Airport police station.
Karachi police chief, Shahid Hayat said Hamid Mir has been shot thrice; one bullet has pierced his intestine while the other two have wounded his leg and pelvic area. Hayat added that a committee had been formed to probe the attack on Hamid Mir.
Geo News Islamabad bureau chief, Rana Jawad said Hamid Mir spoke to him after the attack and said the gunmen followed him and continued to fire on the car.
Speaking to Geo News the driver of the car said a single attacker had opened fire and targeted Hamid Mir.
The attack has been condemned by politicians including Prime Minister Nawaz Sharif. Following the attack journalists held protests in several cities of the country and called for an inquiry.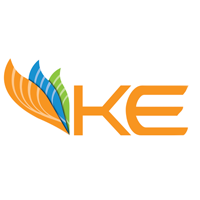 K-Electric has, in a Press statement issued on Wednesday, released details of its reply to a recent show cause notice from the National Electric Power Regulatory Authority. KE's reply pointed out that the notice had been based upon NEPRA's unproven assumption by applying an isolated incident of unauthorized emails upon the huge distribution territory of KE which was not supported by facts and which is against ethics.
KE rejected NEPRA's show cause notice which was merely based upon speculation and was outside the provisions of the NEPRA Act and regulations and hence unlawful. The notice wrongly claimed that KE had been indulging in bogus billing and the utility withheld material facts on the directions of senior management. The press statement clarified that the alleged incident of overbilling never took place as it was unearthed and stopped by KE at a very initial stage.
The alleged incident involved an ex-employee from one out of four regions of KE, who had issued mischievous and unauthorized emails to his colleagues and superiors. However, through quick and pre-emptive measures taken soon after the said emails were sent, KE management prevented the unauthorized move to materialize and no excessive bill was ever actually issued whether in the same region or outside. Therefore, the said allegations were preposterous and not based on any facts or documents. It was merely conjecture and surmise based on ignorance and misunderstanding which NEPRA should have cleared before passing such statements in its show cause notice.
KE said that NEPRA had fell victim to negative campaign spread by vested interests against the power utility and its private management. KE clarified that it had never authorized the said ex-employee to take the alleged action and had suspended him and conducted an enquiry to determine the facts. It was found out that the said person had breached KE's employee code of conduct. In turn, the ex-employee, Shoaib Siddiqui, had tendered his resignation.
KE was consulting its legal advisors with regard to the preposterous claims and exorbitant fine of up to Rs. 100 Million that NEPRA was seeking to impose on KE without any basis in fact or law. In pursuance of such legal advice, KE had filed its suit before the Honourable High Court of Sindh challenging NEPRA's show cause notice for failure to follow due process and other failures relating to openness and transparency in the manner in which NEPRA had conducted its hearings and enquiry. The Honourable SHC had on March 26, 2014, issued notices to NEPRA and had clearly said that NEPRA was not to make any final orders in the matter without the permission of the Court. Needless to say, KE would be defending its position before NEPRA on the merits.
In the suit, KE had alleged that NEPRA had breached its own rules of procedure and had acted in a one sided manner without lawful justification and in reliance on unsubstantiated conjecture, rumour and speculation which was not permitted under the provisions of the NEPRA Act and its Fines Rules 2002.
NEPRA had already conducted a public hearing on the same issue in Karachi in early June, 2013 but had on one pretext or another, never released its findings and has instead privately met with vested interests or individuals having a grudge against KE over the last 6 months without intimation to KE which is contrary to NEPRA's own rules and regulations.
KE clarified that NEPRA was acting without any just cause and was pursuing a vendetta against KE's senior management at a time when KE was suffering a liquidity crunch due to non-payment of receivables by the Federal Government amounting to over Rs. 80 Billion, out of which over Rs. 27 Billion was owed by the Federal Government on account of KWSB and other entities controlled by the Government of Sindh.
KE prides itself on its turnaround management and it has created checks and balances within its system to ensure that its bills are issued in accordance with meter readings and consumers can check their billing history online without any problem. Meter reading is efficiently done in the field and the bills are duly issued in accordance with the said data which can be double checked by all consumers. In the odd circumstances where meter reading is not possible due to law and order situation etc, the bills are issued in accordance with NEPRA rules and regulations.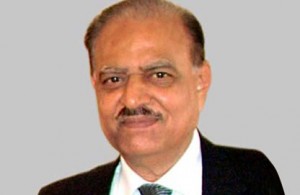 The Chief of Muttahida Quami Movement Mr Altaf  Hussain has extended heartiest felicitation to PML(N) candidate Mr Mamnoon Hussain to get elected as new President of Pakistan with heavy majority during presidential elections.
In a statement Mr Hussain expressed the hope that newly elected President of Pakistan will play his pivotal role for the promotion of national integrity, stability of the democracy, economic improvement, curbing of terrorism, establishment of better relations among the provinces, ending of load shedding, for resolution of all the problems related to common folk and providing justice to all the masses across the country.
Mr Hussain said that Mr Mamnoon Hussain is not the President of one party or any specific community but he is the president of the whole Pakistan, he is both the President for those who voted for him and even for those who did not vote for him, thus it is expected that as a President he will treat everyone equally.
Mr Hussain said Pakistan is facing numerous challenges both internally and externally and is going through the most crucial stage of the history, thus it is the need of the time that all patriotic parties of the country should show unity for the integrity and sovereignty of the country by keeping aside all their political interests. He urged all the political forces of the country to work for the progress and prosperity of the country so that democracy could be promoted in the country and democratic institutions could get strengthen
Mr Hussain offered heartiest congratulations to Prime Minister Mohammed Nawaz Sharif, Chief Minister Shahbaz Sharif, all the leaders of Muslim League, all the leaders of religious and political parties, workers and peoples across the country over the victory of PML(N) candidate in presidential elections.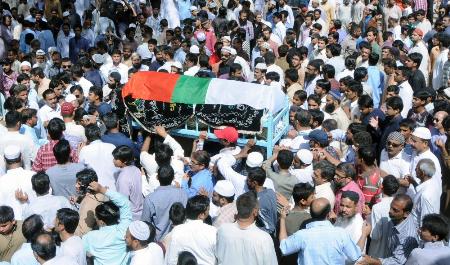 Former organizer of APMSO Sector B Syed Shiraz Azfar was laid to rest today in Shuhada Graveyard in Yasinabad. He was gunned down by armed terrorist near Payala Hotel. The funeral prayer was offered in Jama Masjid Gulberg FB Area Block 12 after the Friday prayer. Members of the MQM Co-ordination Committee Waseem Aftab, Wasay Jalil, Tauseef Khanzada and Saif Yar Khan, office-bearers of the Karachi Tanzeemi Committee, APMSO and various wings of the MQM working at Nine Zero, former MNAs, MPAs and a large number of workers belonging to the FB Area Sector attended the funeral.
The funeral prayer of the personnel of the City Warden Naseerullah was offered in Adil Jafri Shaheed Ground. He was also buried in the Shuhada Graveyard. Members of the Co-ordination Committee and office-bearers of the Karachi Tanzeemi Committee of the MQM attended the funeral of Naseerullah.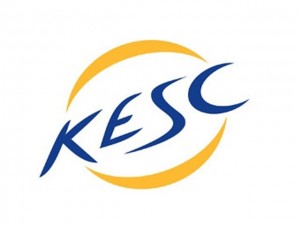 Karachi Electric Supply Company has asked the defaulters of Khawaja Ajmer Nagri to stop the illegal use of electricity and pay their outstanding dues accumulated to the tune of Rs. 9 crore 81 lakh instead of creating undue law and order situation.
KESC said that the violent attacks by defaulters on the power utility's local offices were unlawful and their demand of power restoration was non-practical and unjustified as losses ratio in the area had been more than 72 per cent and bill payment ratio was less than 37 per cent which meant that most of the 2900 consumers were defaulters. The 22 kunda-infested PMTs linked to Ajmer Nagri feeder had been burning down time and again because of overloading and these could not function until the illegal pressure of kundas was removed from them.
Before taking action against the defaulters, KESC had invited the representatives of the area and informed them of the situation of high losses and low recoveries.  They were told that such huge financial losses had been blocking the way of regular maintenance of power supply system in the area. KESC arranged recovery and consumer facilitation camps in the area, invited easy legal connections to get kunda users at their door steps and displayed announcement banners on the high loss PMTs. However, the defaulters failed to offer any positive response.
KESC called upon the saner elements of the area to prevail upon the defaulters who had been taking law into their hands instead of rectifying their mistakes. The defaulters needed to clear their dues, stop using electricity through illegal means and refrain from using pressure tactics.
Unidentified armed men shot dead college principal within the vicinity of Liaquatabad police station, Geo News reported.
Sources said college principal Sibt-e-Jaffar was on his way from the college to his home on motorcycle, when unidentified armed men intercepted him in Liaquatabad area and opened fire, killing him on the spot.
Meanwhile, The Shia Ulema council has announced three days of mourning and demanded that the killers be arrested immediately.
Sindh Professors and Lecturers Association (SAPLA) has also announced to shut colleges on Tuesday against the killing of Sibt-e-Jaffar. (The News)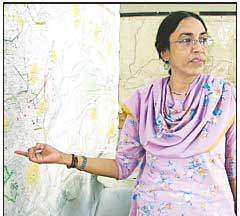 Prominent social activist, educationist and director of Orangi Pilot Project (OPP), Parveen Rehman was shot dead near Banaras flyover within the jurisdiction of Pirabad police station on Wednesday. According to police, gunmen riding motorcycles shot her while she had been traveling from Orangi with her driver. She was shifted to Abbasi Shaheed Hospital (ASH) where doctors pronounced her dead. The motive behind her murder remains unclear but the incident appears to be a case of targeted killing, say officials investigating the case.
The fifty-year-old had been serving in the Visual Studies department at the University of Karachi. In addition to that, she was the director of Orangi Pilot Project and had been instrumental in devising ways to deal with sanitation problems. Rehman headed a research centre in Orangi, a section of Karachi and also taught students of Architecture College. Governor Sindh Dr Ishrat-ul-Ebad took a notice of the killing and termed it an inhuman act. Dr Ebad also directed the law enforcement agencies to acquire and examine the footages of CCTV cameras installed at all entry and exit points close to the crime scene. The governor also directed IG Sindh Ghulam Shabbir Shaikh to submit the report of the incident.
Meanwhile, MQM chief Altaf Hussain condemned the murder and said tercrorists were targeting important personalities in order to achieve their nefarious designs. He said Rehman was a highly capable woman and her public services could never be forgotten. He demanded of President Asif Ali Zardari, Prime Minister Raja Pervaiz Ashraf, Interior Minister Rehman Malik, Governor Sindh Dr Ishratul Ebad and Chief Minister Sindh Syed Qaim Ali Shah to take immediate notice of the brutal killing of Ms Rehman. He said that the terrorists responsible for her killing should be brought to justice. Colleagues of the deceased say she will be remembered as a committed social worker as well as a brilliant teacher.  (DT)