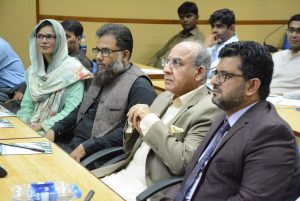 The Quality Enhancement Cell (QEC) of Sindh Madressatul Islam University organized a workshop on Practices of Post Graduate Program Reviews in HEIs on June 16, 2023. Dr. Jawaid Akram, Director of QEC at the University of Karachi was the keynote speaker. The workshop aimed at to share the essential knowledge and insights with the faculty members to conduct effective program reviews for post-graduate programs in higher education institutions (HEIs).
Dr. Saima Baig Director QEC, SMIU welcomed the guest speaker and emphasized on the importance of assessment activities which have been set by the QAA-HEC as key performance indicators for universities.
Dr. Jawaid Akram with his extensive experience and expertise in the quality assurance, delivered a compelling presentation that emphasized the significance of post-graduate program reviews in ensuring academic excellence and continuous improvement. Dr. Akram also discussed the best practices for conducting comprehensive program reviews. He highlighted the importance of aligning program objectives with national and international standards, engaging stakeholders, and utilizing feedback from students and other relevant parties. Additionally, he shed light on various assessment tools, methodologies, and techniques to evaluate program outcomes effectively. The workshop encouraged active participation and engagement from the faculty members. The interactive sessions and group activities facilitated a collaborative learning environment where participants shared their experiences, challenges, and insights related to program reviews. This exchange of ideas fostered a rich and productive discussion that added depth to the workshop.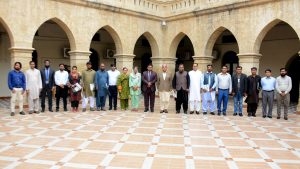 The Honorable Vice-Chancellor Prof. Dr. Mujeebuddin Sahrai Memon expressed his appreciation for the workshop during his concluding remarks. He commended the efforts of the Quality Enhancement Cell in organizing such a valuable session. The Vice-Chancellor acknowledged the significance of post-graduate program reviews and recognized the workshop as a vital activity in enhancing quality of education at Sindh Madressatul Islam University. He further emphasized on the importance of research culture in the university as he said that the beauty of any HEI lies in its post graduate programs and research work. He added that SMI University has been setting its benchmark in research work and has recently organized on of its kind Global Research Conferences to encourage research culture. He further encouraged the efforts of all stakeholders who have been striving to launch new graduate & post graduate programs in the university. Lastly, the Vice Chancellor regarded the efforts of guest speaker and conveyed that such events should be arranged in future as well.
The session was attended by Deans, Chairpersons and faculty members of SMIU. Vice Chancellor Dr. Mujeeb Sahrai gave away certificates to the participants also.