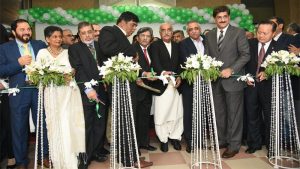 The Expo Pakistan 2017 was jointly inaugurated by Commerce Minister Pervaiz Malik, Leader of Opposition in the National Assembly Khurshid Shah, Sindh Governor Muhammad Zubair and Sindh Chief Minister Murad Ali Shah at the Karachi Expo Centre on Thursday.
The event is organised by the Ministry of Commerce and Trade Development Authority of Pakistan (TDAP). Expo 2017 is a flagship trade event of the government of Pakistan where select buyers from around the world are invited to visit Pakistan and meet their business partners in the country; and see for themselves whole range of produce made in Pakistan to meet their procurement needs. This year, 775 foreign buyers/importers are visiting from 70 countries to participate in the event.
This year Pakistans leading brands like Chen One, Sitara Textile, AHAN, State Life Insurance, ARY Jewellers, Pakistan Stone Development Company (PASDEC), Pakistan Software Export Board, Big Bird, Japan External Trade Organization (JETRO), Pakistan Hosiery Manufacturer Association and others set up their stalls at the expo. Fashion Council Pakistan along with top designers including Amna Aqeel, Amir Adnan, Deepak Perwani, Huma Adnan, Hassan Riaz, Maheen Khan, and Mohsin Saeed showcased their latest collection at Expo Pakistan.
Ambassadors of Pakistan from Tunisia, South Africa and Azerbaijan lead business delegations from these countries for the Expo 2017. After the inauguration, Pervaiz Malik, Khurshid Shah, Muhammad Zubair and Murad Ali Shah took a round of the expo and met with different exhibitors and saw their products.
Afterwards, Commerce secretary along with TDAP secretary held meetings with business delegates from Germanys Metro Group, British High Commission, Ali Baba and China. Also, meetings of different delegations were held with top businessmen of Federation of Pakistan Chambers Of Commerce, Industry and Karachi Chamber of Commerce & Industry and businessmen of other trade sectors. The exhibition will conclude on November 12.