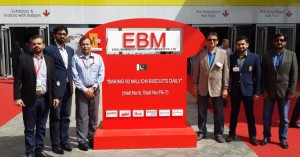 EBM recently participated in the Gulfood Exhibition held in Dubai and is by far the most robust Pakistani company representing the country preeminently at all fronts.
Gulfood Exhibition held at the Dubai World Trade Center attracted exhibitors from across all continents and housed over 90,000 buyers where key trends and topics driving the industry were discussed among industry leaders. EBM as a result of its leadership role surfaced as the first Pakistani company to make its mark on key fronts thus enabling a strong recall and facilitating the company to be highlighted at the global arena. Meanwhile, the exhibition served as a platform to support EBM's quest for expansion at the international level given its already firm establishment and fame at local grounds.
The company has already enhanced its operational capability to meet demand beyond local consumption, thereby exporting products to more than 25 countries around the world including USA, Europe, and GCC region.
"We have brought EBM at par with international quality standards and intend on making it a globally recognized brand that takes pride in being the largest exporter of biscuits from Pakistan as we holistically envision a brand name that translates into quality, trust, and nourishment for our consumers around the world," said Dr. Zeelaf Munir, Managing Director & CEO, EBM.
EBM was the only Pakistani company that was present on most sought after locations at the Gulfood Exhibition and hence a means of promoting the Pakistani heritage and origin. The overall response that EBM received from potential buyers was phenomenal. EBM's commitment to go global while remaining true to its roots is being served by keeping abreast of global trends needed to satiate the international consumer needs. 
English Biscuit Manufacturers (Private) Limited, the makers of Peek Freans biscuits, was established in 1967 as the first manufacturer of wholesome, hygienic packaged biscuits in Pakistan. For over 48 years, EBM has been a symbol of trust and confidence for consumers, making it the leading biscuit manufacturer of Pakistan. EBM is the first biscuit company in Pakistan to have achieved ISO 14001, ISO 9001 and HACCP certifications. The Peek Freans brand also enjoys the internationally acclaimed Super brands status.