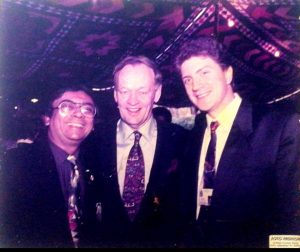 By Parvez Jamil
Canada Pakistan relationship witnesses many turning points right from the debatable KANUPP nuclear power interaction to the so-called Islamophobia in many a Western- Canadian mind. However, this relationship assumes highly-positive dimensions, especially in the social sector development cooperation during the then Canadian PM Jean Chretien and Pakistani PM Late Benazir Bhutto's regimes. This has influenced positively the common man in Pakistan in remote areas and for less-privileged communities through cooperation between NGOs of the two countries at the grassroots level.
Macro level cooperation between Canada and Pakistan continued at the government to government level, as for example; the high potential Warsak dam, the world's largest earth-filled Tarbela Dam and Canadian financial assistance to Pakistan meant for the latter's educational, social, health environmental, technological, infrastructural, transport, telecommunication and energy sectors and for overall economic development.
However, first vibes of the quieter yet brighter side of Canada-Pakistan relations were felt in 1985 with the initiation of Canada's Mission Administered Fund (MAF), later came to be known as the "Canada Fund" of CIDA's Program Support Unit (PSU) with the sole purpose of reaching out, as mentioned, to the less-privileged people of Pakistan's rural- remote areas and "katchi abadis".
First thing in this regard is the publication of MAF brochure listing key remote area projects to be funded. All such projects are identified, funded and well monitored be it Sindh, Baluchistan, KPK and the Punjab. Focus is on quality of life through skills development for self-reliance, simple loans for small businesses, fertilizers and pesticides for farmers, focus on tube wells and irrigation, harnessing for solar cookers as and where possible, access to free medical and legal aid, covering health and sanitation, building of simple little housing units, turning 'katcha' into 'puckka' tracks and provisions for clean drinking water etc.
Canadian and Pakistani NGOs wow and work together for people-to-people contacts envisioned by them as the best form of bilateral relationship for mutual enlightenment. Also for another example Canada World Youth exchange program with Pakistani youth enhancing mutual understanding, cooperation and enlightenment.
During the eighties and nineties very interesting and entertaining events and activities happened over the Canada-Pakistan horizon. A photographic exhibition worth millions ofdollars, "From pebbles to computers", by Hans Blohm, a German born Canadian photographer was held absolutely free of expense at Liaquat Memorial Hall, Rawalpindi, Al-Hamra, Lahore and Arts Council, Karachi: to repeat no expense incurred; courtesy public affairs of my humble little self.
Similarly, exemplary media projection of Canada for joint British, Polish,Canadian mountaineersexpexpedition to scale K2 in winters! Writing an article for massive media coverage on a Canadian cycling the world over to create awareness on the then deadly aids disease and helping him sponsored for onward journey: "Cycling through one world of humanity for a noble cause". Addressing road shows at leading Pakistani universities on educational opportunities in Canada. In different cities "Canada Week" occasions highlighting invigorating information on Canadian education arts, culture, history, government, politics, travel, tourism food, fun and fanfare etc.
There is no dearth of positive thinkers and practical doers in Canada and Pakistan. Imagine Pakistanis as leading professionals and entrepreneurs in Canada. Think of legendary Jehangir Khan, a model of humble, noble and gentle sportsman, winner of Canadian open seven times! Honestly but very quietly working and earning quodos is Faraz Parvez, who toiled from dawn to midnight for seven years for his hard earned CA from ICAP with top honors, who well surprised accountancy gurus in Toronto with a hard earned CPA from Canada, now a heart throb of many a company in Canada and the world over. See how Waheed Khan from Commercial Section, Canadian High Commission, Islamabad is prestigiously placed at Department of External Affairs, Ottawa and how Pervez Noorudddin of the Development Section, Canadian High Commission shines over the Canadian corporate horizon. Likewise, many Pakistanis are working with dignity and honor in Canada enriching positively to the multicultural Canadian society and are a tremendous foreign exchange earner for Pakistan.##
——————————
The writer, a media, educational and PR professional, contributes to media on national and international affairs.
parvezjamil@hotmail.com