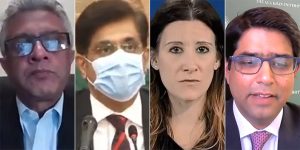 COVID-19 has had a devastating effect on health, quality of life and economic activity, charging health experts to push policy makers to prioritise public health to manage pandemics in the making.
Human actions like deforestation, encroachment on diverse wildlife habitats and markets in cities and towns where animals are bought and sold are helping diseases to spread from animals into humans more frequently. Additionally, overpopulation, urbanization and travel are playing a major role in the spread of viruses.
COVID-19 has exposed that no country rich or poor was fully prepared for the pandemic. It may not be the last global pandemic its not a matter of if, but when the next pandemic may hit. It is time for governments to reevaluate their priorities, health experts have stressed while speaking at the inaugural session of the 23rd National Health Sciences Research Symposium, NHSRS, organised by the Aga Khan University in Karachi.
The theme of the annual three-day symposium was COVID-19: challenges and way forward.
What COVID-19 has taught us is that health cannot be a second priority, commented Dr Faisal Sultan, Special Assistant to the Prime Minister of Pakistan on National Health Services, Regulations and Coordination and a keynote speaker at the symposium. Resources will always be limited but targeted prioritization can still be effective when directed towards building and strengthening much needed infrastructure. Pakistan is learning from its experience with COVID-19. We are reforming our health security institutions along with our public health institutions, he said.
Keynote speaker, Maria Van Kerkhove, an infectious disease epidemiologist and COVID-19 technical lead at the World Health Organization, observed that although epidemiological situation remained dynamic and uneven and is further complicated by virus variants of concern, what is being seen in a number of countries, especially where the variants are circulating, is that public health and social measures continue to drive down transmission.
What is really critical that we make sure that not only vaccines are rolled out and received by those who are vulnerable, people of older age and frontline workers, but we still continue to adhere to the individual-level measures, including hand hygiene, physical distancing, mask wearing, avoiding crowded spaces and improving ventilation by opening windows, she said.
Murad Ali Shah, Chief Minister of Sindh and the chief guest, reiterated his governments will to vaccinate frontline works, senior citizens and the general public in phases. Although the initial phase has already started, this is a long battle and all of us have to play our part. He appealed to institutions and individuals to follow the COVID-19 guidelines and standard operating procedures devised by his provincial government.
The world has become a global village more than ever. A worldwide pandemic has brought the developed and developing countries to a common ground where they face similar challenges, so any ignorance will ultimately have implications for the whole world, warned Dr Adil Haider, dean of AKUs Medical College in Pakistan. The new normal should be a transformation, leaving behind political and social conflicts and setting up priorities for a better world. For health sector, it should be a makeover to new or improved rules of the game redesigning and innovating the health systems, he added.
AKU President Firoz Rasul; Provost and Vice President, Academic Carl Amrhein; and Dean, School of Nursing and Midwifery Rozina Karmaliani also addressed the symposium.
Speakers of the upcoming sessions will include Zafar Mirza, former State Minister of Health and WHO Advisor on Universal Health Coverage; William A. Petri, professor of medicine, pathology, microbiology, epidemiology, immunology and cancer biology, University of Virginia School of Medicine; Zulfiqar A. Bhutta, founding director of Institute for Global Health and Development, AKU; Faisal Mahmood, associate professor of infectious diseases, AKU; and Zeenat Sulaiman Khan, director of projects and programmes development, Aga Khan Health Services.