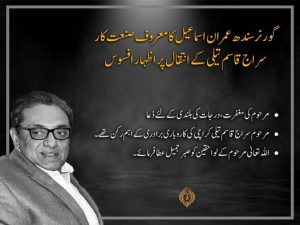 Former President of the Karachi Chamber of Commerce and Industry (KCCI) and head of the Chambers Leading Group Mr. Siraj Kassam Teli passed away in Dubai on Tuesday December 08th, 2020. Siraj Kassam Teli was known for raising voice for the rights of business and industrial community of Karachi. He was also awarded the Sitara-e-Imtiaz by the government of Pakistan for his services in the financial sector in 2011.
Governor Sindh said in his tweet that it was shocking to hear about the sad demise of Siraj Kassam Teli. He was a dear friend and a business leader.
Mian Anjum Nisar, President FPCCI, Sheikh Sultan Rehman, Mr. Khurram Ijaz, Dr. Muhammad Arshad, Mr. Qaiser Khan, Mr. Muhammad Ali Quad, Mr. Zahid Iqbal, Mr. Nadeem Sheikh, Mr. Zubair Baweja and Mr. Abdul Qayoom Qureshi, Mr. Juma Khan Vice Presidents of the Federation of Pakistan Chambers of Commerce and Industry expressed their heartfelt condolence on the sudden death of Siraj Qasim Teli Ex-President Karachi Chamber & K Stock Exchange.
Mian Anjum Nisar, President FPCCI said that Siraj Qasim Teli was considered the voice of Karachi and he always raised his voice and made efforts for the betterment of Karachis infrastructure and in resolving issues of the Business Community. Siraj Qasim Teli always played an important role in the national economy and public service and in recognition of his services; President of Pakistan awarded him Sitara-e-Imtiaz
President FPCCI expressed his sentiment that he has lost his old friend who was not only renowned prominent businessman but a known philanthropist. His socio-economic services particularly in the field of infrastructure development of Karachi will always be remembered. His role in promoting economic and commercial activities to generate employment for the citizen of Pakistan in general and for Karachi in particular for the youth was a great contribution.
President and Office Bearers of FPCCI express their deep sorrow and grief and also pray to Almighty Allah to rest the departed soul in eternal peace and grant courage and strength to the bereaved family to bear this irreparable loss.
The FPCCI offices will remain closed tomorrow as a mark of respect to the departed soul of former KCCI President Siraj Qasim Teli.