A better, more alert and more active judiciary is the catalyst that Pakistan badly needs to bring a real change in the lives of its millions of impoverished citizens, said the speakers of a moot here Saturday night.
The gathered of top lawyers – Judicial Night – was hosted by Rashid Ahmed Siddiqui, chairman of Afeef Group at his residence in collaboration with Justice Helpline President Nadeem A Shaikh. It was presided over by Dr Muhammad Raheem Awan, federal secretary law and justice commission Supreme Court of Pakistan, and with former Justice and attorney general Anwar Mansoor Khan as chief guest. The audience comprised top lawyers, industrialists, philanthropists and intellectuals.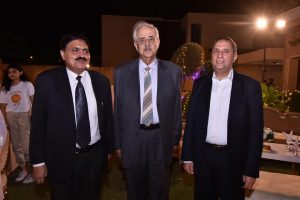 It was moderated by Syed Farukh Mazhar, who appreciated that the Justice Helpline is working on many projects to ensure a better access to law and justice to common man. He said improving benchmarks for education and training for young lawyers and bettering conditions in our jails are amongst the vast initiatives of the helpline. JHL President Nadeem A Shaikh in his welcome address introduced the main speakers and shed light on the activities and achievements of his helpline.
Noted industrialist Rashid Ahmed Siddiqui spoke on the role of judiciary in a social change. Giving the example of the United States of America (USA), he said the real credit of today's modern and developed America goes to their 'revolutionary' judiciary' which radically changed whole American society. He said Pakistan also awaits such a brave role of its judiciary. He said the role of parliamentarians in Pakistan is on a decline, many state institutions are crumbling and the nation badly needs a judicial revolution. He said we need such a leadership that keep supreme the interests of Pakistan over any other consideration.
Dr Muhammad Raheem Awan, federal secretary law and justice commission Supreme Court of Pakistan, in his presidential address said no society could survive without a fair justice system. He said Islam has given us the best justice system of the world but we are yet to implement it. He said we have a hybrid type of justice system, which is neither-fish-nor-fowl.
Awan said our religion and ideals pull us towards the Islamic judicial system, but we have also our inherited a colonial justice system of the British Raj, which still governs our lives in many ways. He said in the name of police laws, the British colonial rulers gave us the Irish Constabulary Act of 1822, which was a law of might is right. He said these black laws did carted the needs of the British to rule its subjects in India with a ruthless power, but it is strange that we still love and respect these laws and are not ready to let them go. He said sadly we still run our policing system on the basis of 1861 Police Act.
Talking about the history of reforms in the USA, he said that first they adopted the legal doctrine of Separate but a equal system for black and white citizens, which provided the foundations to the modern legal system in America. He reminded that the legal system in the USA began to improve from 1951 onwards, and previously it was a pathetically corrupt system.
Dr Awan said inconsistency on policies is our major hurdle, adding foreign investment is not coming in Pakistan due to frequently changing policies. He said we should give Pakistani business community their own arbitrary system to settle their own business disputes. He said we have an old Jirga system which was a better option to settle disputes in past; however, now this Jirga system has earned a bad name. He said an informal justice system is badly needed in Pakistan to facilitate its business community. He said through this informal justice system the traditional inadmissible evidences of business transactions would be considered valid and it would greatly help in mitigating the legal issues of business and trade community.
Barrister Salahuddin Ahmed, the son of deceased Justice Sabihuddin Ahmed, praised the role of JHL in facilitating the impoverished litigants. He said the British rulers had formulated laws for their own convenience. He said the centralization of power policy well suited the needs of the colonial rulers, but now after the independence there is no need of this centralization of power policy. He said we must strengthen the local governments in Pakistan which he said is the true essence of democracy.
On the occasion, Nadeem A Shaikh announced that Barrister Salahuddin Ahmed would be the candidate of JHL in the coming Bar election.
Chief Guest Anwar Mansoor Khan said one faces ups and downs in his life. He said he braved his own ups and downs but he was a lucky person that he got many successes. Talking about his days in army he said after getting commission he was sent to East Pakistan. He said after fall of Dacca he spent two years in India as a prisoner of war. He said after his release he left army as the word 'surrender' was a heavy burden on his heart and soul and he joined his family tradition of law. He said after serving in this field for so many years, now he has decided to devote his remaining life to the training and education of young lawyers.
He said instead of blindly following a borrowed parliamentary system and democracy we should develop our own homegrown democratic system. He said our legal system is rather weak and it would only be strengthened with better education and training of young lawyers. He said our law colleges are much better now but still there is a long distance to cover to produce efficient and knowledgeable lawyers. He said a merit-based selection system for our judiciary is a must. He said we should promote a competition culture amongst young lawyers.
Senior Advocate S Michal Advocate presented the vote of thanks. Those attended the moot included Deputy Attorney General of Pakistan Abdul Jabbar Qureshi, Justice retired Qamaruddin Bohra, noted industrialist Mirza Ikhtiar Baig, former managing director of PIA Aijaz Ahmed, KATI leader Rehan Umar, Haris Amin Bhatti and others.