Posts Tagged 'Karachi Females'
The Dolmen Shopping Festival over the past few years has earned the reputation of bringing tremendous bargains to Karachites, at least twice a year. Being in full swing since December 20, 2014 this time it was real crowd puller and brought in throngs of people to the three Dolmen Mall locations in Karachi, Clifton, Tariq Road and Hyderi. The Festival has over 50 brand partners and 100 participating outlets, offering delightful bargains and discounts to shoppers.
This year the festival started with a candle vigil at laying of flower wreaths and remembrance notes for the 141 martyrs of the Army Public School Peshawar. The management of Dolmen Mall dedicated the entire festival to the children of Pakistan.
Among many attractions of #DSFKHI were a fashion fusion show and a theater play and artwork display by the students of Indus Valley School Of Art & Architecture, Karachi. An amazing feature was a life size game of monopoly where shoppers could spend Rs.5000 at the Dolmen Mall & enjoy a game of Monopoly.
A first of its kind feature of this shoppers' bonanza was a bloggers' meet-up-cum-digital treasure hunt. Around 40 bloggers and online influencers were briefed spontaneously at 'Barrista Lavazza' about the time barred treasure hunt race, that led to a crazy trip of the Dolmen Mall Clifton by way of completing  9 simple tasks and posting selfies at the completion of each. Some of the fun activities included playing the 'Raging Ape' at Sindbad and tweeting a picture doing same and posting selfies from the Instagram booth.  The winner of the Treasure Hunt, blogger Umair Mirza won an 'HP Elitepad' as the first prize.
Main crowd puller however still proved to be bargain sales, gift hampers, shopping vouchers and an opportunity to win exciting prizes at the end of the festival. Due to popular demand the festival has now been extended till Friday, January 9, 2015, which will also be the day of the grand lucky draw. So hop on to the nearest Dolmen Mall and shop till you drop 😉
Photo courtesy: Adil Awan @aurdil and Arsalan Muhammad Khan @amk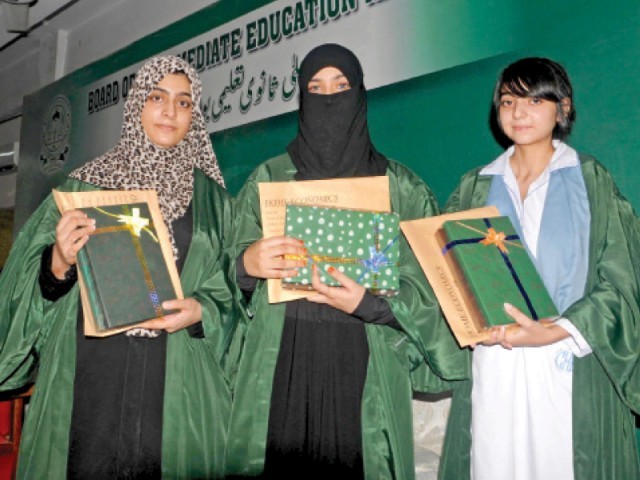 The pre-medical college results announced on Monday by the Board of Intermediate Education, Karachi (BIEK), reasserted the alarming trend of growing gender disparity in the healthcare professions. This year, only 1,603 male students will be eligible to apply to medical colleges as compared to 9,203 females this year.
According to the results announced by the education board's examinations controller, Imran Khan Chishti, a total of 19,902 students sat for the pre-medical exams, of which nearly 75% were girls. Those who managed to pass the exams were 10,833, or 54%. However, this percentage was skewed in favour of the girls since 58% of them passed the exams as compared to merely 40% of the boys. Nearly seven per cent of all students got through with A-1 grades, 16% with As, 15% with Bs, 12% with Cs and four per cent with D grades.
BIEK chairperson Anwar Ahmed Zai, while talking to The Express Tribune, expressed his concerns over the increasing ratio of girls getting into pre-medical education as compared to boys.  "This gender disparity persists even when these students join healthcare facilities after studying medicine from universities," said Prof Ahmed Zai. "The situation will pose serious issues for the country's healthcare system in the next few years."
Meanwhile, the statistics issued by the Pakistan Medical Association corroborate the concerns posed by Prof Ahmed Zai. Around three quarters of the female students of medicine abandon the field right after graduating or after marriage.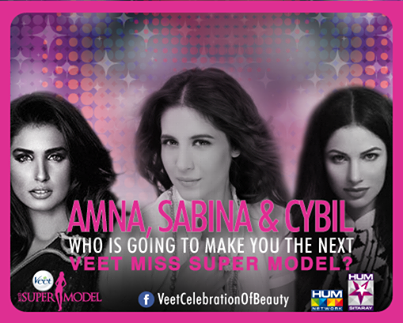 Veet Miss Super Model 2014 competition will likely to be on air on a local channel in mid May 2014 and participants from across Pakistan have already been selected. Model Wiqar Ali Khan accompanying with supermodels Amna Ilyar, Cybil Chaudhry, Sabina Pasha and Nadia Hussain said, "This year many things have been changed in the competition for title." Many news happenings will be involved in programme and the programme will be showcasing 8 themed episodes and each episode will focus on grooming the models in various aspects of modeling based on beauty, confidence and personality development.
He said programme would be hosted by him and every round would be an eliminating round on criteria level. The winner will be bestowed with the title of Miss Super Model as well as a precious modeling contract. Amna Ilyar, Cybil Chaudhry and Sabina Pasha will coach and mentor a group of contestants. The episode will showcase celebrity appearances from the fashion, TV and film industry besides they will judge the challenges by the aspiring models competing, Khan asserted. A representative of the Veet said, "We have created this platform to allow young women to turn their dreams into reality". Veet Miss Super Model has established itself as a recognisable and renowned platform.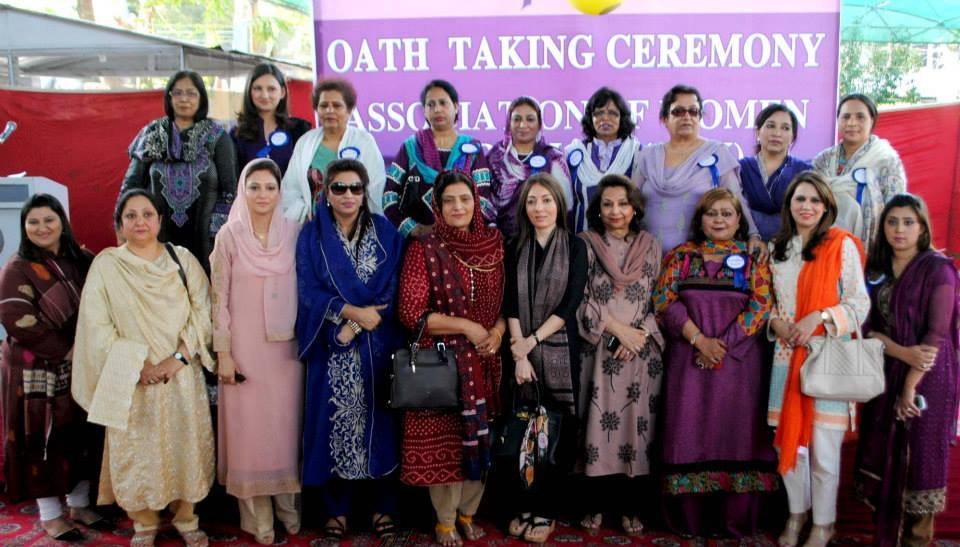 At an event where the audience comprised mostly women, an exclusive association for female journalists was launched at the Karachi Press Club on Tuesday.
The Association for Women Journalists promises its members day care centres and life insurance. Its president, Durdana Shahab, said, "The need for this association was felt because even though women journalists form a large part of the print and electronic media workforce, their representation in journalistic associations is negligible."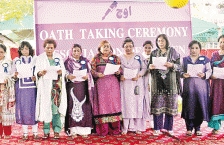 She added that while unemployed men were able to find new jobs through their old boys' networks, women found it hard to rejoin professional circles after taking a break. "Our association will lend support to all female journalists unemployed for over two months and help them find decent jobs."
Mehtab Akbar Rashidi, a renowned news anchor famous for her refusal to cover her head during Zia's dictatorial era, said, "It is a sad fact that, even in this century, we are still discussing whether a woman should step out of her house or not."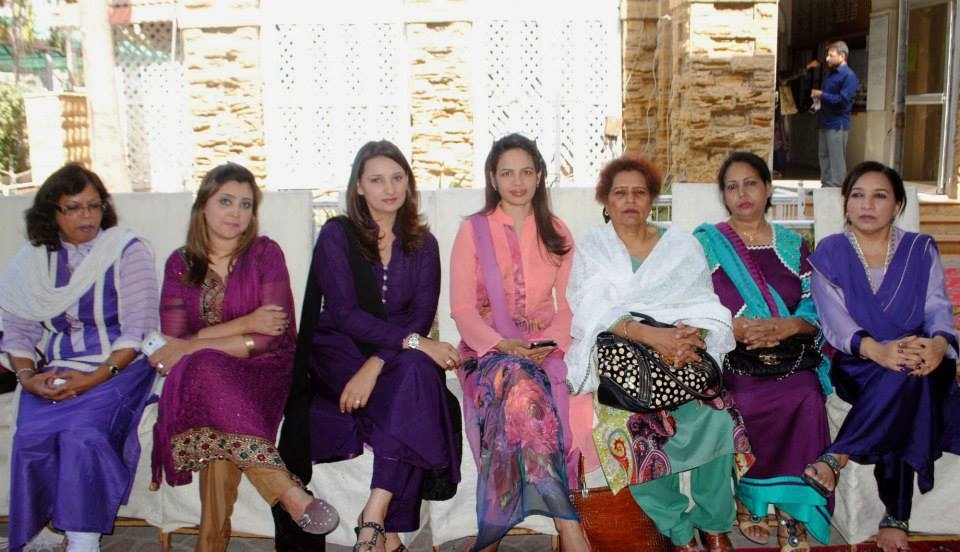 She urged all media houses to set up day care centres at their offices as, keeping in view the increasing prevalence of the nuclear family system, it was becoming very difficult for mothers to work.
Rashidi also spoke about the gender bias, stating that when men felt insecure by empowered women, their first instinct was to resort to character assassination. "Do not be disheartened. Hazrat Ayesha (RA) had to face the same troubles. We, after all, are nowhere near her status."
MPA Erum Farooqi of the MQM said, "Women parliamentarians stand with the female journalists. We always have and will support legislation for women empowerment."
PTI's Seema Zia lauded their bravery, stating, "Women journalists are very courageous. They go to places where even we are scared to enter."
Surat Thebo, an MPA of the PML-N, said, "Whenever women get together, they scare men off. Men feel that women will now rule the workforce and they will have to wash dishes and sweep the floor. My only request to them is that they should help women with the domestic chores."
Other parliamentarians, including Sharmila Farooqi, Nusrat Sehar Abbasi and Saman Jaffri, and Commissioner Shoaib Siddiqui also attended the launch ceremony. The News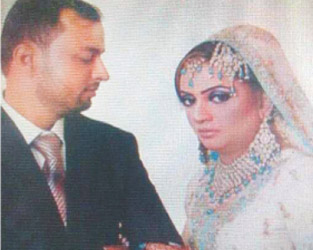 A domestic dispute between husband and wife turned into a sorrowful incident when a Rangers official fired on the couple, killing the man and injuring the wife.
The incident occurred at Nagan Chawrangi. The couple was fighting on the road over a domestic dispute when suddenly a Rangers' official present there opened fire on the man. According to reports the man was seriously injured and died while being shifted to hospital. The couple had married just four months ago, but their relationship had deteriorated.
The wife also received injuries; however, she is under treatment. The incident sparked severe protests in the area, with protesters pelting Rangers and police vehicles with stones.
They destroyed two motorbikes of a law enforcement agency. The protesters expressed severe anger over the killing of the man by Rangers official. A rescue team shifted the dead body and the injured woman to the Abbasi Shaheed Hospital. According to DIG East initial investigations indicate that the Rangers' official fired at the couple accidentally. "We have opened investigations into the incident… It is yet premature to reach a conclusion," he said. Daily Times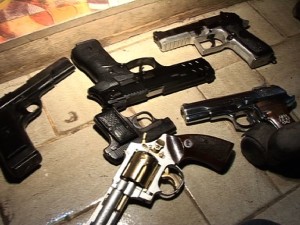 Gujjar Arts Production is going to make a film on #Karachi situation named Gang War, said CEO Gujjar Arts Production and the Director of film Shahzad Ahmeed Ghujjar at a press conference at Karachi Press Club (KPC) on Monday.
He said that they are going to make a film on the current situation of metropolitan city, Karachi. He said that the film will be based not on any organization, linguistic group and on area, but it will describe the overall situation of whole country because nowadays every area of country is affected from this war. He said that this film is based on the theme of national unity.
He said that the film would be shot in ten places including Karachi and with a cost of Rs 30,000,000. He said that producer of the film is Riaz Gujjar and it is written by Saleem Murrad. Its playback singer Rahat Fateh Ali Khan and the music directed by Ali Afzal.
The director of the film said that the shooting will start within ten days and the movie will be released in six months. He said that they will introduce new artists from television and film industry in this film.
Sindh High Court's division bench headed by Justice Sajjad Ali Shah dismissed the appeal of accused Mohammad Baksh, car driver of Afreen Baig against his conviction by a sessions court. Baksh was found guilty of killing of Afreen Baig in October 2004 in her DHA residence. The trial court had acquitted Farooq Mengal, her husband and co-accused in the case, from the charge of masterminding her murder.
According to the prosecution, her driver Mohammad Baksh and his wife Zahida killed TV Artist and producer Afreen Baig. Her husband Farooq Mengal was alleged to have masterminded the murder of Ms Baig.
However, the seesions court in its judgment announced on June 22, 2009 said that Farooq Mengal was charged with having masterminded the murder of his wife because he was annoyed over her alleged relationship with her ex-husband and had an eye on the wealth of the deceased, but the prosecution had failed to establish that charge against him.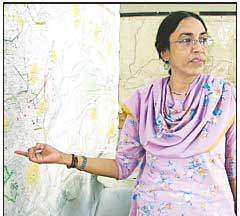 Prominent social activist, educationist and director of Orangi Pilot Project (OPP), Parveen Rehman was shot dead near Banaras flyover within the jurisdiction of Pirabad police station on Wednesday. According to police, gunmen riding motorcycles shot her while she had been traveling from Orangi with her driver. She was shifted to Abbasi Shaheed Hospital (ASH) where doctors pronounced her dead. The motive behind her murder remains unclear but the incident appears to be a case of targeted killing, say officials investigating the case.
The fifty-year-old had been serving in the Visual Studies department at the University of Karachi. In addition to that, she was the director of Orangi Pilot Project and had been instrumental in devising ways to deal with sanitation problems. Rehman headed a research centre in Orangi, a section of Karachi and also taught students of Architecture College. Governor Sindh Dr Ishrat-ul-Ebad took a notice of the killing and termed it an inhuman act. Dr Ebad also directed the law enforcement agencies to acquire and examine the footages of CCTV cameras installed at all entry and exit points close to the crime scene. The governor also directed IG Sindh Ghulam Shabbir Shaikh to submit the report of the incident.
Meanwhile, MQM chief Altaf Hussain condemned the murder and said tercrorists were targeting important personalities in order to achieve their nefarious designs. He said Rehman was a highly capable woman and her public services could never be forgotten. He demanded of President Asif Ali Zardari, Prime Minister Raja Pervaiz Ashraf, Interior Minister Rehman Malik, Governor Sindh Dr Ishratul Ebad and Chief Minister Sindh Syed Qaim Ali Shah to take immediate notice of the brutal killing of Ms Rehman. He said that the terrorists responsible for her killing should be brought to justice. Colleagues of the deceased say she will be remembered as a committed social worker as well as a brilliant teacher.  (DT)
The Oscar award-winning Pakistani-Canadian journalist and documentary filmmaker, Sharmeen Obaid Chinoy, having created waves of late, has another feather added to her cap with her selection for the Wonder Women of the Year Awards 2012 to be held at Hotel Pearl Continental, Karachi, on March 8.
Besides Sharmeen Obaid Chinoy, those having been selected for the Wonder Women of the Year Awards 2012 are Nargis Sethi (Civil Service), Salma Ataullah Jan (Politics), Dr Fehmida Mirza (Politics), Fatima Surriya Bajia (Playwright), Nasira Wazir Ali (Educationist), Nusrat Bhutto (Politics), Bushra Ansari (Television), Bushra Rahman (Literature), Sheema Kirmani (Classical Dance), Asma Jahangir (Human Rights), Justice Majida Rizvi (Law & Justice), Musarrat Misbah (Cosmetologist), Salima Hashmey (Artist/Painter), Sofia Qasim Kasuri (Education), Khanum Tayyaba Bukhari (Religious Scholar), Roshan-e-Zafar (Banking), Captain Tarana Saleem (Commercial Flying), Sadia Naveed (Entrepreneur), Nasim Hameed (Athletics), Dr Shahnaz Dar (Medicine) and St Julie Martha Pacheco (Social Services).
The award winners of the Wonder Women of the Year Awards 2012 were announced by Shaikh Rashid Alam, Chief Executive Officer, National Hero Foundation (NHF), in a media briefing at the Karachi Press Club (KPC) on March 2.
The Najeeb Ahmed Terrace of the KPC was tastefully decorated for the media launch of the second Wonder Women of the Year Awards 2012 with the top officials of the NHF taking the centre-stage. Besides CEO Shaikh Rashid Alam, the NHF Governing Council members present on the occasion were Mohammad Shakil Khan, Syed Khurshid Akbar Shah, Abdul Hafeez Subhani and Huma Bukhari.
Shaikh Rashid Alam explained that the Wonder Women of the Year Awards 2012 have been classified in three different categories namely Women Icon, Women Pride and Women of Inspiration.
He disclosed that Nargis Sethi, Salma Ataullah Jan, Dr Fehmida Mirza have been selected as Women Icons while Fatima Surriya Bajia, Nasira Wazir Ali, Sharmeen Obaid Chinoy and Nusrat Bhutto have been slotted in the category of Women Pride while the others have been classified in the category of Women of Inspiration.
He also revealed that for the first time an overseas Pakistani, Salma Ataullah Jan, Member Canadian Senate, have made it to the list.
Shaikh Rashid Alam stated that a grand ceremony will be held to present the Wonder Women of the Year Awards 2012 at Hotel Pearl Continental, Karachi, on March 8, which is also International Women Day.
The ceremony, he added, will be presided over by Dr Fehimda Mirza, Speaker, National Assembly, while the guests of honour will include Abdul Sattar Edhi, a renowned social worker, Hameedullah Jan Afridi, Member National Assembly from FATA, and Mahmood Sham, a veteran journalist.
The Wonder Women of the Year Awards 2012, being organized by the National Hero Foundation (NHF), is being co-sponsored by Daily Pakistan Observer, while its supporters include Government of Pakistan, Federation of Pakistan Chambers of Commerce (FPCCI), Brand of the Year Awards, 3 Woogle and SMS Business Ltd.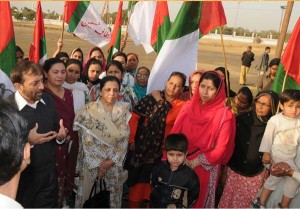 Chief  of Muttahida Quami Movement (MQM) Mr Altaf Hussain has said that the public meeting being organized by the Women Wing of the MQM on 19th February in Bagh-e-Quaid-e-Azam would be the largest ever public meeting of the women. He said this while talking to the workers of the women wing who were busy in making preparations for the public meeting. A large number of other women were also present on the occasion.
There was big zeal and fervour among the women when Mr Hussain called. They raised loud slogans to express their emotions and sentiments. Mr Hussain said that other parties had held large gatherings at the venue but the historic public meeting of the women on the 19th February would demolish all records and establish that even the women of the MQM were sufficient to take on the challenge posed by the opponents.
Mr Hussain praised the women busy in their work and said wherever there was the flag of the MQM, there would be people having love for the humanity. He said that the women belonging to all faiths and nationalities would be present on the 19th February and demonstrate that they were firmly united despite diversity in their background.
Mr Hussain asked the men to look after the household chores on the 19th February as the women would be busy in their work and attending the meeting at Bagh-e-Quaid-e-Azam. The women agreed with a loud cheer.
Workers and office-bearers of the Women Wing of the MQM apprised Mr Hussain about the preparations and said that there was immense joy and fervour among the women in the city. Women were putting in their heart and soul for making the programme a big success.
Mr Hussain commended Mrs Kishwar Zahra, in-charge central co-ordination committee of the women. He also praised the co-ordination committee, Karachi Tanzimi Committee, zones, sectors and units of the MQM for their untiring work.