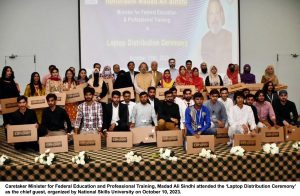 Caretaker Minister for Federal Education and Professional Training, Madad Ali Sindhi attended the 'Laptop Distribution Ceremony' as the chief guest, organized by National Skills University on October 10, 2023.
Madad Ali Sindhi said that skills development and technical education can play a critical role in the economic prosperity of the country. He said that institutions like the National Skills University need to be developed in every district of the country. He said that NSUs curriculum and teaching-learning practices must be replicated nationwide due to its unique nature. Education Minister said that Pakistan's future lies in enhancing youth employability by improving soft and hard skills required at workplaces. Further elaborating on skills, the Minister stressed the need to enhance opportunities for youth to learn skills in all provinces of Pakistan.
He said that there is a dire need to develop more such institutions in all provinces of the country. Madad Ali Sindhi said that skills development can lead to enhancing employability/entrepreneurial opportunities for youth nationwide. Introducing Skills Learning programs at the district level will be an opportunity to popularize skills education linked with employability and job markets. Mr. Madad Ali Sindhi took a deep interest in various ongoing programs and advised the Vice Chancellor to prepare a detailed report for implementing skills education nationwide. The Vice-Chancellor, Prof. Dr. Muhammad Mukhtar, in his briefing/welcome message, outlined the successes of the university over the past four years. The university has been transformed from a deserted place to the most progressive skills learning center, got recognition from the UNESCO/UNEVOC, participated in the UNEVOC Network Coaction Initiative 2022, and is continuing this honor for 2023. The Federal Minister interacted with students receiving laptops in their meritorious accomplishments.
He advised students to pay attention to their studies and learn employable skills. Students and faculty praised the Federal Minister's vision related to enhancing the employability of Pakistani youth across the country. Mr. Madad Ali Sindhi also took a tour of laboratories/workshops and advised faculty members to pay full attention to training Pakistani youth. He also praised the contribution of the National Skills University Islamabad Advisory Council toward their support of curriculum development and its alignment with workplace-ready learning. According to the Federal Minister, continued community and employer support for empowering Pakistani youth with employable skills is the ultimate solution for a prosperous Pakistan.