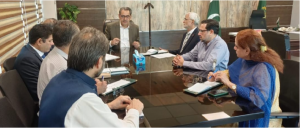 Minister for Religious Affairs and Interfaith Harmony, Aneeq Ahmed expressed his commitment to continuously strive to provide top-notch travel facilities for Hajj pilgrims.
Speaking in a recent meeting with Caretaker Advisor to the Prime Minister on Aviation, Air Marshal (R) Farhat Hussain Malik, he expressed hope that pilgrims would receive encouraging news regarding these efforts soon.
The minister emphasized the responsibility of ensuring travel amenities without compromising on quality. He underlined that their collective objective was to enhance the services offered to pilgrims without increasing the cost of Hajj tickets.
In the meeting, Farhat said, We have already initiated our work, and soon we will have good news for the pilgrims. He shared his dedication to the welfare of the pilgrims and their comfort during this sacred journey.
The meeting was attended by Aviation Secretary, Saif Anjum, Pakistan International Airlines Chairman, Managing Director and Ministry of Religious Affairs Additional Secretary, Syed Atta-ur-Rehman, among other officials from the Hajj wing.