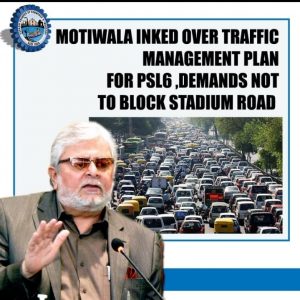 Chairman Businessmen Group (BMG) & Former President Karachi Chamber of Commerce & Industry (KCCI) M. Zubair Motiwala, while expressing sheer dissatisfaction over the arrangements made to secure the National Stadium during PSL6, stated that the return of cricket in metropolis has become the biggest source of nuisance for Karachiites nowadays as more than half of the citys population suffers terribly for so many hours because of poor traffic management plan in which some of the most critical arteries are blocked which is neither acceptable to Karachiites nor to the business community, hence it must be revisited straightaway.
In a statement issued, Zubair Motiwala pointed out that due to complete blockade of roads around the National Stadium, traffic is usually diverted to other roads which causes severe traffic jams at all these roads throughout the day while, the residents of the affected areas, which are densely populated, have to make efforts from pillar to post each day to reach their destinations.
Moreover, two biggest hospitals of Karachi are also situated on a road leading to the National Stadium Road which is also closed during PSL. We have been receiving huge number of complaints from patients and their relatives who are either visiting Agha Khan Hospital or Liaquat National Hospital or National Institute of Blood Diseases (NIBD) which is right next to National Stadium as it has been witnessed that many ambulances rushing towards these hospitals remain stuck up in traffic jams on daily basis which enhances the chances of more casualties hence, the citys administration will have to shred the existing traffic management plan and come up with some other viable strategy in which the main roads should not be blocked at any cost.
The Business & Industrial community demands from the citys administration, particularly Commissioner Karachi Naved Ahmed Shaikh and DIG Traffic Javed Ali Mahar to look into this serious issue and take steps to reduce the hardships for Karachiites by immediately revisiting the existing traffic management plan, Motiwala said, adding that cricket, which is a source of entertainment, should not become a source of torture for Karachiites who are already suffering badly on the streets of Karachi due to dilapidated state of the infrastructure.
Zubair Motiwala pointed out that even the business activities suffer badly during PSL days as the citizens of Karachi, after undergoing worst traffic conditions, prefer to somehow reach their homes only and refrain from visiting commercial markets for buying purposes which brings down the commercial activities and causes immense losses to shopkeepers.
Although it is a bit difficult to give the exact number for the losses suffered by business community but it could go up to billions of rupees due to diverse range of businesses and a large number of markets including the well-known Bahadurabad, Tariq Road and Millennium Mall etc. where business activities get terribly affected due to road blocks, he said, adding that who would come to visit Bahadurabad, Tariq Road, Millennium Mall or other nearby markets for shopping from North Karachi, Gulistan e Jauher or any other area when they know it is going to be an uphill task to reach these markets due to road blocks and subsequent traffic jams.
Every year, KCCI receives dozens of complaints mainly from the shopkeepers who complain about limited business activities due to PSL and the same has started again this year. Hence, being the premier and largest Chamber of the country, KCCI will not remain silent and raise a strong voice at all available platforms until relief is provided to the perturbed citizens of Karachi, Chairman BMG said and forcefully demanded that instead of closing down the main Stadium Road, police vehicles can be parked to guard the stadium while the number of policemen and Rangers troops must also be enhanced and each law-enforcers should be deployed on the roadside at a distance of at least 20 feet away from the other at all the surrounding roads which would not only secure the stadium by creating a stronghold for preventing any unpleasant incident but would also minimize the hardships for commuters during PSL.