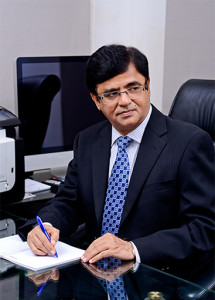 BOL, Pakistan's mew media group, has welcomed on-board globally acclaimed journalist Kamran Khan as the group's President and Editor-in-Chief. This is a major milestone for BOL which has meticulously acquired a dream-team of highly experienced professionals with decades of experience to their credit.
Mr. Kamran Khan is one of the most respected, experienced and celebrated professionals of Pakistani journalism with unparalleled fan following in Pakistan and abroad. His experience with more than 3000 fantastic investigative news stories and around 3000 daily news and current affairs shows make Mr. Kamran Khan, in many ways, Pakistan's most distinguished journalist with global recognition.
His legendary daily news and current affairs show "Aaj Kamran Khan Kay Saath (AKKKS)" gained incomparable heights in viewer ship, ratings and above all, in credibility. From The New York Times to Gallup surveys in Pakistan, viewers found AKKKS as most watched and most credible news and current affairs show in Pakistan. Before that, his 25 years in print journalism had earned Mr. Kamran Khan a celebrity status as Pakistan's most famous investigative journalist.
Mr. Kamran Khan's decision to join BOL is a momentous honor and privilege for BOL. His candid journalistic style and high professional standards symbolize the ideals of modern journalism and have brought him well-deserved international acclaim. He has been known to leave a trail of leaders in his wake and BOLwalas stand to benefit immensely from his diverse expertise.
"We are at the brink of revolutionizing the country's media industry," said Mr. Kamran Khan, while commenting on his decision to join BOL. "This will herald the beginning of not just a better and stronger media industry but also a new Pakistan."
BOL has been launched by Axact, world's leading IT company, with the objective of revolutionizing the country's media industry. The industry has been incredibly supportive and welcoming with a number of leading media professionals joining BOL to help realize the channel's long-term vision and to spread the message of SEDAxact.
BOL senior leadership, including Chairman and CEO Shoaib Ahmed Shaikh, are immensely delighted to welcome Mr. Kamran Khan to the fold. "We have promised Pakistan a revolution and we do not default on our promises," said Mr. Shoaib Shaikh, adding that Mr. Kamran Khan's decision to join BOL represents the beginning of the revolution. (PR)