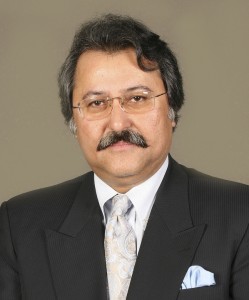 Karachi:  Government  has  appointed  Dr. Asif A. Brohi,  as President/CEO of National Bank of Pakistan. A Master in Business Administration from Northrop, California and Doctorate in Public Administration, he joined National Bank of Pakistan in 1984 as an Assistant Vice President.
Dr. Brohi prior to becoming President of the Bank, was serving as Chief Operating Officer & Head of Commercial & Retail Banking Group of NBP, and carries rich experience in all spheres of banking spanning over almost three decades.  He has in the past headed Bank's Operations Group,  Strategic Planning Group, Information Technology Group, Culture Change Programme Group and Training. He was also Regional Chief Executive, Karachi. Prior to joining NBP, he was Assistant Professor of Management, teaching in various Universities in the United States of America.
Dr. Asif A. Brohi has also been serving on the Board of Director of NBP Leasing Limited, The Hub Power Company, Fauji Oil Terminal & Distribution Co. Ltd, First Credit & Investment Bank Limited (FCIB), NBP Fullerton Asset Management Company Limited, NBP Modarba Management Co. Ltd, National Asset Insurance Company Limited and Close Joint Stock Subsidiary, Almaty Kazakhstan.