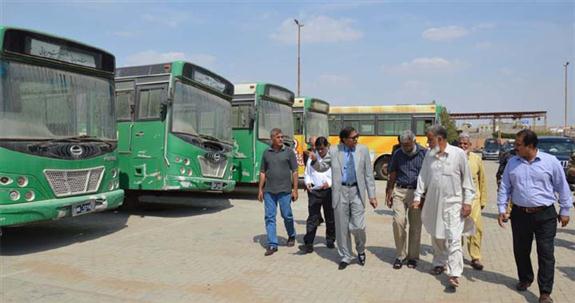 KMC Administrator Rauf Akhtar Farooqui said CNG Bus Service was run in the city to provide a better and cheap travel facility to citizens of Karachi and therefore efforts were on to resume this bus service as soon as possible. He said this on a visit of CNG bus terminal in SurjaniTown along with the Director General Engineering Niaz Ahmed Soomro, Senior Director Municipal Services Masood Alam, Senior Director Transport & Communication Muhammad Athar and other officers. Administrator Karachi during his visit reviewed various aspects of restoration of CNG bus service including the repairing and maintenance of buses, ticketing procedure and routes for bus service. In a briefing to Administrator Rauf Akhtar Farooqui it was informed that the bus service was launched on two long routes in the city including route-1 from Surjani to Korangi and route-2 from Surjani to Tower with about 48 buses.
Citizens of Karachi had appreciated this bus service which provided them with convenient and cheap travel facility through comfortable CNG buses. Ticket booths were also established alongside both routes of these buses, however this service was terminated on 23rd April 2013 and the citizens were demanding its early restoration.
Administrator Karachi said the CNG bus service was a good experiment in the city as this facility was especially used by the low income and middle class individuals and families and they really benefited from this bus service. He directed officers to take all necessary measures for early restoration of CNG bus service with even better arrangements of ticketing and routes.