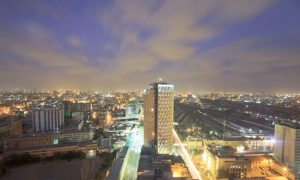 From man in the street to men of letters to men at the helm of affairs, Karachi has been for all and all for Karachi over the many decades.Be they visitors from America, Europe, Asia or Africa, Karachi has been a haven for tourists in peaceful times with its touristic resorts, food delicacies, interesting culture, warm-hearted welcome and traditional hospitality of its own unique kind.Among prominent world dignitaries, Karachi hosted US Presidents Eisenhower, VP, LB Johnson, First Lady Jacqueline Kenedy; Britain's Queen Elizabeth, Princess Lady Diana; China's Chou-en-lai, Indonesia's Soekarno, Saudi and Iranian monarchs etc.
Going down the memory lane: Karachi is so very simple and graceful; so very peaceful and delightful; so very beautiful and wonderful indeed.
Speaking volumes for itself, Karachi is Quaid's cherished legacy of Wazir Mansion, his home, Sindh Madrasatul Islam, his school and his mausoleum. Adding to Karachi grandeur is a relished song of "Bunder Road se Keamari", public tram, double decker buses and aristocratic Victoria cart, horse and camel rides. City transportvaries from rich to the poor, for former luxury cars and cabs and for latter buses, wagons, rickshaws. Not to forget push carts, donkey carts, camel carts for poor's livelihood and transport as countless pedestrians abound here and there.
Enthralling street attractions of Karachi continue unabated with monkey and snake charmers, comical and magical street shows, acrobats and sports stars of the roads and executives of the footpaths like wayside cobblers, barbers, vendors, palmists, eateries, so on and so forth.Amid cherished memories of old cinema halls like Naz, Nishat, Lyric, Bambino, Jubilee, Plaza, etc., cine-goers now find home videos and internet easier and cheaper.
Karachi's small and big markets know no bounds, all over east, west, north and south of the city. Imagine all the shopping variety at Empress Market, Zainab Market, Boulton Market, Lee Market, Khadda Market, Nursery Market and commercial areas of Tariq Road, Bahadarabad, Liaquatabad, Nazimabad, Karimabad, Gulshan-e-Iqbal, Gulistan-e-Johar, Malir, Landhi and so on.
While old food fancies like Bundu Khan, Student Biryani, Sabri Nihari, Javed Nihari, Meerut Kabab, Ghaffar Kabab, Al kabab, Hanifia, Usmania, Lasania, BBQ Tonight, Saddar Village, Bistro, Forest and a host of Asian: South Indian and Far Eastern, especially Chinese restaurants abound; public- packed is the traditional food galore at Burns Road, Lasbela, Nazimabad, North Nazimabad, Karimabad, F.B. Area, Bahadarabad, Tariq Road, Malir, Landhi etc.
Eateries are "chatkhara" likes- tongue-tilting types: "chana chat, dahi bare, shakar kandi, bun kabab, anda choley, murgh choley, biryani, haleem, nihari, pae, sherbet, lassi, doodh patti, kehwah" and you name it really!
Meanwhile, blooming is the eating fun for the "burger types" including Kaybees, Copper Kettle, Macdonalds, KFC, Ginsoy, Emilee Chilly, Roaster, Burger King, Burger Lab, Tooso, Pizza Hut, Foods Inn, kababist, Dunkin Donuts, Del Freio, Henny Penny and many.Gentry popular is dining at 5-star hotels like PC, Avari, Morven Pick, Marriot; such food attractions as at Beach Luxury, Regent Plaza, Lal Qila, Mela ; at many Food Courts of the sprawling city Malls; and a long line of bustling eateries along the Sea View beach.
Wonderful are such traditional sports as "gulli danda, kora jamai shahi, kho kho, pitthu garem, baraf pani, kabaddi mulakhra". Amazing are super stars of street cricket in lanes and bi lanes of kharadar, Mithadar, Ranchore lines, Plaza area, or for that matter, Bahadarabad, Gulshan, Gulistan-e- Johar, Karimabad, Nazimabad, Malir, Landhi and every nook and corner of the city. Imagine the poor football crazy youth of Lyari playing hearts out from dawn to dusk for love of soccer for no returns.
Some interesting aspects of traditional Karachi are street shows like cock fights, donkey cart race, magic shows with the bewitching "bacha jambhora" performing one spell- binding act after another much to the amusement of hysterical street fans. One earns a soothing head-to-toe massage from the late night chumpiwalas or so to say massage masiahs of the slums and streets of Karachi.
Karachi sports some wonderful parks from Nisar Shaheed in Defence to Askari Park at old Sabzi Mandi, from one-time lively Hill Park on Shaheed-e-Millat to popular Annu Park in FB Area, from trendy Bagh Ibn-e-Qasim in Clifton to beautiful Bagh-e-Quaid-i- Azam amid Steel Town, from new look Karachi zoo leaving behind memories of one-time Jumbo, the chimpanzee to purpose-built Elixir zoo in North Nazimabad, from the grandeur of historical Frere Hall to Polo Ground, now Sherpao gardens, from PECHS Jheel Park to Gulshan's Aladin Park. Fun is aplenty at many a sandy beach like Clifton, Sandspit, Hawksbay and cruising in a boat from Keamari to Manora.
Meanwhile, the city sports a host of sports venues like PIA Sports Complex, National Stadium, Hockey Club of Pakistan Stadium, Karachi Gymkhana, Muslim Gymkhana, UBL Sports Complex, National Coaching Centre, Rashid Latif cricket Academy Cocon Society Cricket Ground, Little Master Cricket Stadium etc.
Sports and games abound from traditional public frenzy "akharas" and bouts of the "pehalwans" (wrestlers) to modern-day outdoor and indoor games like cricket, hockey, squash, table tennis, badminton, volleyball, basketball snooker, billiards, chess, carroms to video games and e-sports.
Karachi goes beyond the "khel khilari" perspective to intellectual horizons with DAWN's Spelling bee contests for the kids to the still alive "Mushairas". Among Karachi's many imminent men of letters were Late Saba Akbar Abadi, known for his complete Persian to Urdu translation in poetry of the work of Omer Khayyam, Amir Khusro and Mirza Ghalib, besides writing "Zam-Zama-e- Pakistan", three long poems since Prophet Mohammad (pbuh) to creation of Pakistan in 1947 presented to Quaid-i-Azam.
Karachi's media is second to none, even trend-setting indeed. Whatever leanings or thought-patterns, rising over and above self, all helping and truly sacrificing, were Karachi's media prodigies like Late Sabihuddin Ghausi, Late Anil Datta, Late Manzar-ul-Hasan, Late Maisoon Hussain, Late Salman Hussain, Late Mukhtar Zaman, Late Irfan Hussain, Late Ibnul Hasan, Late Nizam Siddiqi, Late Hadi Haqqani and some such legendries as Ghazi Salahuddin and particularly, retired, Tajdar Adil and SM. Fazal, being faces behind fame of many a seasoned celebrity!
With all thy critics, education continues to highlight the Karachi horizon with the criticized public schools and colleges producing professionals par excellence as private institutions charge heavily and deliver scantily.
Bravo Karachiites on public utilities with rocketing costs and falling incomes. Commoner continues to hang on footboards or roof tops of public transport, heaps of health threatening garbage abound in slums and streets. Power, gas and water breakdowns agonize life for the poor. Law and order remain a question mark many a time.Bravo Karachi and Karachiites, lion-hearted and broad-minded, with all thy faults I love thee still, combating corona head-on amid petty politics with will power and determination second to none.
—————————
The writer, a senior faculty in media management and corporate communication, contributes to media on national and international affairs.