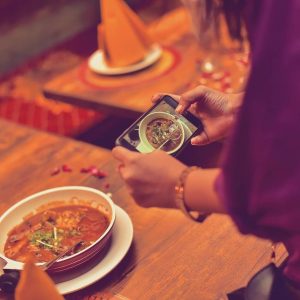 Akbari Nihari
Akbari Nihari is a derivate of the original Nahari recipe prepared with exotic seasonings, herbs & spices and is served in style to suit your taste.
Address: Port Grand, near Jinnah Flyover, Moulvi Tamizuddin Khan Rd, Karachi.
Contact # 0344 8621900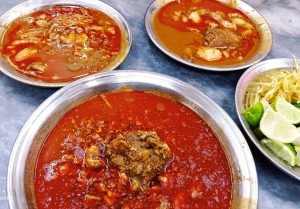 Zahid Nihari
Very nice and Delicious nehari. Nihari is something that Karachites are passionate about and Zahids Nihari satisfies that passion rather well.
Saddar Karachi and Tariq Road Karachi.
Contact # 0334 3794562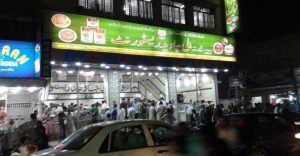 Javed Nihari
Excellent Nihari. Terrible ambiance and pathetic hygiene. However still the best Nihari in Karachi.
Block 15, Dastagir Food Street, F. B. area, Karachi and Main Alamgir Road, Sharfabad Karachi.
Contact # 0345 1005499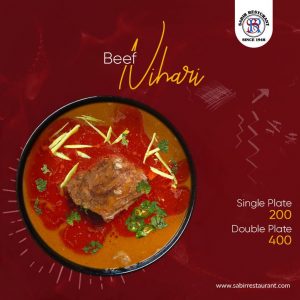 Sabir Restaurant
Providing Delicious Taste Of Nihari. The most famous Nihari joint in Karachi. We also serve a variety of desi dishes as a treat for our customers. Located at Urdu bazaar.
Contact # 0300 9280189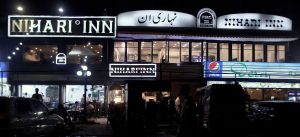 Nihari Inn
Delicious Nihari Special Nihari Maghaz Nihari Nulli Nihari & All Traditional Pakistani Food.
at main Boat Basin, Clifton Karachi
Contact # (021) 35870026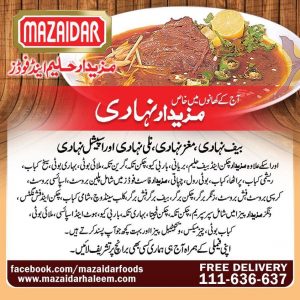 Mazaidar Foods
Nihari of Mazaidar Foods also unique taste like Mazaidar Haleem.
Main Samanabad Block 18, Federal B Area Karachi.
Main Burns Road Food Street, Karachi.
Contact # (021) 111 636 637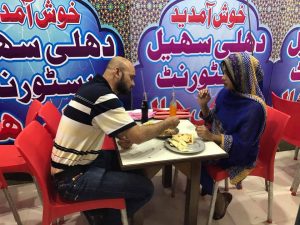 Dehli Sohail Restaurant
Best Nihari in North Nazimabad Karachi.
Block L North Nazimabad, Karachi.
Contact # 0321 9200018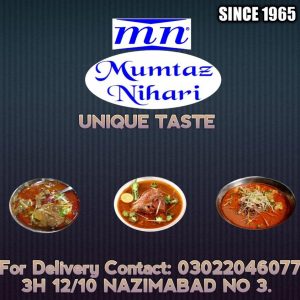 Mumtaz Nihari
If you are in Karachi and wanted to eat the delicious taste of Pakistani nehari then come to the Mumtaz Nihari.
3H 12/10 Nazimabad No.3 karachi Karachi,
Contact # 0302 2046077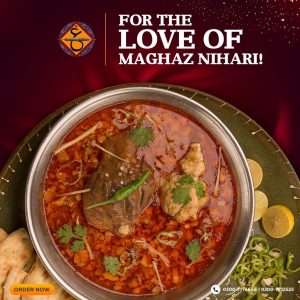 Abdul Ghaffar Kabab House and Nihari
For the Love of Maghaz Nihari!
Off Shaheed Millat Road and Port Grand Karachi
For Delivery
0300-7714646 I 0300-7712525
Get Direction: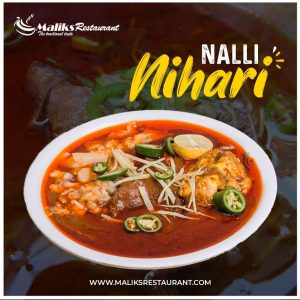 Malik Restaurant
The most amazing , mouth watering food with a Desi tarka. Nothing is better than a Spicy Nihari with tender meat, garnished with coriander, chilies and ginger slices, served with hot naan! Maliks Restaurant brings you the finest Nihari in town.
Food Street at Burns Road and Main Alamgir Road Opposite Alamgir Masjid Karachi.
Cntact # 0335 2648003