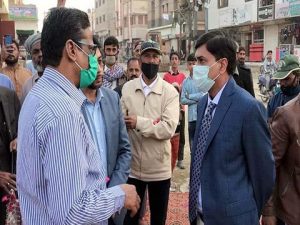 Administrator Karachi Laeeq Ahmed on Tuesday said that hundreds of thousands of residents of Korangi would be facilitated through construction of 7000 road in Korangi. Before the construction, sewerage line was also laid which would resolve the issue of over flowing. Our priority is to uplift the infrastructure. We are trying to complete the road construction at the earliest, keeping in view the miseries being faced by the people,, the Administrator passed these remarks while inaugurating the road renovation at Korangi Sectors A-48 and B-48. Director General Works and Services Shabeeh ul Hassan Zaidi, engineers of works department and other officials were also present on the occasion.
The Administrator said that the people were facing hardships as 1600-metre road was in deplorable condition and sewerage over flow also damaged the road. He said that sewerage line was also laid by Karachi Metropolitan Corporation to get the long lasting results. He said that the width of the road was 35 to 36 feet while kerb stones were also fixed on both sides of the road. The work would be completed at the earliest, keeping in view miseries of the people.
Giving briefing on the works, Director General Works Shabeeh ul Hassan Zaidi said that the road construction and fixing of sewerage issues had been demand of the area people since long and it was also necessary as the heavy traffic also passes through the road. He said that heavy machinery of the KMC is taking part in the work. The Administrator said that the central road of Korangi was being made motorable as the people of Landhi, Kornagi and other adjacent areas would be facilitated. He said that they wanted to make the old infrastructure intact before initiating the new schemes. Roads, flyovers and arteries remain in use of the public around the clock therefore a mechanism is being devised to keep resolving the issues pertaining to traffic, he added. He also passed directives to construct other roads of Korangi as well.