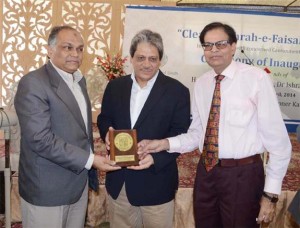 Governor of Sindh Dr. Ishrat-ul-Ebad Khan said better results could not be achieved in public service works without making inter-coordination strong and effective between different organizations. This coordination was needed most for working on various uplift projects in Karachi. If we start working together it would not only increase the level of mutual confidence and establish fine working relations among the organizations but also make it easy to provide better services to people. He expressed these views while addressing as chief guest in the launching of cleanliness drive of Sharae-Faisal held at the Frere Hall on Sunday. Commissioner Karachi Shoaib Ahmed Siddiqui, Administrator Karachi Rauf Akhtar Farooqui and Deputy Commissioner South Mustafa Jamal Qazi also spoke on this occasion whereas the program was attended by the Metropolitan Commissioner Samiuddin Siddiqui, deputy commissioners of different districts, administrators, various departmental heads and a good number of prominent citizens. Governor Sindh said besides improving the law and order conditions, development works were also being carried out in the city. Citizens would feel refreshing change with the solution of their problems hence, all civic organizations should work in coordination. He said work on bringing gradual improvement on the major city corridors was begun now and before this I.I Chundrigar was also made better due to its importance for the city and now security arrangements on this Wall Street of the city were being made under a comprehensive plan.
Governor Ishrat-ul-Ebad said he felt pleasure on that the Commissioner of Karachi and the Administrator Karachi has already done lot of home work for the beautification of Sharae Faisal and other organizations were also fully cooperating in this connection. He said that he prayed for joint working of all city organizations for its betterment. About 10 Lac saplings were planted in past and the city's environment will improve further with the addition of 3 Lac saplings more in Karachi.
Earlier Commissioner Karachi Shoaib Ahmed Siddiqui in his welcome address said the city administration was taking all civic bodies on board in the beautification of the city. We have a passion working for Governor Sindh's vision of green and peaceful Karachi. About 3 Lac saplings will be planted in this campaign and we have this desire that this work for the cleanliness and beautification of city corridors extend to all areas of the city. He said the Administrator and Metropolitan Commissioner of Karachi have also fully supported this work and we all will continue to work with this spirit for making city clean and green.
Administrator Karachi Rauf Akhtar Farooqui said the projects which were completed in Karachi with the patronage and special attention of the Governor of Sindh Dr. Ishrat-ul-Ebad Khan was not only an example but also a milestone for future. He said KMC has completed lot of development projects and work on many projects still going on which will be completed soon. Though KMC was not directly responsible for the cleanliness of whole city as the city was divided into many organizations which have their own land control and these bodies were charging for municipal tax in these areas, therefore it was their duty to provide municipal services in these areas. However the Municipal Services Department of KMC was working under mutual coordination of district municipal corporations. He said KMC was responsible for the maintenance of city's major corridors and the big parks, therefore it has chosen Sharae Faisal for the beautification of city in the first phase. Besides carrying out cleanliness work on this central corridor of the city about 25 thousand evergreen saplings were also being planted alongside it. Deputy Commissioner South Mustafa Jamal Qazi thanked the Governor of Sindh Dr. Ishrat-ul-Ebad Khan and other notables for attending this program and expressed resolve that we all will work together for the beauty and cleanliness of the city. In the end Commissioner Karachi Shoaib Ahmed Siddiqui and Administrator Karachi Rauf Akhtar Farooqui presented a souvenir to the Governor of Sindh Dr.Ishrat-ul-Ebad Khan.