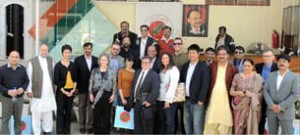 A thirteen member delegation of the US journalists visited the MQM head quarter Nine Zero. The visit was organized by International Centre for Journalists (IVFJ). The delegation was received and welcomed at Nine Zero by member of the co-ordination committee and in-charge of the Central Information Committee Mr Wasay Jalil. The delegation was being headed by Mr Aamir Jahangir of ICFJ.
The delegation held talks with members of the co-ordination committee Mr Mustafa Kamal, Mrs Nasrin Jalil, Mr Raza Haroon, Dr Sagheer Ahmed, Mr Gulfaraz Khan Khattak, Mr Wasay Jalil and member of the Central Executive Council Mr Umer Khan Ali Sherzai.
The meeting lasted in a cordial environment for over two hours during which different issues relating to media in Pakistan and the US were discussed in detail. The need for solving the problems being faced by the journalists and an independent media was greatly stressed in the meeting.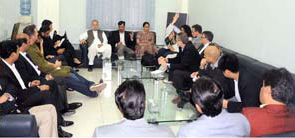 The purpose of the visit by the delegation was to acquire information about the political struggle of the MQM, the role of the MQM in the politics of Pakistan and the media centre of the MQM. The co-ordination committee apprised the delegation about the fact that the MQM was the only political party in the country that has emerged from the poor and middle class segment of the society. The committee also informed them about the philosophy of Mr Altaf Hussain, the reasons behind the coming into being of the MQM, its practical struggle and historic struggle.
The delegation visited different sections of the Khursheed Begum Secretariat and the media centre. They also visited the monument built in memory of the martyrs of the MQM. Members of the delegation were presented "Pictorial Biography of Altaf Hussain" at the time of leaving.