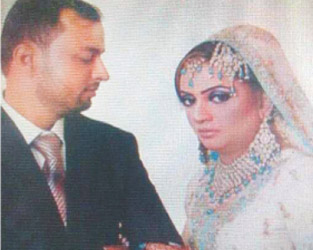 A domestic dispute between husband and wife turned into a sorrowful incident when a Rangers official fired on the couple, killing the man and injuring the wife.
The incident occurred at Nagan Chawrangi. The couple was fighting on the road over a domestic dispute when suddenly a Rangers' official present there opened fire on the man. According to reports the man was seriously injured and died while being shifted to hospital. The couple had married just four months ago, but their relationship had deteriorated.

The wife also received injuries; however, she is under treatment. The incident sparked severe protests in the area, with protesters pelting Rangers and police vehicles with stones.
They destroyed two motorbikes of a law enforcement agency. The protesters expressed severe anger over the killing of the man by Rangers official. A rescue team shifted the dead body and the injured woman to the Abbasi Shaheed Hospital. According to DIG East initial investigations indicate that the Rangers' official fired at the couple accidentally. "We have opened investigations into the incident… It is yet premature to reach a conclusion," he said.
Daily Times