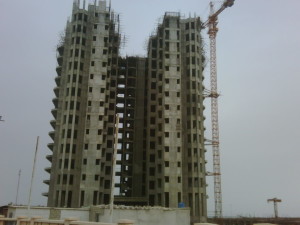 Dwelling at Creek Marina, a multi-billion residential project to be built at DHA Phase VIII, has become making 'castle in the air' as allottees after pouring in Rs 3 billion in the project have failed to get possession for last five years. The Creek Marina project was launched in 2005 with the partnership between Defence Housing Authority (DHA) and a Singaporean consulting firm named Meinhardt, run by Dr Shahzad Nasim.
DHA has provided 19 acres of coastal land in Phase VIII and Meinhardt set up a local company named Creek Marina Private Ltd (CMPL) to oversee the marketing and construction of the project. The possession date of this 6-star luxury housing scheme, which was earlier in 2009, had been revised to 2011. Most buyers had by this time paid a major proportion of the final cost.
At a press conference held at a local hotel here, Yousuf Mirza, Chairman Creek Marina Action Committee (CMAC) said the CMAC had appealed to Dr Shahzad Nasim in March 2011 to resume construction activity as the initial agreement with DHA was signed in May 2004 by Dr Shahzad Nasim, the CEO of Meinhardt-Singapore.
He said instead of pacifying the agitation of the allottees, Dr Nasim through his legal advisor asserted that he had no connection with the Creek Marina project or with CMPL and filed a defamation suit against the CMAC in Sindh High Court (SHC). He added that an injunction, which was still valid, was passed on 15 members of the CMAC whose names appeared on the appeal.
Moreover, Mirza said in April 2011, the SHC ruled that Rs 1 billion bond money should be released to CMPL and DHA in order to pre-empt any attempt on the part of Meinhardt to move these funds out of the country. The court granted a stay order and the money was not allowed to be transferred out of the CMPL account. Later, in July, 2011 the SHC had again passed a ruling that the funds could be released in tranches to CMPL, solely for construction purposes, subject to the approval by DHA of a monthly budget plan to be submitted by CMPL.
Keeping this in view, Mirza requested the authorities concerned to release funds and resume the construction activity. He said negotiations had been continuing between DHA and Meinhardt with regard to the amendment to the original agreement for over last two years but remained unsuccessful.
He said that DHA had lost all confidence in Dr Shahzad Nasim's commitment to resume and complete the project, and would like to take back and hand it over to a developer of their own choice. Now, DHA has filed an FIR under sections 409, 43 and 420 for fraud against Dr Shahzad Nasim, Omar Shahzad and Meinhardt-Singapore. Moreover, he said a rift between both parties had blocked the money of 250 buyers. He added that they did not want any refund but only sought an assurance that their interests would be protected.
He said any arrangement under which the project was transferred to another developer with no commitment to existing buyers or to the original master plan would not be accepted. Replying to a question, Mirza was unaware about any treaty signed between Pakistan and Singapore to take legal action against Dr Shahzad, who took Singapore's nationality after surrendering his Pakistani identity. He said around Rs 3 billion were paid by the buyers and one-third of the amount had been put in the project while the rest was seized by the court. (Business Recorder)