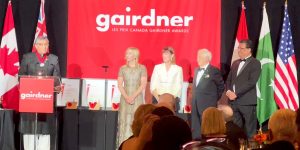 He received the award at the 2022 Canada Gairdner Awards Gala in Toronto
Karachi, October 28, 2022: Professor Zulfiqar Bhutta, the founding director of the Centre of Excellence in Women and Child Health and the Institute for Global Health and Development at the Aga Khan University (AKU), is the first Pakistani to receive the John Dirks Canada Gairdner Global Health Award for outstanding achievements in global health research.
Announced earlier this year, he received the award at the 2022 Canada Gairdner Awards Gala in Toronto, in the presence of his family, AKU President Dr Sulaiman Shahabuddin and AKU Medical College Dean Dr Adil Haider. The ceremony was also attended by former AKU President Dr Firoz Rasul and Dr Saida Rasul.
The Award recognises Professor Bhutta for his work on the development and evaluation of evidence-based interventions in child and maternal health for marginalized populations focusing on outcomes for the essential first thousand days of life covering pregnancy, childbirth and the developmental phases in the first two years of life.
I receive this award with the greatest humility on behalf of my team and colleagues who have worked on many of these issues diligently over decades, said Professor Bhutta. This is a recognition of the power of international collaboration and teamwork in addressing some of the complex problems affecting the poorest of the poor.
AKU President Dr Sulaiman Shahabuddin lauded Professor Bhutta and his team for making life better for thousands of people not only in the countries where AKU serves but also globally.
Professor Bhutta is a powerhouse of knowledge. His work has truly transformed healthcare for women and children, and we are so proud of him, said AKU Medical College Dean Dr Adil Haider.
Professor Bhutta is one of the first members of AKUs faculty since the establishment of the University. Having begun his career at AKU in 1986, the University provided a foundation for the development of an illustrious career in which he built research programmes on maternal and child health and nutrition with national and global impact, despite the challenges of political turmoil and economic insecurity in Pakistan.
Globally, his work has been the foundation of multiple international guidelines, including changing World Health Organization policy on the treatment of persistent diarrhoea and malnutrition along with establishing lady health workers (LHW) as foundational members of community-based interventions in Pakistan, South Asia and sub-Saharan Africa for addressing newborn and child survival. His team has especially worked on implementing and evaluating evidence-based interventions in conflict-affected and insecure populations.
At AKU, Professor Bhutta holds the title of Distinguished University Professor the highest faculty rank the University can confer as well as an Award of Distinction and Award of Excellence in Research.
He is also Co-Director of the SickKids Centre for Global Child Health, Robert Harding Chair in Global Child Health and Policy, and a Senior Scientist at the Research Institute at The Hospital for Sick Children, Toronto.
The Gairdner Awards are widely regarded as Canadas most prestigious prize for medical science and the Global Health Award, one of the highest awards in this discipline worldwide. Past recipients include Drs Anthony Fauci, Director, National Institute of Allergy and Infectious Diseases, National Institutes of Health; Peter Piot, Director, London School of Hygiene and Tropical Medicine; and Christopher Murray, Director, Institute for Health Metrics and Evaluation (IHME) and Professor of Global Health, University of Washington.
Professor Bhutta also received the Roux Prize in 2021 for lifetime achievements in research on evidence-based strategies that have impacted the lives of millions of women and children across low and middle-income countries.