Posts Tagged 'All About Karachi Pakistan'
The Dolmen Shopping Festival over the past few years has earned the reputation of bringing tremendous bargains to Karachites, at least twice a year. Being in full swing since December 20, 2014 this time it was real crowd puller and brought in throngs of people to the three Dolmen Mall locations in Karachi, Clifton, Tariq Road and Hyderi. The Festival has over 50 brand partners and 100 participating outlets, offering delightful bargains and discounts to shoppers.
This year the festival started with a candle vigil at laying of flower wreaths and remembrance notes for the 141 martyrs of the Army Public School Peshawar. The management of Dolmen Mall dedicated the entire festival to the children of Pakistan.
Among many attractions of #DSFKHI were a fashion fusion show and a theater play and artwork display by the students of Indus Valley School Of Art & Architecture, Karachi. An amazing feature was a life size game of monopoly where shoppers could spend Rs.5000 at the Dolmen Mall & enjoy a game of Monopoly.
A first of its kind feature of this shoppers' bonanza was a bloggers' meet-up-cum-digital treasure hunt. Around 40 bloggers and online influencers were briefed spontaneously at 'Barrista Lavazza' about the time barred treasure hunt race, that led to a crazy trip of the Dolmen Mall Clifton by way of completing  9 simple tasks and posting selfies at the completion of each. Some of the fun activities included playing the 'Raging Ape' at Sindbad and tweeting a picture doing same and posting selfies from the Instagram booth.  The winner of the Treasure Hunt, blogger Umair Mirza won an 'HP Elitepad' as the first prize.
Main crowd puller however still proved to be bargain sales, gift hampers, shopping vouchers and an opportunity to win exciting prizes at the end of the festival. Due to popular demand the festival has now been extended till Friday, January 9, 2015, which will also be the day of the grand lucky draw. So hop on to the nearest Dolmen Mall and shop till you drop 😉
Photo courtesy: Adil Awan @aurdil and Arsalan Muhammad Khan @amk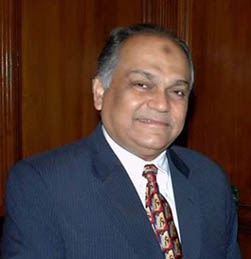 Commissioner Karachi Shoaib Ahmed Siddiqui has said that 35 more CNG buses would operate on the city roads very soon.  "Transport and Communication Department (TCD) should scrutinize system of looking after the buses so that they could not become out of order again," he said while addressing a meeting at his office in the metropolis to review repairing of the remaining 35 buses out of 71.The Sindh Chief Minister had inaugurated 36 CNG buses on September 5, which have started operation from Quaidabad to the Tower area.
The commissioner said it was through personal efforts of Sindh chief minister that Karachi had got better transport facility.He vowed that the under-repairing 35 buses would soon be on roads after completion of work. He said that it should be ensured that the need of transparency and quality was fulfilled during this process.The meeting decided to complete the repairing work in two phases. The 16 buses would be brought on road in first phase and those would be run from Surjani Town to Tower through MA Jinnah Road, while in the other phase, 19 buses would be brought on road and those would be run from Sohrab Goth to Tower through FB Area, Liaquatabad, Gurumandir and MA Jinnah Road. It was hoped that the 35 buses would be on board by the end of November after getting them repaired.TCD also informed about the Bus Rapid Transit (BRT) project, which would be completed by 2018.
In the first phase BRT project would be started on Yellow Line Bus. Yellow Line's 80 percent process of tender had been completed. It was hoped that it would start facilitating citizens in the first part of the next year.Yellow Line would ply the route from Landhi to Tower through Shahra-e-Faisal, MA Jinnah. Initially, 100 buses would be run, informed TCD.Additional Director TCD Saeed Akhtar, Director Planning and Development Commissioner House Syed M Shakib, Deputy Secretary Sindh Transport Department Safdar Hussain Rizvi, Secretary RTA Manshad Shahani and other officers were also present on the occasion.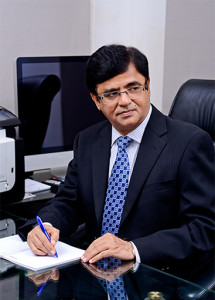 BOL, Pakistan's mew media group, has welcomed on-board globally acclaimed journalist Kamran Khan as the group's President and Editor-in-Chief. This is a major milestone for BOL which has meticulously acquired a dream-team of highly experienced professionals with decades of experience to their credit.
Mr. Kamran Khan is one of the most respected, experienced and celebrated professionals of Pakistani journalism with unparalleled fan following in Pakistan and abroad. His experience with more than 3000 fantastic investigative news stories and around 3000 daily news and current affairs shows make Mr. Kamran Khan, in many ways, Pakistan's most distinguished journalist with global recognition.
His legendary daily news and current affairs show "Aaj Kamran Khan Kay Saath (AKKKS)" gained incomparable heights in viewer ship, ratings and above all, in credibility. From The New York Times to Gallup surveys in Pakistan, viewers found AKKKS as most watched and most credible news and current affairs show in Pakistan. Before that, his 25 years in print journalism had earned Mr. Kamran Khan a celebrity status as Pakistan's most famous investigative journalist.
Mr. Kamran Khan's decision to join BOL is a momentous honor and privilege for BOL. His candid journalistic style and high professional standards symbolize the ideals of modern journalism and have brought him well-deserved international acclaim. He has been known to leave a trail of leaders in his wake and BOLwalas stand to benefit immensely from his diverse expertise.
"We are at the brink of revolutionizing the country's media industry," said Mr. Kamran Khan, while commenting on his decision to join BOL. "This will herald the beginning of not just a better and stronger media industry but also a new Pakistan."
BOL has been launched by Axact, world's leading IT company, with the objective of revolutionizing the country's media industry. The industry has been incredibly supportive and welcoming with a number of leading media professionals joining BOL to help realize the channel's long-term vision and to spread the message of SEDAxact.
BOL senior leadership, including Chairman and CEO Shoaib Ahmed Shaikh, are immensely delighted to welcome Mr. Kamran Khan to the fold. "We have promised Pakistan a revolution and we do not default on our promises," said Mr. Shoaib Shaikh, adding that Mr. Kamran Khan's decision to join BOL represents the beginning of the revolution. (PR)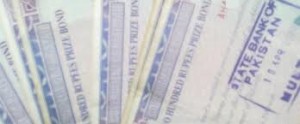 The State Bank of Pakistan (SBP) Tuesday hinted that the police were responsible for the disappearance of thousands of prize bonds on May 8 while being transported from Lahore to this metropolis.
Quoting the Federal Treasury Rules, the SBP said the Lahore remitting office was to hand over the treasure to the police escort.
"It moves in their custody till it is received at the Karachi destination office," said the bank in a statement issued Tuesday.
The bank clarified that some 20,000 missing pieces of prize bond forms of Rs 1,500 bearing serial numbers AW070001 to AW090000 were missing.
A consignment of un-stamped prize bond forms was dispatched by SBP Lahore Office for receipt at the State Bank's office here via 16 Down Karachi Express, it said.
"The train departure from Lahore was delayed by approximately 12 hours and reached Karachi Cantt behind the schedule," added the bank.
It said that the brake railway car carrying the treasure was unlocked at Karachi in the presence of all concerned including police escort and to their dismay they found one box out of the 10 was missing.
On further investigation, it transpired that one of the panels of the brake railway car was found to be tampered and broken into.
The SBP has issued 'Stop Payment' instruction to all SBP BSC Offices, commercial banks and Central Directorate of National Savings (CDNS), in respect of the missing un-stamped prize bond forms.
Moreover, CDNS has been requested to notify withdrawal of above serial numbers from circulation with immediate effect through the Finance Division, Ministry of Finance, by issuing gazette notification in exercise of the powers conferred by Rule 4(1&2) of the Prize Bond Rules 1999, the bank said.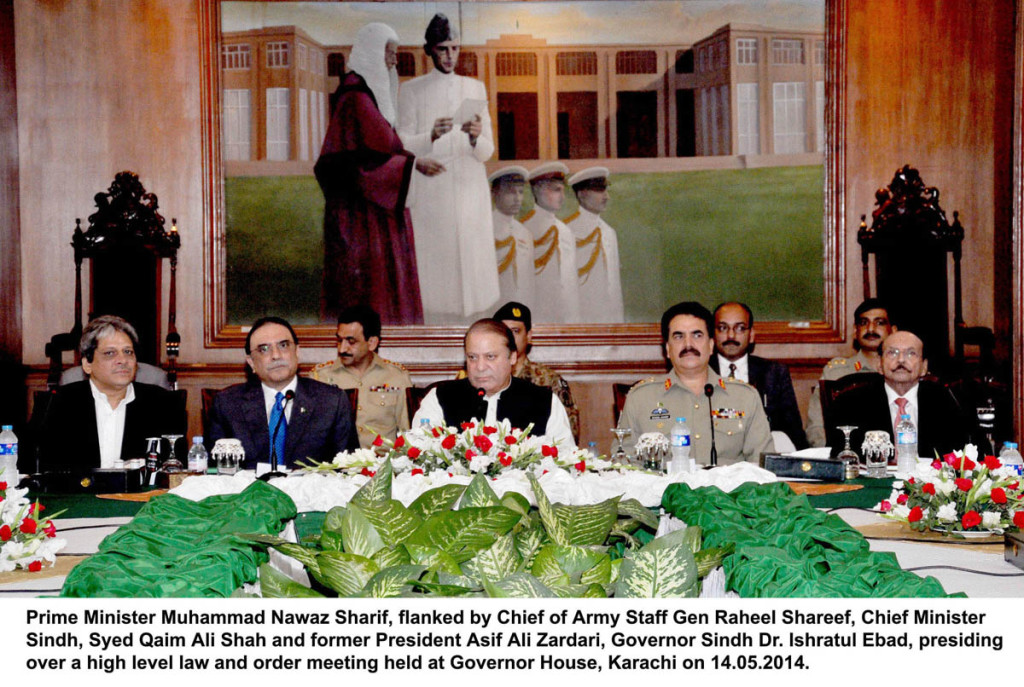 Prime Minister Muhammad Nawaz Sharif chaired a high level meeting regarding Law & Order at Karachi today. The meeting was also attended by Former President Mr. Asif Ali Zardari, Governor Sind Dr. Ishrat-ul-Ebad Khan, Chief Minister Sind Syed Qaim Ali Shah, Federal Interior Minister Chaudhry Nisar Ali Khan, Army Chief General Raheel Sharif, ANP Senator Shahi Syed, Ex-MNA MQM Syed Haider Abbas Rizvi, Secretary General Jamat-e-Islami Mr. Liaqat Baloch, DG ISI Lt. General Zaheer-ul-Islam, Corps Commander Karachi Lt. General Sajjad Ghani, Secretary to PM Mr. Javaid Aslam, Chief Secretary Sind Mr. Sajjad Saleem Hotiana, Federal Secretary Interior Mr. Shahid Khan, Federal Secreatary Law Mr. Zafar Ullah Khan, Director General Intelligence Bureau Mr. Aftab Sultan, DG Rangers Sind Maj. General Rizwan Akhtar, DG ISPR Maj. General Asim Saleem Bajwa, Acting IG Police Sind Mr. Ghulam Haider Jamali, CCPO Karachi Mr. Shahid Hayat, Commissioner Karachi Mr. Shoaib Ahmad Siddiqui and senior officers.
Prime Minister Muhammad Nawaz Sharif apprised the participants about Federal Government's efforts towards restoring peace in Karachi and reiterated that improvement in law and order should be above politics. PM further said that terrorists and criminals should be brought to justice without any  political prejudice. "We started operation in Karachi with the agreement of all political parties and stakeholders", said the Prime Minister.
Prime Minister said that Karachi holds special significance for him, being the economic hub of Pakistan. "We want cooperation of all stakeholders in Karachi and I see no one who will not want to improve the law & order situation of Karachi, therefore, a joint solution is the only option", said the Prime Minister.
Prime Minister emphasized upon capacity building of Sindh Police and appreciated acquisition of services of retired army personnel for maintaining law and order in Karachi.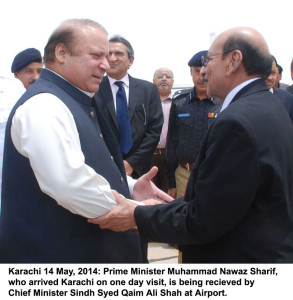 Prime Minister said that it is very natural that there will be retaliation from extremists and terrorists, but the government is prepared for that and all possible support will be provided to law enforcement agencies to counter the retaliation.
Prime Minister directed to constitute special committees to address any kind of hurdles or grievance being faced in the Karachi operation.
Prime Minister reiterated that the present government implemented Pakistan Protection Ordinance with a view to deal with the menace of terrorism and bring criminals to justice.
Federal Interior Minister Chaudhry Nisar Ali Khan briefed the meeting that state-of-the art equipment is being provided to law enforcement agencies and about Seven Hundred Thousand illegal mobile SIMS have been cancelled. He further elaborated that once 3G mobile technology is in place, we will further carry out crackdown against illegal SIMS.
Chief of the Army Staff General Raheel Sharif said that Pak Army is ready to provide any kind of support to the Federal and Provincial Governments with hundred percent honesty and sincerity. "We will give our honest opinion and assistance whenever sought from us", said the Army Chief. He also suggested that posting & transfers of Police personnel should be depoliticised and also stressed upon the need to equip them with modern equipment and resources.
Former President Mr. Asif Ali Zardari said that Sind Police needs to be equipped with resources. He further said that support from all political parties is need of the hour to bring peace in Karachi.
Chief Capital Police Officer Karachi briefed the participants that closure of illegal SIM will reduce crime by 50% and also assured that police is acting against criminals without discrimination and that there was no political pressure on Police.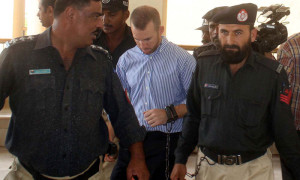 Pakistani and US officials said that the Federal Bureau of Investigation (FBI) agent, who was caught yesterday carrying bullets and a knife by security officials at the Jinnah International Airport, is being held under anti-terrorism charges in Pakistan, according to a Washington Post report.
The suspect was produced in a local court on Tuesday on the charges involving violation of local anti-terrorism laws that proscribed carrying arms and ammunition on a plane.
The judge in his ruling of the case said that the suspect should remain in custody of security officials until Saturday so the issue could be further probed.
The US officials confirmed that the agent was temporarily in Pakistan to help the government investigate corruption.
The officials requested withholding of the agent's name, as according to them the issue was sensitive in nature.
It was also contended by the US officials that the agent had forgotten a loaded gun magazine in his luggage and wasn't 'armed'.
Spokeswoman for the US Embassy in Islamabad, Meghan Gregonis said that the US officials were closely coordinating with the Pakistani authorities to solve the issue.
The US citizen, identified as Joel Cox Eugene, had been carrying 15 bullets of 9mm calibre along with a magazine when Airport Security Force officials checked him. He was going to Islamabad by a PIA flight (PK 308). DAWN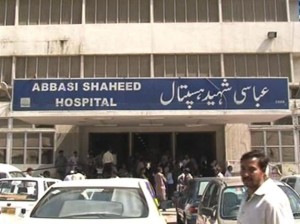 Dr Nadeem Rajput, Medical Superintendent of Abbasi Shaheed Hospital and five other doctors were suspended on Thursday on negligence of duty, which led to the death of a patient.
According to details 35-year Shakil Ahmad was admitted to the hospital for treatment of appendix. He was not attended properly and resulted in his death. Relatives and friends of the patient while protesting broke furniture and tortured some members of the hospital staff.
"An inquiry has been initiated," said Karachi Administrator Rauf Akhtar Farooqui. "This is the first time that a patient has died due to negligence of the doctors and the people responded by attacking the hospital." He added that such occurences were unacceptable.
According to Farooqui, Medical Superintendent Dr Nadeem Rajput and other doctors had reached the hospital when the staff made phone calls to them. He said that a committee will submit its report about the incident while a charge-sheet will be also be issued to those who were responsible.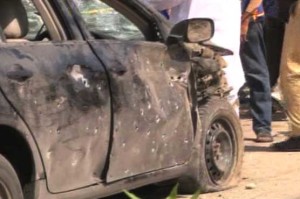 At least four people have been killed and more several others injured in a suicide blast targeting a government vehicle in Defence area of Karachi, Dunya News reported on Friday.
The incident took place in Gizri area of Defence Phase 4.
Several nearby vehicles and buildings were damaged due to the huge blast.
The injured were shifted to Jinnah Hospital where some of them are said to be in critical condition.
Police and Rangers personnel have arrived at the scene and cordoned off the area.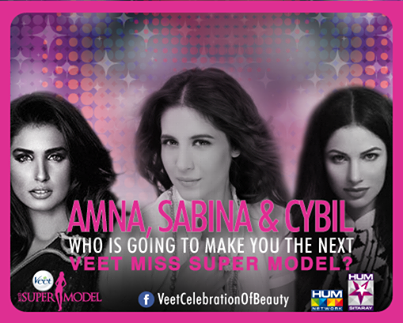 Veet Miss Super Model 2014 competition will likely to be on air on a local channel in mid May 2014 and participants from across Pakistan have already been selected. Model Wiqar Ali Khan accompanying with supermodels Amna Ilyar, Cybil Chaudhry, Sabina Pasha and Nadia Hussain said, "This year many things have been changed in the competition for title." Many news happenings will be involved in programme and the programme will be showcasing 8 themed episodes and each episode will focus on grooming the models in various aspects of modeling based on beauty, confidence and personality development.
He said programme would be hosted by him and every round would be an eliminating round on criteria level. The winner will be bestowed with the title of Miss Super Model as well as a precious modeling contract. Amna Ilyar, Cybil Chaudhry and Sabina Pasha will coach and mentor a group of contestants. The episode will showcase celebrity appearances from the fashion, TV and film industry besides they will judge the challenges by the aspiring models competing, Khan asserted. A representative of the Veet said, "We have created this platform to allow young women to turn their dreams into reality". Veet Miss Super Model has established itself as a recognisable and renowned platform.
Pakistan Council for Science and Technology (PCST), Islamabad has declared Prof Dr Muhammad Iqbal Choudhary, Director International Centre for Chemical and Biological Sciences (ICCBS), Karachi University (KU), the most productive scientists of Pakistan.
Dr Iqbal Choudhary was selected from around 1700 productive scientists of Pakistan. Under the umbrella of ICCBS, Dr. Iqbal Choudhary also heads HEJ Research Institute of Chemistry, KU and Dr. Panjwani Center for Molecular Medicine and Drug Research, KU.
The PCST, in its recent directory titled "Productive Scientists of Pakistan 2013-14", has ranked the KU scientist the top among 1700 productive scientists of Pakistan, employed in public/private sector Universities, colleges and R& D organistions, who have contributed in research, supervision of students and any other productive work during the period 1960-2013-14.
An official of the ICCBS said that the scoring system takes into account different factors from which the academic status and output of scientists and engineers is judged. These include research publications at national and international level, books written or edited, supervision of PhD, MPhil or MSc students, international awards, research grants won, impact factor of the journals in which the research papers were published, citation figures for the papers that were published in science citation index. As per the said criteria, in the field of chemistry, Dr Iqbal Choudhary has lead over 1700 productive scientists of Pakistan, he said. It is also pertinent to mention here that six more scientists of ICCBS-KU are included among the leading productive scientists of the country in the field of chemistry. The names of these scientists included Dr. Syed Ghulam Musharraf (17th rank), Prof. Dr. Atta-ur-Rahman, former Chairman of the Higher Education Commission Pakistan (20th), Dr. Zaheer-ul-Haq (24th), Prof. Dr. Khalid Muhammad Khan (28th), Dr. Muhammad Raza Shah (52nd) and Prof. Wiqar Uddin Ahmed (92nd).
Vice Chancellor Karachi University (KU) Prof Dr Muhammad Qaiser has congratulated these scientists on their great achievements.
Edit or Expand