Posts Tagged 'Karachi Online'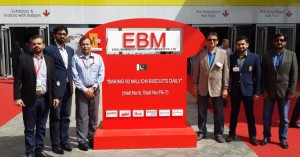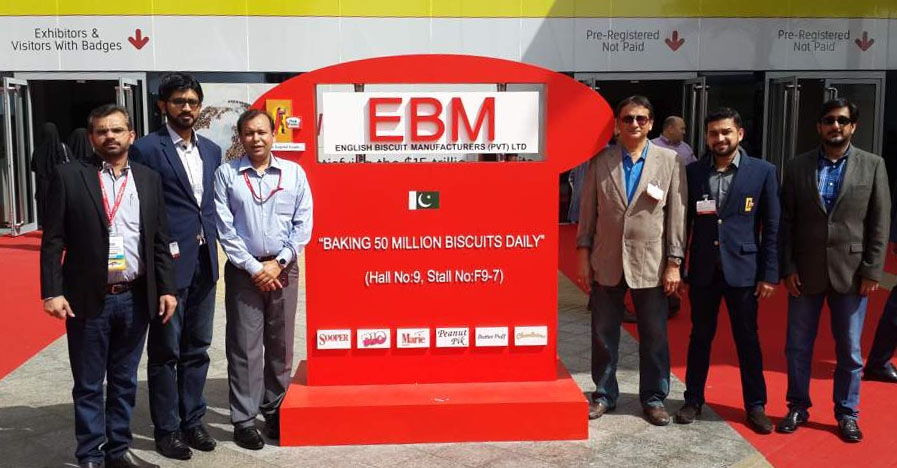 EBM recently participated in the Gulfood Exhibition held in Dubai and is by far the most robust Pakistani company representing the country preeminently at all fronts.
Gulfood Exhibition held at the Dubai World Trade Center attracted exhibitors from across all continents and housed over 90,000 buyers where key trends and topics driving the industry were discussed among industry leaders. EBM as a result of its leadership role surfaced as the first Pakistani company to make its mark on key fronts thus enabling a strong recall and facilitating the company to be highlighted at the global arena. Meanwhile, the exhibition served as a platform to support EBM's quest for expansion at the international level given its already firm establishment and fame at local grounds.
The company has already enhanced its operational capability to meet demand beyond local consumption, thereby exporting products to more than 25 countries around the world including USA, Europe, and GCC region.
"We have brought EBM at par with international quality standards and intend on making it a globally recognized brand that takes pride in being the largest exporter of biscuits from Pakistan as we holistically envision a brand name that translates into quality, trust, and nourishment for our consumers around the world," said Dr. Zeelaf Munir, Managing Director & CEO, EBM.
EBM was the only Pakistani company that was present on most sought after locations at the Gulfood Exhibition and hence a means of promoting the Pakistani heritage and origin. The overall response that EBM received from potential buyers was phenomenal. EBM's commitment to go global while remaining true to its roots is being served by keeping abreast of global trends needed to satiate the international consumer needs. 
English Biscuit Manufacturers (Private) Limited, the makers of Peek Freans biscuits, was established in 1967 as the first manufacturer of wholesome, hygienic packaged biscuits in Pakistan. For over 48 years, EBM has been a symbol of trust and confidence for consumers, making it the leading biscuit manufacturer of Pakistan. EBM is the first biscuit company in Pakistan to have achieved ISO 14001, ISO 9001 and HACCP certifications. The Peek Freans brand also enjoys the internationally acclaimed Super brands status.

Pakistan Pakistan State Oil Company Limited, the oil market leader in Pakistan, held its 39th Annual General Meeting (AGM) at a local hotel in Karachi. The meeting was chaired by Mr. Sheikh Imran UlHaque, Managing Director and CEO of PSO. Present at the meeting were Mr. YacoobSuttar, CFO; Ms. Ayesha Afzal, Company Secretary and other members of the PSO senior management.
While summarizing the company's performance in FY 2015, Mr. Sheikh Imran UlHaque shed light on the challenges faced by the Company and how its profitability was adversely affected by the sharp decline of 46% in the OPEC basket price of crude oil from USD 109 per barrel in July 2014 to USD 59 per barrel in June 2015. He also gave the shareholders a brief overview of Pakistan's economic indicators in FY15 as well as the petroleum consumption pattern in the country, PSO's product-wise market share and the competitive landscape of the oil market.
Speaking at the occasion, Mr. Sheikh Imran UlHaque said that PSO is an iconic institution of Pakistan and the number of people we touch every day is extraordinary. He also said that by utilizing its well-established storage and supply infrastructure and wide-spread retail network, PSO has ensured that the wheels of the nation's economy continue to move forward.Sharing the way forward for the company, MD PSO said that PSO is striving to ensure ethical and transparent operations in all spheres of its business;retain market leadership in all key products; undertake diversification into alternate fuels like Liquefied Natural Gas (LNG) and integration into refining business through acquisition of additional stake in Pakistan Refinery Limited.
During the course of the AGM, the shareholders approved the company's financial statements along with a final cash dividend of Rs. 4 per share (equivalent to 40%) in addition to the earlier interim cash dividends of Rs. 6 per share (equivalent to 60%). The total cash dividend for FY15 stood at Rs. 10 per share in comparison to a dividend of Rs. 8 per share in FY14.
While appreciating the efforts of the company's management the shareholders expressed concerns over the rising circular debt of the company as well as the absence of a Board of Management of the company. Concluding the meeting, Mr. Sheikh Imran UlHaquethanked the shareholders for attending the AGM and expressed gratitude for their valuable guidance to the company. Acknowledging the value of points raised and suggestions made by the shareholders, the PSO management assured the shareholders that the company will follow the best corporate practices to maximize returns for all stakeholders including the shareholders and the country.
The Dolmen Shopping Festival over the past few years has earned the reputation of bringing tremendous bargains to Karachites, at least twice a year. Being in full swing since December 20, 2014 this time it was real crowd puller and brought in throngs of people to the three Dolmen Mall locations in Karachi, Clifton, Tariq Road and Hyderi. The Festival has over 50 brand partners and 100 participating outlets, offering delightful bargains and discounts to shoppers.
This year the festival started with a candle vigil at laying of flower wreaths and remembrance notes for the 141 martyrs of the Army Public School Peshawar. The management of Dolmen Mall dedicated the entire festival to the children of Pakistan.
Among many attractions of #DSFKHI were a fashion fusion show and a theater play and artwork display by the students of Indus Valley School Of Art & Architecture, Karachi. An amazing feature was a life size game of monopoly where shoppers could spend Rs.5000 at the Dolmen Mall & enjoy a game of Monopoly.
A first of its kind feature of this shoppers' bonanza was a bloggers' meet-up-cum-digital treasure hunt. Around 40 bloggers and online influencers were briefed spontaneously at 'Barrista Lavazza' about the time barred treasure hunt race, that led to a crazy trip of the Dolmen Mall Clifton by way of completing  9 simple tasks and posting selfies at the completion of each. Some of the fun activities included playing the 'Raging Ape' at Sindbad and tweeting a picture doing same and posting selfies from the Instagram booth.  The winner of the Treasure Hunt, blogger Umair Mirza won an 'HP Elitepad' as the first prize.
Main crowd puller however still proved to be bargain sales, gift hampers, shopping vouchers and an opportunity to win exciting prizes at the end of the festival. Due to popular demand the festival has now been extended till Friday, January 9, 2015, which will also be the day of the grand lucky draw. So hop on to the nearest Dolmen Mall and shop till you drop 😉
Photo courtesy: Adil Awan @aurdil and Arsalan Muhammad Khan @amk
Karachi Water and Sewerage Board (KW&SB) Managing Director Syed Hashim Raza Zaidi has directed the officer in-charge of Hydrants and Tankers Operation that nearest water hydrants of KW&SB in the event of any fire incident in the city automatically and instantly be placed at the disposal of Fire Brigade Department of KMC or any other firefighting agency as an emergency measure. According to a statement issued on Tuesday, the fire tenders of KMC, KPT, DHA or any other agency could be filled or refilled from nearby hydrants in the affected area of the city for firefighting and protection of human lives or loss of property. Other than any emergency filling, fire tenders of any agency will not be allowed filling adding that strict action will be taken against those officials who failed to comply with the instructions.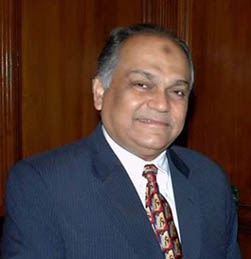 Commissioner Karachi Shoaib Ahmed Siddiqui has said that 35 more CNG buses would operate on the city roads very soon.  "Transport and Communication Department (TCD) should scrutinize system of looking after the buses so that they could not become out of order again," he said while addressing a meeting at his office in the metropolis to review repairing of the remaining 35 buses out of 71.The Sindh Chief Minister had inaugurated 36 CNG buses on September 5, which have started operation from Quaidabad to the Tower area.
The commissioner said it was through personal efforts of Sindh chief minister that Karachi had got better transport facility.He vowed that the under-repairing 35 buses would soon be on roads after completion of work. He said that it should be ensured that the need of transparency and quality was fulfilled during this process.The meeting decided to complete the repairing work in two phases. The 16 buses would be brought on road in first phase and those would be run from Surjani Town to Tower through MA Jinnah Road, while in the other phase, 19 buses would be brought on road and those would be run from Sohrab Goth to Tower through FB Area, Liaquatabad, Gurumandir and MA Jinnah Road. It was hoped that the 35 buses would be on board by the end of November after getting them repaired.TCD also informed about the Bus Rapid Transit (BRT) project, which would be completed by 2018.
In the first phase BRT project would be started on Yellow Line Bus. Yellow Line's 80 percent process of tender had been completed. It was hoped that it would start facilitating citizens in the first part of the next year.Yellow Line would ply the route from Landhi to Tower through Shahra-e-Faisal, MA Jinnah. Initially, 100 buses would be run, informed TCD.Additional Director TCD Saeed Akhtar, Director Planning and Development Commissioner House Syed M Shakib, Deputy Secretary Sindh Transport Department Safdar Hussain Rizvi, Secretary RTA Manshad Shahani and other officers were also present on the occasion.
Brian Heath assumed charge as the U.S. Consul General in Karachi on August 20, 2014. A career member of the Senior Foreign Service, Mr. Heath most recently served as the Minister-Counselor for Management Affairs at the U.S. Mission to the United Nations in New York.
Since joining the Foreign Service in 1998, Mr. Heath's overseas assignments have included Director of the U.S. Regional Embassy Office in Al Hillah, Iraq; Consul General at the U.S. Consulate in Lahore, Pakistan; Management Officer at the U.S. Consulate General in Karachi, Pakistan; General Services and Human Resources officers at the U.S. Embassy in Berlin, Germany; and Consular Officer at the U.S. Consulate General in Mumbai (Bombay), India.
In the course of several assignments in Washington, DC, Mr. Heath has studied at the National War College; worked as a Senior Advisor in the Under Secretary of State for Management's Office of Management Policy; and served as a Special Assistant to the Assistant Secretary of State for Administration. Mr. Heath is the recipient of multiple Department of State Superior and Meritorious honor awards.
Mr. Heath graduated from Fordham University with a Bachelor's degree in political economics, earned a law degree from Rutgers University, and received his Master's degree in national security studies from the National War College. He is a member of the New Jersey and New York State bars.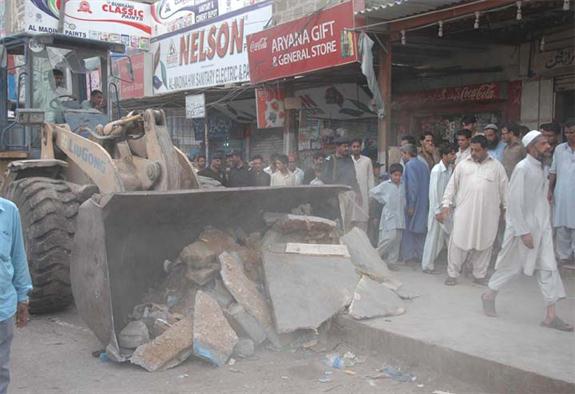 Anti Encroachments squad of KMC took action in Shanti Nagar and removed many encroachments including jhuggi hotels, patharas, sugarcane juice machine and push carts during an operation in the presence of police and rangers. The operation was supervised by the Director Anti Encroachments Mazhar Khan along with the Assistant Commissioner East Mushtaq Shaikh and other officers. On this occasion he said Pak Navy offices were also located in this area and the maintenance of traffic flow on surrounding roads was affected due to the presence of encroachments and illegally expanded pavement alongside the main road.
These encroachments were creating hurdles and other problems for citizens and it was necessary to take action against these encroachments. He said the ongoing campaign against encroachments was going on successfully in the city under the directive of Administrator Karachi Rauf Akhtar Farooqui in which the district administration and citizens have also cooperated.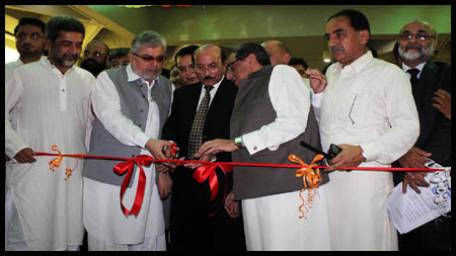 Trade and business groups within and outside Pakistan can make their investment in Sindh, blessed with untapped natural resources and having lucrative potential of investment. Addressing inauguration ceremony of 3-day 'My Karachi Oasis of Harmony' exhibition organised by Karachi Chamber of Commerce and Industries (KCCI) at Expo Centre he said Sindh has great potential of investment and we have signed many accords with the national and international companies most of them belonging to China and Turkey. We have started the digging of coalmines and would generate 660 megawatts (MW) power at Thar Coal within three to four years.Many other projects are following to this project though today we were facing acute shortage of energy but in near future the Thar Coal field would be proved as strong power generating corridor of the county.
He said in addition there were lot of opportunities of investment, trade and commerce in Sindh and its capital Karachi.Law and order was not the issue of today but it was the problem since many years and current government was giving top priority to maintain law and order and has launched targeted operation against terrorists, target killers, kidnappers and extortionists in Karachi from September 2013. There was no terrorism in Karachi while other criminal activities have been declined up to considerable level. He said after Zarb-e-Azb operation launched by Pakistan Army against the terrorist, the Sindh government has not only endorsed it but devised a foolproof security plan to meet with possible realisation by militants.
He offered all facilities, attractive incentives and full protection and asked national and international business community to avail these opportunities under the investment friendly policy of his government. We cannot afford unchecked influx specially from Northern areas in Karachi to avoid any possible entry of the militant in disguise of the displaced persons. He said strict checking was being carried out at all entry and exist points at the border of Sindh and even in the trains as well. He praised the efforts of KCCI for promoting business activities and this exhibition was instrumental source to promote the trade and business but it was very important for image building of Pakistan and whole nation.
He assured the business community for providing full support and protection to them and their business. Chairman Business group Siraj Qasim Teli endorsed the government action against the terrorists and said inspite of the problems of law and order and energy Karachi was being expended and promoted in business point of view. President KCCI Abdullah Zaki welcomed all participants and said it was 11th show of his organisation being attended by national and international companies. Vice Chairman Business group Zubair Motiwala lauded the efforts of Sindh government for eradication of criminals factor from Karachi. He said progress in taxation reflected Karachi was being growing and expending. He lauded the government efforts for utilising indigenous resources for generating electricity. He said due to the efforts of the government, Karachi and Sindh was getting momentum for investment.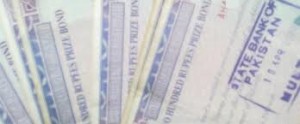 The State Bank of Pakistan (SBP) Tuesday hinted that the police were responsible for the disappearance of thousands of prize bonds on May 8 while being transported from Lahore to this metropolis.
Quoting the Federal Treasury Rules, the SBP said the Lahore remitting office was to hand over the treasure to the police escort.
"It moves in their custody till it is received at the Karachi destination office," said the bank in a statement issued Tuesday.
The bank clarified that some 20,000 missing pieces of prize bond forms of Rs 1,500 bearing serial numbers AW070001 to AW090000 were missing.
A consignment of un-stamped prize bond forms was dispatched by SBP Lahore Office for receipt at the State Bank's office here via 16 Down Karachi Express, it said.
"The train departure from Lahore was delayed by approximately 12 hours and reached Karachi Cantt behind the schedule," added the bank.
It said that the brake railway car carrying the treasure was unlocked at Karachi in the presence of all concerned including police escort and to their dismay they found one box out of the 10 was missing.
On further investigation, it transpired that one of the panels of the brake railway car was found to be tampered and broken into.
The SBP has issued 'Stop Payment' instruction to all SBP BSC Offices, commercial banks and Central Directorate of National Savings (CDNS), in respect of the missing un-stamped prize bond forms.
Moreover, CDNS has been requested to notify withdrawal of above serial numbers from circulation with immediate effect through the Finance Division, Ministry of Finance, by issuing gazette notification in exercise of the powers conferred by Rule 4(1&2) of the Prize Bond Rules 1999, the bank said.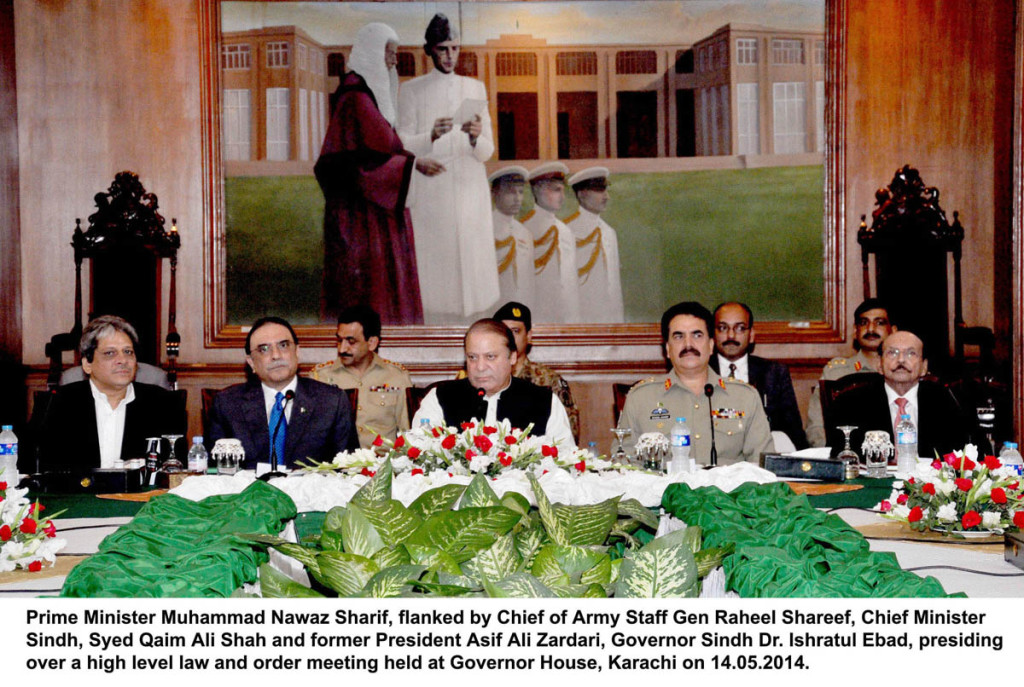 Prime Minister Muhammad Nawaz Sharif chaired a high level meeting regarding Law & Order at Karachi today. The meeting was also attended by Former President Mr. Asif Ali Zardari, Governor Sind Dr. Ishrat-ul-Ebad Khan, Chief Minister Sind Syed Qaim Ali Shah, Federal Interior Minister Chaudhry Nisar Ali Khan, Army Chief General Raheel Sharif, ANP Senator Shahi Syed, Ex-MNA MQM Syed Haider Abbas Rizvi, Secretary General Jamat-e-Islami Mr. Liaqat Baloch, DG ISI Lt. General Zaheer-ul-Islam, Corps Commander Karachi Lt. General Sajjad Ghani, Secretary to PM Mr. Javaid Aslam, Chief Secretary Sind Mr. Sajjad Saleem Hotiana, Federal Secretary Interior Mr. Shahid Khan, Federal Secreatary Law Mr. Zafar Ullah Khan, Director General Intelligence Bureau Mr. Aftab Sultan, DG Rangers Sind Maj. General Rizwan Akhtar, DG ISPR Maj. General Asim Saleem Bajwa, Acting IG Police Sind Mr. Ghulam Haider Jamali, CCPO Karachi Mr. Shahid Hayat, Commissioner Karachi Mr. Shoaib Ahmad Siddiqui and senior officers.
Prime Minister Muhammad Nawaz Sharif apprised the participants about Federal Government's efforts towards restoring peace in Karachi and reiterated that improvement in law and order should be above politics. PM further said that terrorists and criminals should be brought to justice without any  political prejudice. "We started operation in Karachi with the agreement of all political parties and stakeholders", said the Prime Minister.
Prime Minister said that Karachi holds special significance for him, being the economic hub of Pakistan. "We want cooperation of all stakeholders in Karachi and I see no one who will not want to improve the law & order situation of Karachi, therefore, a joint solution is the only option", said the Prime Minister.
Prime Minister emphasized upon capacity building of Sindh Police and appreciated acquisition of services of retired army personnel for maintaining law and order in Karachi.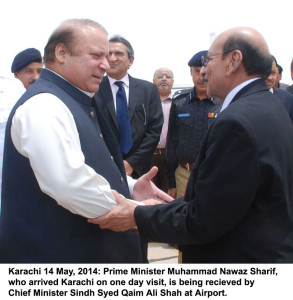 Prime Minister said that it is very natural that there will be retaliation from extremists and terrorists, but the government is prepared for that and all possible support will be provided to law enforcement agencies to counter the retaliation.
Prime Minister directed to constitute special committees to address any kind of hurdles or grievance being faced in the Karachi operation.
Prime Minister reiterated that the present government implemented Pakistan Protection Ordinance with a view to deal with the menace of terrorism and bring criminals to justice.
Federal Interior Minister Chaudhry Nisar Ali Khan briefed the meeting that state-of-the art equipment is being provided to law enforcement agencies and about Seven Hundred Thousand illegal mobile SIMS have been cancelled. He further elaborated that once 3G mobile technology is in place, we will further carry out crackdown against illegal SIMS.
Chief of the Army Staff General Raheel Sharif said that Pak Army is ready to provide any kind of support to the Federal and Provincial Governments with hundred percent honesty and sincerity. "We will give our honest opinion and assistance whenever sought from us", said the Army Chief. He also suggested that posting & transfers of Police personnel should be depoliticised and also stressed upon the need to equip them with modern equipment and resources.
Former President Mr. Asif Ali Zardari said that Sind Police needs to be equipped with resources. He further said that support from all political parties is need of the hour to bring peace in Karachi.
Chief Capital Police Officer Karachi briefed the participants that closure of illegal SIM will reduce crime by 50% and also assured that police is acting against criminals without discrimination and that there was no political pressure on Police.