Posts Tagged 'Karachi Metropolitan'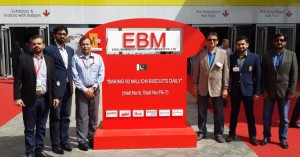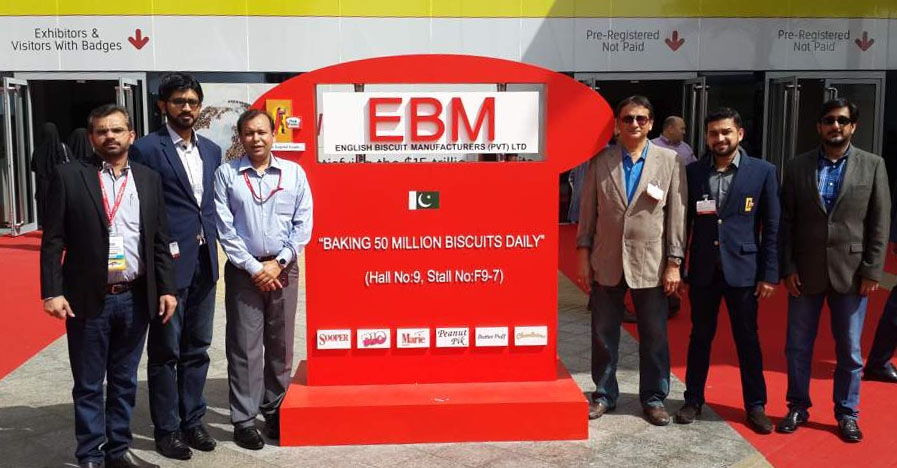 EBM recently participated in the Gulfood Exhibition held in Dubai and is by far the most robust Pakistani company representing the country preeminently at all fronts.
Gulfood Exhibition held at the Dubai World Trade Center attracted exhibitors from across all continents and housed over 90,000 buyers where key trends and topics driving the industry were discussed among industry leaders. EBM as a result of its leadership role surfaced as the first Pakistani company to make its mark on key fronts thus enabling a strong recall and facilitating the company to be highlighted at the global arena. Meanwhile, the exhibition served as a platform to support EBM's quest for expansion at the international level given its already firm establishment and fame at local grounds.
The company has already enhanced its operational capability to meet demand beyond local consumption, thereby exporting products to more than 25 countries around the world including USA, Europe, and GCC region.
"We have brought EBM at par with international quality standards and intend on making it a globally recognized brand that takes pride in being the largest exporter of biscuits from Pakistan as we holistically envision a brand name that translates into quality, trust, and nourishment for our consumers around the world," said Dr. Zeelaf Munir, Managing Director & CEO, EBM.
EBM was the only Pakistani company that was present on most sought after locations at the Gulfood Exhibition and hence a means of promoting the Pakistani heritage and origin. The overall response that EBM received from potential buyers was phenomenal. EBM's commitment to go global while remaining true to its roots is being served by keeping abreast of global trends needed to satiate the international consumer needs. 
English Biscuit Manufacturers (Private) Limited, the makers of Peek Freans biscuits, was established in 1967 as the first manufacturer of wholesome, hygienic packaged biscuits in Pakistan. For over 48 years, EBM has been a symbol of trust and confidence for consumers, making it the leading biscuit manufacturer of Pakistan. EBM is the first biscuit company in Pakistan to have achieved ISO 14001, ISO 9001 and HACCP certifications. The Peek Freans brand also enjoys the internationally acclaimed Super brands status.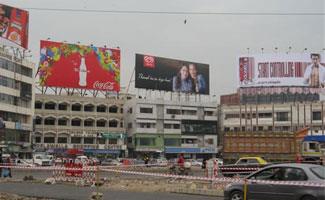 | | |
| --- | --- |
| KMC Administrator Karachi Shoaib Ahmed Siddiqui said the campaign of removal of illegal hoardings in the city was underway and will continue till the removal of all such boards. He also directed that the removal of illegal hoardings be speed up further. Inspecting the removal of illegal hoardings at Karsaz Road and near Hassan Square he instructed local taxes department to remove all those advertisements for which the concerned parties have not paid the advertisement fee. He said no illegal or unlawful practice will be tolerated in the city. He also directed all KMC departments to ensure performing their duties in accordance to the rules and regulations. | |
| | |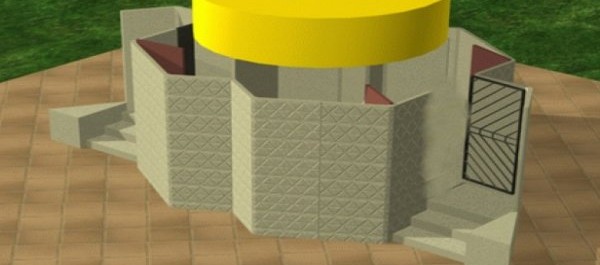 The commissioner office has planned to build 200 public toilets in the government offices. According to a news source, the commissioner office has taken this initiative on orders of the Sindh High Court.
Commissioner Shoaib Ahmed Siddiqui told reporters that the public toilets would be built at different locations in the city and old toilets would be revamped. The news source reported further that the Karachi Water & Sewerage Board and K-Electric would provide free of cost water and electricity to the public toilets.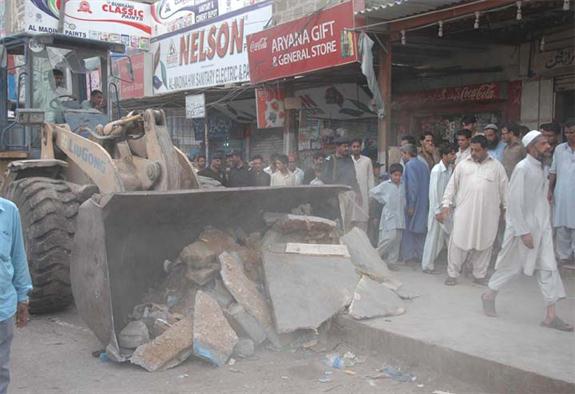 Anti Encroachments squad of KMC took action in Shanti Nagar and removed many encroachments including jhuggi hotels, patharas, sugarcane juice machine and push carts during an operation in the presence of police and rangers. The operation was supervised by the Director Anti Encroachments Mazhar Khan along with the Assistant Commissioner East Mushtaq Shaikh and other officers. On this occasion he said Pak Navy offices were also located in this area and the maintenance of traffic flow on surrounding roads was affected due to the presence of encroachments and illegally expanded pavement alongside the main road.
These encroachments were creating hurdles and other problems for citizens and it was necessary to take action against these encroachments. He said the ongoing campaign against encroachments was going on successfully in the city under the directive of Administrator Karachi Rauf Akhtar Farooqui in which the district administration and citizens have also cooperated.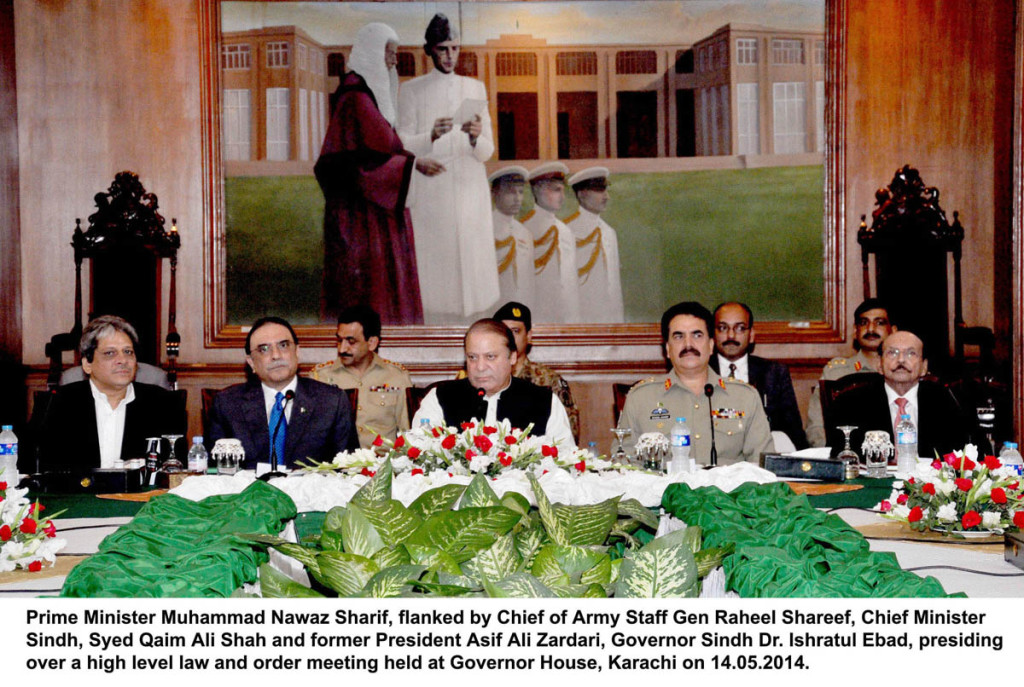 Prime Minister Muhammad Nawaz Sharif chaired a high level meeting regarding Law & Order at Karachi today. The meeting was also attended by Former President Mr. Asif Ali Zardari, Governor Sind Dr. Ishrat-ul-Ebad Khan, Chief Minister Sind Syed Qaim Ali Shah, Federal Interior Minister Chaudhry Nisar Ali Khan, Army Chief General Raheel Sharif, ANP Senator Shahi Syed, Ex-MNA MQM Syed Haider Abbas Rizvi, Secretary General Jamat-e-Islami Mr. Liaqat Baloch, DG ISI Lt. General Zaheer-ul-Islam, Corps Commander Karachi Lt. General Sajjad Ghani, Secretary to PM Mr. Javaid Aslam, Chief Secretary Sind Mr. Sajjad Saleem Hotiana, Federal Secretary Interior Mr. Shahid Khan, Federal Secreatary Law Mr. Zafar Ullah Khan, Director General Intelligence Bureau Mr. Aftab Sultan, DG Rangers Sind Maj. General Rizwan Akhtar, DG ISPR Maj. General Asim Saleem Bajwa, Acting IG Police Sind Mr. Ghulam Haider Jamali, CCPO Karachi Mr. Shahid Hayat, Commissioner Karachi Mr. Shoaib Ahmad Siddiqui and senior officers.
Prime Minister Muhammad Nawaz Sharif apprised the participants about Federal Government's efforts towards restoring peace in Karachi and reiterated that improvement in law and order should be above politics. PM further said that terrorists and criminals should be brought to justice without any  political prejudice. "We started operation in Karachi with the agreement of all political parties and stakeholders", said the Prime Minister.
Prime Minister said that Karachi holds special significance for him, being the economic hub of Pakistan. "We want cooperation of all stakeholders in Karachi and I see no one who will not want to improve the law & order situation of Karachi, therefore, a joint solution is the only option", said the Prime Minister.
Prime Minister emphasized upon capacity building of Sindh Police and appreciated acquisition of services of retired army personnel for maintaining law and order in Karachi.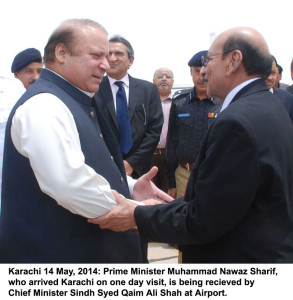 Prime Minister said that it is very natural that there will be retaliation from extremists and terrorists, but the government is prepared for that and all possible support will be provided to law enforcement agencies to counter the retaliation.
Prime Minister directed to constitute special committees to address any kind of hurdles or grievance being faced in the Karachi operation.
Prime Minister reiterated that the present government implemented Pakistan Protection Ordinance with a view to deal with the menace of terrorism and bring criminals to justice.
Federal Interior Minister Chaudhry Nisar Ali Khan briefed the meeting that state-of-the art equipment is being provided to law enforcement agencies and about Seven Hundred Thousand illegal mobile SIMS have been cancelled. He further elaborated that once 3G mobile technology is in place, we will further carry out crackdown against illegal SIMS.
Chief of the Army Staff General Raheel Sharif said that Pak Army is ready to provide any kind of support to the Federal and Provincial Governments with hundred percent honesty and sincerity. "We will give our honest opinion and assistance whenever sought from us", said the Army Chief. He also suggested that posting & transfers of Police personnel should be depoliticised and also stressed upon the need to equip them with modern equipment and resources.
Former President Mr. Asif Ali Zardari said that Sind Police needs to be equipped with resources. He further said that support from all political parties is need of the hour to bring peace in Karachi.
Chief Capital Police Officer Karachi briefed the participants that closure of illegal SIM will reduce crime by 50% and also assured that police is acting against criminals without discrimination and that there was no political pressure on Police.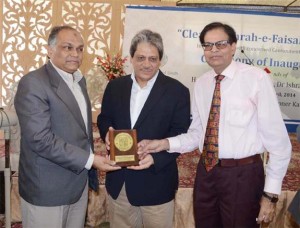 Governor of Sindh Dr. Ishrat-ul-Ebad Khan said better results could not be achieved in public service works without making inter-coordination strong and effective between different organizations. This coordination was needed most for working on various uplift projects in Karachi. If we start working together it would not only increase the level of mutual confidence and establish fine working relations among the organizations but also make it easy to provide better services to people. He expressed these views while addressing as chief guest in the launching of cleanliness drive of Sharae-Faisal held at the Frere Hall on Sunday. Commissioner Karachi Shoaib Ahmed Siddiqui, Administrator Karachi Rauf Akhtar Farooqui and Deputy Commissioner South Mustafa Jamal Qazi also spoke on this occasion whereas the program was attended by the Metropolitan Commissioner Samiuddin Siddiqui, deputy commissioners of different districts, administrators, various departmental heads and a good number of prominent citizens. Governor Sindh said besides improving the law and order conditions, development works were also being carried out in the city. Citizens would feel refreshing change with the solution of their problems hence, all civic organizations should work in coordination. He said work on bringing gradual improvement on the major city corridors was begun now and before this I.I Chundrigar was also made better due to its importance for the city and now security arrangements on this Wall Street of the city were being made under a comprehensive plan.
Governor Ishrat-ul-Ebad said he felt pleasure on that the Commissioner of Karachi and the Administrator Karachi has already done lot of home work for the beautification of Sharae Faisal and other organizations were also fully cooperating in this connection. He said that he prayed for joint working of all city organizations for its betterment. About 10 Lac saplings were planted in past and the city's environment will improve further with the addition of 3 Lac saplings more in Karachi.
Earlier Commissioner Karachi Shoaib Ahmed Siddiqui in his welcome address said the city administration was taking all civic bodies on board in the beautification of the city. We have a passion working for Governor Sindh's vision of green and peaceful Karachi. About 3 Lac saplings will be planted in this campaign and we have this desire that this work for the cleanliness and beautification of city corridors extend to all areas of the city. He said the Administrator and Metropolitan Commissioner of Karachi have also fully supported this work and we all will continue to work with this spirit for making city clean and green.
Administrator Karachi Rauf Akhtar Farooqui said the projects which were completed in Karachi with the patronage and special attention of the Governor of Sindh Dr. Ishrat-ul-Ebad Khan was not only an example but also a milestone for future. He said KMC has completed lot of development projects and work on many projects still going on which will be completed soon. Though KMC was not directly responsible for the cleanliness of whole city as the city was divided into many organizations which have their own land control and these bodies were charging for municipal tax in these areas, therefore it was their duty to provide municipal services in these areas. However the Municipal Services Department of KMC was working under mutual coordination of district municipal corporations. He said KMC was responsible for the maintenance of city's major corridors and the big parks, therefore it has chosen Sharae Faisal for the beautification of city in the first phase. Besides carrying out cleanliness work on this central corridor of the city about 25 thousand evergreen saplings were also being planted alongside it. Deputy Commissioner South Mustafa Jamal Qazi thanked the Governor of Sindh Dr. Ishrat-ul-Ebad Khan and other notables for attending this program and expressed resolve that we all will work together for the beauty and cleanliness of the city. In the end Commissioner Karachi Shoaib Ahmed Siddiqui and Administrator Karachi Rauf Akhtar Farooqui presented a souvenir to the Governor of Sindh Dr.Ishrat-ul-Ebad Khan.
Geo News senior anchor and renowned Pakistani journalist Hamid Mir was injured in a targeted-shooting here on Saturday evening.
Hamid Mir was heading to the Geo News office when his car was targeted by gunmen as it left the Jinnah International Airport on Shara-e-Faisal near the Natha Khan Bridge. The senior anchor was shot three times and was rushed to a private hospital where he underwent an operation.
Dr. Aamir Liaquat Hussain told Geo News that the operation was successful and prayed for Hamid Mir's quick recovery.
Gunmen in a car and riding two motorcycles opened fire on Hamid Mir's car a few kilometers away from the Airport police station.
Karachi police chief, Shahid Hayat said Hamid Mir has been shot thrice; one bullet has pierced his intestine while the other two have wounded his leg and pelvic area. Hayat added that a committee had been formed to probe the attack on Hamid Mir.
Geo News Islamabad bureau chief, Rana Jawad said Hamid Mir spoke to him after the attack and said the gunmen followed him and continued to fire on the car.
Speaking to Geo News the driver of the car said a single attacker had opened fire and targeted Hamid Mir.
The attack has been condemned by politicians including Prime Minister Nawaz Sharif. Following the attack journalists held protests in several cities of the country and called for an inquiry.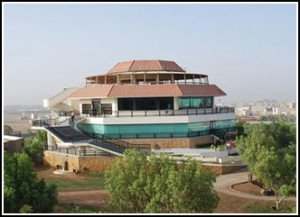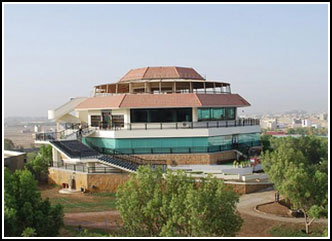 Dreamworld Resort, Hotel and Golf Course proudly presents Children's Day on 13th April 2014 .With a membership base of over 18000, the festival promises fun filled activities and entertainment for children and their families. This event is in line with the vision of Dreamworld Resort, Hotel & Golf Course, which is to provide both entertainment and social correspondence  for its members and public.
The event aims to provide high-quality educational and fun entertainment in a family friendly atmosphere. Offering several activities, the event is divided into themed zones delivering many exciting activities and competitions including swimming competition, boating competition, pot & win, sack race, tug of war, loop wire game, drop the coin in the water bucket, drag the ball with water spray, separate mixed canes, hold and drag the ball on the pipe, blow the balloon and throw the paper glass, Pile up the empty canes on the floating plate.
There will be several on stage activities like fairy tale quiz, one man show, fancy dress show, puppet show, magic show, quiz show, spelling competition, singing competition, jokes competition, lullaby competition, hang man, rapid fire and parody.
Entertainment with programming is carefully aimed at specific age groups and interests, there is fun adventure and for everyone. This event will truly bring excitement and fun for the entertainment deprived citizens.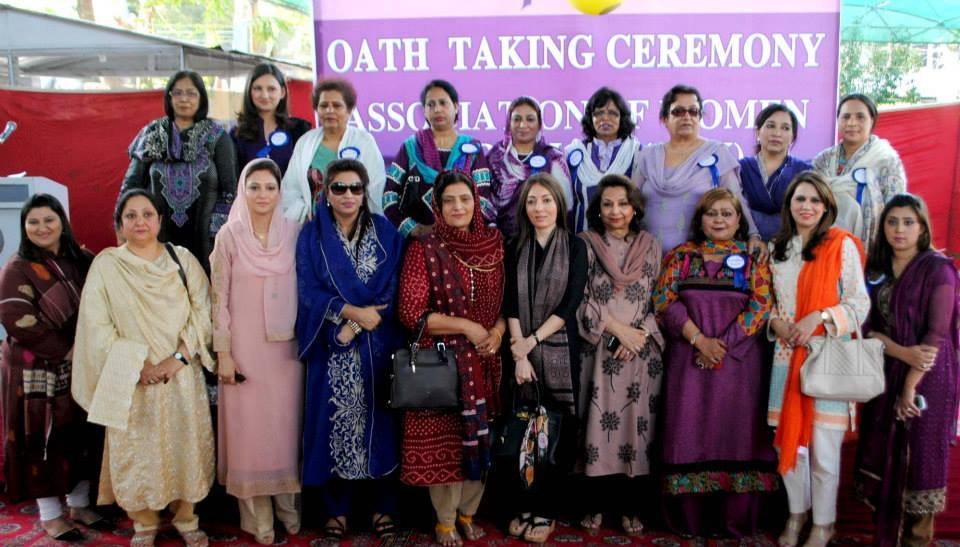 At an event where the audience comprised mostly women, an exclusive association for female journalists was launched at the Karachi Press Club on Tuesday.
The Association for Women Journalists promises its members day care centres and life insurance. Its president, Durdana Shahab, said, "The need for this association was felt because even though women journalists form a large part of the print and electronic media workforce, their representation in journalistic associations is negligible."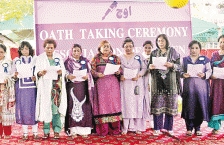 She added that while unemployed men were able to find new jobs through their old boys' networks, women found it hard to rejoin professional circles after taking a break. "Our association will lend support to all female journalists unemployed for over two months and help them find decent jobs."
Mehtab Akbar Rashidi, a renowned news anchor famous for her refusal to cover her head during Zia's dictatorial era, said, "It is a sad fact that, even in this century, we are still discussing whether a woman should step out of her house or not."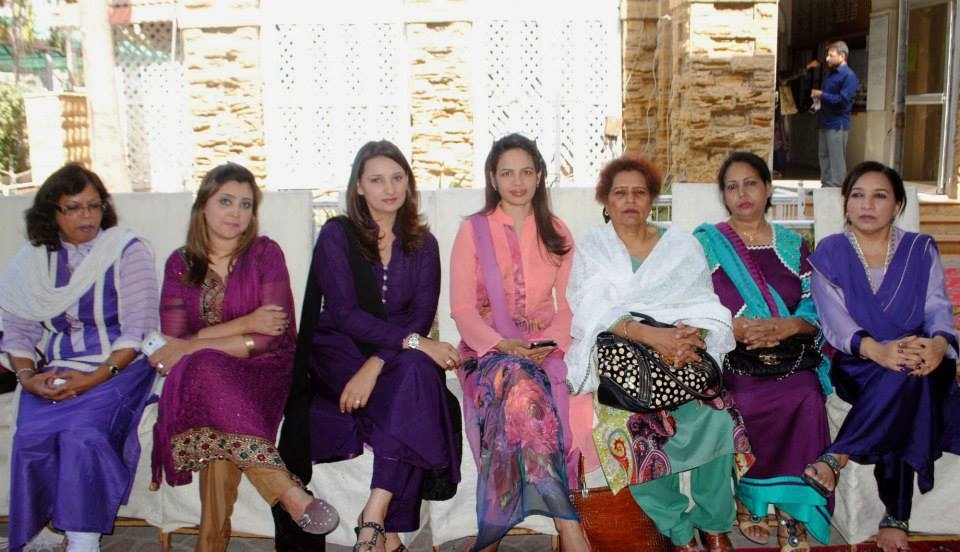 She urged all media houses to set up day care centres at their offices as, keeping in view the increasing prevalence of the nuclear family system, it was becoming very difficult for mothers to work.
Rashidi also spoke about the gender bias, stating that when men felt insecure by empowered women, their first instinct was to resort to character assassination. "Do not be disheartened. Hazrat Ayesha (RA) had to face the same troubles. We, after all, are nowhere near her status."
MPA Erum Farooqi of the MQM said, "Women parliamentarians stand with the female journalists. We always have and will support legislation for women empowerment."
PTI's Seema Zia lauded their bravery, stating, "Women journalists are very courageous. They go to places where even we are scared to enter."
Surat Thebo, an MPA of the PML-N, said, "Whenever women get together, they scare men off. Men feel that women will now rule the workforce and they will have to wash dishes and sweep the floor. My only request to them is that they should help women with the domestic chores."
Other parliamentarians, including Sharmila Farooqi, Nusrat Sehar Abbasi and Saman Jaffri, and Commissioner Shoaib Siddiqui also attended the launch ceremony. The News
11 year old Mohammad Mustafa, son of a poor farmer, is a student of 5th grade and lives in Larkana. Mustafa's teachers had expressed their concern to Mustafa and his father about his poor  reading and writing abilities which they suspected was due to his eye sight. The father, who was illiterate, ignored these concerns as he thought that it was because Mustafa wasn't interested in studies. But the major reason was Affordability. The school struck off his name due to poor performance. He was then admitted to a Govt.School but after a few days they also refused to keep him as he could not read the board or write properly.
 The Principal advised his parents to take Mustafa to LRBT 's Free eye Hospital at Gambat and get his eyes checked. The father now had no choice but to take Mustafa to LRBT, where he was diagnosed with bi-lateral congenital cataract and admitted on the same day for surgery which was successful.
 His father shed tears of happiness Mustafa has high aims and he does not want to adopt his family's profession. Instead he wants to study and become a Police officer.