Posts Tagged 'Karachi Media'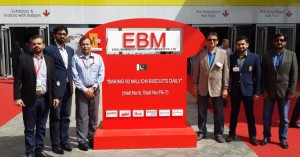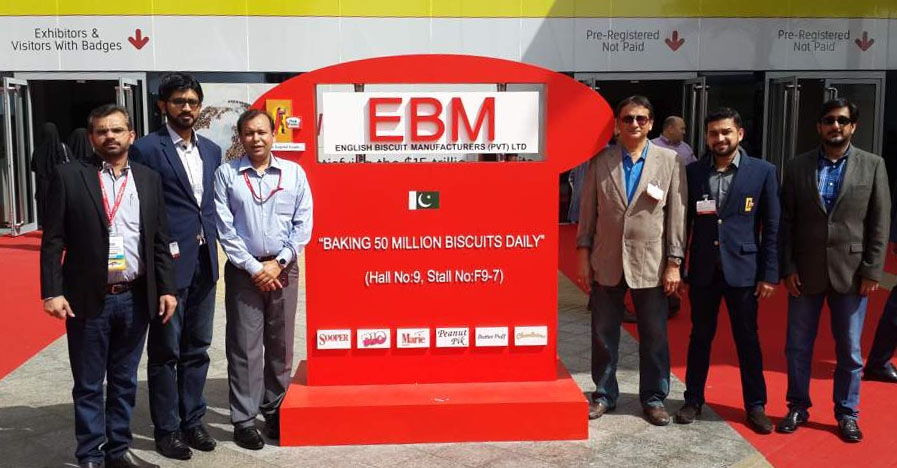 EBM recently participated in the Gulfood Exhibition held in Dubai and is by far the most robust Pakistani company representing the country preeminently at all fronts.
Gulfood Exhibition held at the Dubai World Trade Center attracted exhibitors from across all continents and housed over 90,000 buyers where key trends and topics driving the industry were discussed among industry leaders. EBM as a result of its leadership role surfaced as the first Pakistani company to make its mark on key fronts thus enabling a strong recall and facilitating the company to be highlighted at the global arena. Meanwhile, the exhibition served as a platform to support EBM's quest for expansion at the international level given its already firm establishment and fame at local grounds.
The company has already enhanced its operational capability to meet demand beyond local consumption, thereby exporting products to more than 25 countries around the world including USA, Europe, and GCC region.
"We have brought EBM at par with international quality standards and intend on making it a globally recognized brand that takes pride in being the largest exporter of biscuits from Pakistan as we holistically envision a brand name that translates into quality, trust, and nourishment for our consumers around the world," said Dr. Zeelaf Munir, Managing Director & CEO, EBM.
EBM was the only Pakistani company that was present on most sought after locations at the Gulfood Exhibition and hence a means of promoting the Pakistani heritage and origin. The overall response that EBM received from potential buyers was phenomenal. EBM's commitment to go global while remaining true to its roots is being served by keeping abreast of global trends needed to satiate the international consumer needs. 
English Biscuit Manufacturers (Private) Limited, the makers of Peek Freans biscuits, was established in 1967 as the first manufacturer of wholesome, hygienic packaged biscuits in Pakistan. For over 48 years, EBM has been a symbol of trust and confidence for consumers, making it the leading biscuit manufacturer of Pakistan. EBM is the first biscuit company in Pakistan to have achieved ISO 14001, ISO 9001 and HACCP certifications. The Peek Freans brand also enjoys the internationally acclaimed Super brands status.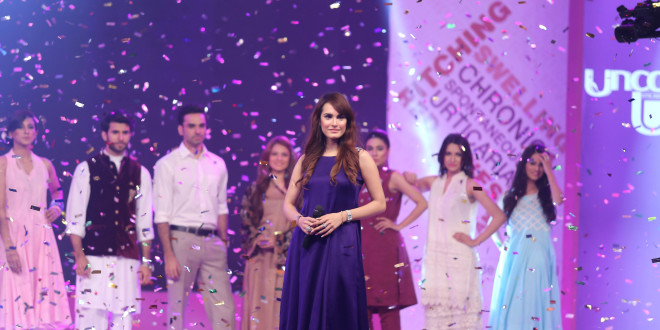 The group of prominent doctors and show biz personalities have organized an evening of science and art coming together to spread awareness about a debilitating skin condition known as Urticaria in collaboration with Novartis Pharma Pakistan recently. The presentation had the presence of people from different walks of life including showbiz galaxy, renowned dermatologists across the country, eminent celebrities, social organizations and media personnel. Secretary Information Sindh, Dr Zulfiqar Shalwani was the chief guest while Salma Kausar-Senior Medical Director of KMC, Country President Novartis Shahab Rizvi also graced the occasion. The event aspires to help improve patients' quality of life via dispersing an understanding of Urticaria through live performances and expert discussion. The live performances, beautifully choreographed to highlight the effects Urticaria has on social and professional lives of the victims, entailed a piece by Joshinder Chabbria, a real doctor patient interaction, and a theatrical ramp show lead by famous Model & Socialist Nadia Hussain. Each segment elaborates various aspects of a typical Urticaria patient's ordeal. Chronic Spontaneous Urticaria (CSU) is a severe form of skin allergy prevalent in Pakistan, which may affect anyone at any time.
It was highlighted that the effects of CSU are more than skin deep. Alongside the distressing physical symptoms, CSU can be a great psychological, social& economic burden.CSU's spontaneous nature may leave people living in isolation due to fear of unpredictable outbreaks.The highly interactive expert forum included discussions exploring the issues pertaining to Urticaria.Highly respectable dermatologists namely Dr. Shahid Abbas, Dr. Azer Rashid, Dr. Iqbal Tareen, Dr. Pervez Iqbal, Dr. Badar Dhannani , Dr. J I Bhatti, Dr. Afzal Lodhi, Dr.Hatim Ali Shah, Dr. Faisal Khilji, Dr.Sharf Ali Shah, Dr. Atif Kazmi, Dr. Saeed Haneef, Dr.Azeem Jahangeer , Dr. Haseeb Sajjad, Dr. Ijaz, Dr.Uzair Qureshi, Dr. Tariq Zaman, Dr. GM Cheema, Dr.Najia Ashraf,among others shared their valuable insights. The 1st ever patient group – The 'U within Association', also attended the event with innovative activities to promote public awareness about urticaria. The evening's finale was a great song dedicated to the Urticaria patients by the very famous Music Icon Natasha Baig and Pakistan Idol runner-up Sajid Khan. An interactive Q&A session all about Urticaria was also arranged in which eminent dermatologists shared their insights. The evening's finale was a great song dedicated to the Urticaria patients by Natasha Baig and Sajid Khan.
The event was well-attended by the people from different walks of life including famous film and TV artists, renowned doctors, well known social and health workers besides social organizations and media personnel. Mr. Zulfiqar Shilwani – Information Secretary Sindh and Dr. Salma Kausar – Senior Medical Director KMC participated as the guests of honour on the occasion. Mr. Shahab Rizvi – Country President Novartis welcomed the guests to the show.
Headquartered in Basel (Switzerland), Novartis has core businesses in pharmaceuticals, vaccines, consumer health, generics, eye care and animal health. The company employs nearly 115,000 people in over 140 countries worldwide to help save lives and improve the quality of life. The Group is present in Pakistan through Novartis Pakistan Limited.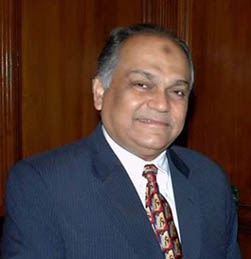 Commissioner Karachi Shoaib Ahmed Siddiqui has said that 35 more CNG buses would operate on the city roads very soon.  "Transport and Communication Department (TCD) should scrutinize system of looking after the buses so that they could not become out of order again," he said while addressing a meeting at his office in the metropolis to review repairing of the remaining 35 buses out of 71.The Sindh Chief Minister had inaugurated 36 CNG buses on September 5, which have started operation from Quaidabad to the Tower area.
The commissioner said it was through personal efforts of Sindh chief minister that Karachi had got better transport facility.He vowed that the under-repairing 35 buses would soon be on roads after completion of work. He said that it should be ensured that the need of transparency and quality was fulfilled during this process.The meeting decided to complete the repairing work in two phases. The 16 buses would be brought on road in first phase and those would be run from Surjani Town to Tower through MA Jinnah Road, while in the other phase, 19 buses would be brought on road and those would be run from Sohrab Goth to Tower through FB Area, Liaquatabad, Gurumandir and MA Jinnah Road. It was hoped that the 35 buses would be on board by the end of November after getting them repaired.TCD also informed about the Bus Rapid Transit (BRT) project, which would be completed by 2018.
In the first phase BRT project would be started on Yellow Line Bus. Yellow Line's 80 percent process of tender had been completed. It was hoped that it would start facilitating citizens in the first part of the next year.Yellow Line would ply the route from Landhi to Tower through Shahra-e-Faisal, MA Jinnah. Initially, 100 buses would be run, informed TCD.Additional Director TCD Saeed Akhtar, Director Planning and Development Commissioner House Syed M Shakib, Deputy Secretary Sindh Transport Department Safdar Hussain Rizvi, Secretary RTA Manshad Shahani and other officers were also present on the occasion.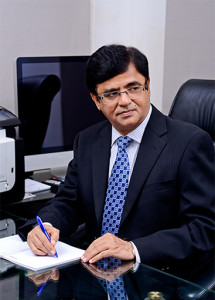 BOL, Pakistan's mew media group, has welcomed on-board globally acclaimed journalist Kamran Khan as the group's President and Editor-in-Chief. This is a major milestone for BOL which has meticulously acquired a dream-team of highly experienced professionals with decades of experience to their credit.
Mr. Kamran Khan is one of the most respected, experienced and celebrated professionals of Pakistani journalism with unparalleled fan following in Pakistan and abroad. His experience with more than 3000 fantastic investigative news stories and around 3000 daily news and current affairs shows make Mr. Kamran Khan, in many ways, Pakistan's most distinguished journalist with global recognition.
His legendary daily news and current affairs show "Aaj Kamran Khan Kay Saath (AKKKS)" gained incomparable heights in viewer ship, ratings and above all, in credibility. From The New York Times to Gallup surveys in Pakistan, viewers found AKKKS as most watched and most credible news and current affairs show in Pakistan. Before that, his 25 years in print journalism had earned Mr. Kamran Khan a celebrity status as Pakistan's most famous investigative journalist.
Mr. Kamran Khan's decision to join BOL is a momentous honor and privilege for BOL. His candid journalistic style and high professional standards symbolize the ideals of modern journalism and have brought him well-deserved international acclaim. He has been known to leave a trail of leaders in his wake and BOLwalas stand to benefit immensely from his diverse expertise.
"We are at the brink of revolutionizing the country's media industry," said Mr. Kamran Khan, while commenting on his decision to join BOL. "This will herald the beginning of not just a better and stronger media industry but also a new Pakistan."
BOL has been launched by Axact, world's leading IT company, with the objective of revolutionizing the country's media industry. The industry has been incredibly supportive and welcoming with a number of leading media professionals joining BOL to help realize the channel's long-term vision and to spread the message of SEDAxact.
BOL senior leadership, including Chairman and CEO Shoaib Ahmed Shaikh, are immensely delighted to welcome Mr. Kamran Khan to the fold. "We have promised Pakistan a revolution and we do not default on our promises," said Mr. Shoaib Shaikh, adding that Mr. Kamran Khan's decision to join BOL represents the beginning of the revolution. (PR)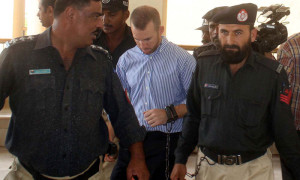 Pakistani and US officials said that the Federal Bureau of Investigation (FBI) agent, who was caught yesterday carrying bullets and a knife by security officials at the Jinnah International Airport, is being held under anti-terrorism charges in Pakistan, according to a Washington Post report.
The suspect was produced in a local court on Tuesday on the charges involving violation of local anti-terrorism laws that proscribed carrying arms and ammunition on a plane.
The judge in his ruling of the case said that the suspect should remain in custody of security officials until Saturday so the issue could be further probed.
The US officials confirmed that the agent was temporarily in Pakistan to help the government investigate corruption.
The officials requested withholding of the agent's name, as according to them the issue was sensitive in nature.
It was also contended by the US officials that the agent had forgotten a loaded gun magazine in his luggage and wasn't 'armed'.
Spokeswoman for the US Embassy in Islamabad, Meghan Gregonis said that the US officials were closely coordinating with the Pakistani authorities to solve the issue.
The US citizen, identified as Joel Cox Eugene, had been carrying 15 bullets of 9mm calibre along with a magazine when Airport Security Force officials checked him. He was going to Islamabad by a PIA flight (PK 308). DAWN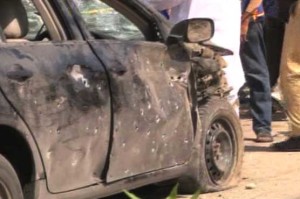 At least four people have been killed and more several others injured in a suicide blast targeting a government vehicle in Defence area of Karachi, Dunya News reported on Friday.
The incident took place in Gizri area of Defence Phase 4.
Several nearby vehicles and buildings were damaged due to the huge blast.
The injured were shifted to Jinnah Hospital where some of them are said to be in critical condition.
Police and Rangers personnel have arrived at the scene and cordoned off the area.
Pakistan Council for Science and Technology (PCST), Islamabad has declared Prof Dr Muhammad Iqbal Choudhary, Director International Centre for Chemical and Biological Sciences (ICCBS), Karachi University (KU), the most productive scientists of Pakistan.
Dr Iqbal Choudhary was selected from around 1700 productive scientists of Pakistan. Under the umbrella of ICCBS, Dr. Iqbal Choudhary also heads HEJ Research Institute of Chemistry, KU and Dr. Panjwani Center for Molecular Medicine and Drug Research, KU.
The PCST, in its recent directory titled "Productive Scientists of Pakistan 2013-14", has ranked the KU scientist the top among 1700 productive scientists of Pakistan, employed in public/private sector Universities, colleges and R& D organistions, who have contributed in research, supervision of students and any other productive work during the period 1960-2013-14.
An official of the ICCBS said that the scoring system takes into account different factors from which the academic status and output of scientists and engineers is judged. These include research publications at national and international level, books written or edited, supervision of PhD, MPhil or MSc students, international awards, research grants won, impact factor of the journals in which the research papers were published, citation figures for the papers that were published in science citation index. As per the said criteria, in the field of chemistry, Dr Iqbal Choudhary has lead over 1700 productive scientists of Pakistan, he said. It is also pertinent to mention here that six more scientists of ICCBS-KU are included among the leading productive scientists of the country in the field of chemistry. The names of these scientists included Dr. Syed Ghulam Musharraf (17th rank), Prof. Dr. Atta-ur-Rahman, former Chairman of the Higher Education Commission Pakistan (20th), Dr. Zaheer-ul-Haq (24th), Prof. Dr. Khalid Muhammad Khan (28th), Dr. Muhammad Raza Shah (52nd) and Prof. Wiqar Uddin Ahmed (92nd).
Vice Chancellor Karachi University (KU) Prof Dr Muhammad Qaiser has congratulated these scientists on their great achievements.
Edit or Expand
Geo News senior anchor and renowned Pakistani journalist Hamid Mir was injured in a targeted-shooting here on Saturday evening.
Hamid Mir was heading to the Geo News office when his car was targeted by gunmen as it left the Jinnah International Airport on Shara-e-Faisal near the Natha Khan Bridge. The senior anchor was shot three times and was rushed to a private hospital where he underwent an operation.
Dr. Aamir Liaquat Hussain told Geo News that the operation was successful and prayed for Hamid Mir's quick recovery.
Gunmen in a car and riding two motorcycles opened fire on Hamid Mir's car a few kilometers away from the Airport police station.
Karachi police chief, Shahid Hayat said Hamid Mir has been shot thrice; one bullet has pierced his intestine while the other two have wounded his leg and pelvic area. Hayat added that a committee had been formed to probe the attack on Hamid Mir.
Geo News Islamabad bureau chief, Rana Jawad said Hamid Mir spoke to him after the attack and said the gunmen followed him and continued to fire on the car.
Speaking to Geo News the driver of the car said a single attacker had opened fire and targeted Hamid Mir.
The attack has been condemned by politicians including Prime Minister Nawaz Sharif. Following the attack journalists held protests in several cities of the country and called for an inquiry.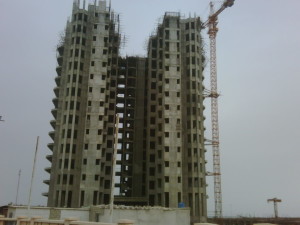 Dwelling at Creek Marina, a multi-billion residential project to be built at DHA Phase VIII, has become making 'castle in the air' as allottees after pouring in Rs 3 billion in the project have failed to get possession for last five years. The Creek Marina project was launched in 2005 with the partnership between Defence Housing Authority (DHA) and a Singaporean consulting firm named Meinhardt, run by Dr Shahzad Nasim.
DHA has provided 19 acres of coastal land in Phase VIII and Meinhardt set up a local company named Creek Marina Private Ltd (CMPL) to oversee the marketing and construction of the project. The possession date of this 6-star luxury housing scheme, which was earlier in 2009, had been revised to 2011. Most buyers had by this time paid a major proportion of the final cost.
At a press conference held at a local hotel here, Yousuf Mirza, Chairman Creek Marina Action Committee (CMAC) said the CMAC had appealed to Dr Shahzad Nasim in March 2011 to resume construction activity as the initial agreement with DHA was signed in May 2004 by Dr Shahzad Nasim, the CEO of Meinhardt-Singapore.
He said instead of pacifying the agitation of the allottees, Dr Nasim through his legal advisor asserted that he had no connection with the Creek Marina project or with CMPL and filed a defamation suit against the CMAC in Sindh High Court (SHC). He added that an injunction, which was still valid, was passed on 15 members of the CMAC whose names appeared on the appeal.
Moreover, Mirza said in April 2011, the SHC ruled that Rs 1 billion bond money should be released to CMPL and DHA in order to pre-empt any attempt on the part of Meinhardt to move these funds out of the country. The court granted a stay order and the money was not allowed to be transferred out of the CMPL account. Later, in July, 2011 the SHC had again passed a ruling that the funds could be released in tranches to CMPL, solely for construction purposes, subject to the approval by DHA of a monthly budget plan to be submitted by CMPL.
Keeping this in view, Mirza requested the authorities concerned to release funds and resume the construction activity. He said negotiations had been continuing between DHA and Meinhardt with regard to the amendment to the original agreement for over last two years but remained unsuccessful.
He said that DHA had lost all confidence in Dr Shahzad Nasim's commitment to resume and complete the project, and would like to take back and hand it over to a developer of their own choice. Now, DHA has filed an FIR under sections 409, 43 and 420 for fraud against Dr Shahzad Nasim, Omar Shahzad and Meinhardt-Singapore. Moreover, he said a rift between both parties had blocked the money of 250 buyers. He added that they did not want any refund but only sought an assurance that their interests would be protected.
He said any arrangement under which the project was transferred to another developer with no commitment to existing buyers or to the original master plan would not be accepted. Replying to a question, Mirza was unaware about any treaty signed between Pakistan and Singapore to take legal action against Dr Shahzad, who took Singapore's nationality after surrendering his Pakistani identity. He said around Rs 3 billion were paid by the buyers and one-third of the amount had been put in the project while the rest was seized by the court. (Business Recorder)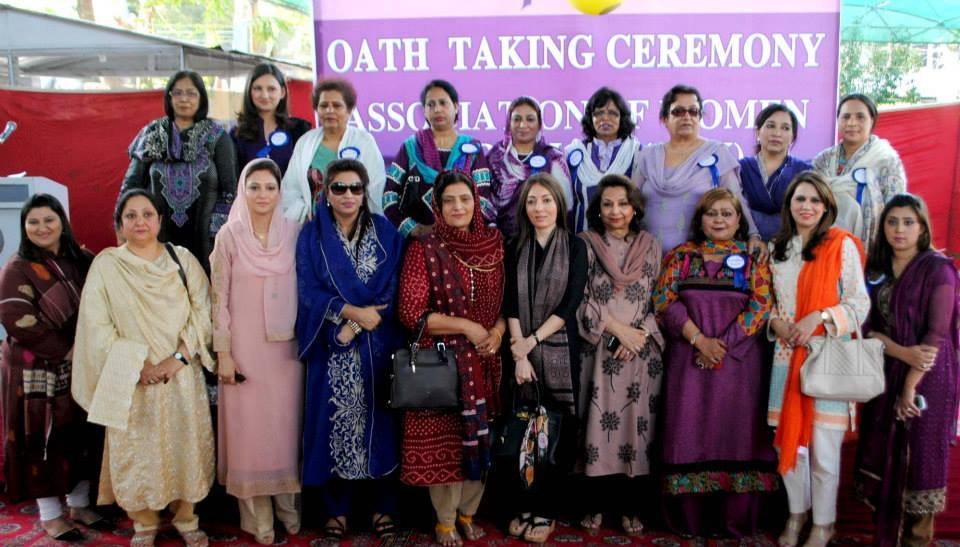 At an event where the audience comprised mostly women, an exclusive association for female journalists was launched at the Karachi Press Club on Tuesday.
The Association for Women Journalists promises its members day care centres and life insurance. Its president, Durdana Shahab, said, "The need for this association was felt because even though women journalists form a large part of the print and electronic media workforce, their representation in journalistic associations is negligible."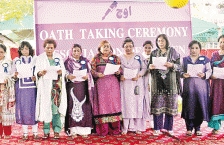 She added that while unemployed men were able to find new jobs through their old boys' networks, women found it hard to rejoin professional circles after taking a break. "Our association will lend support to all female journalists unemployed for over two months and help them find decent jobs."
Mehtab Akbar Rashidi, a renowned news anchor famous for her refusal to cover her head during Zia's dictatorial era, said, "It is a sad fact that, even in this century, we are still discussing whether a woman should step out of her house or not."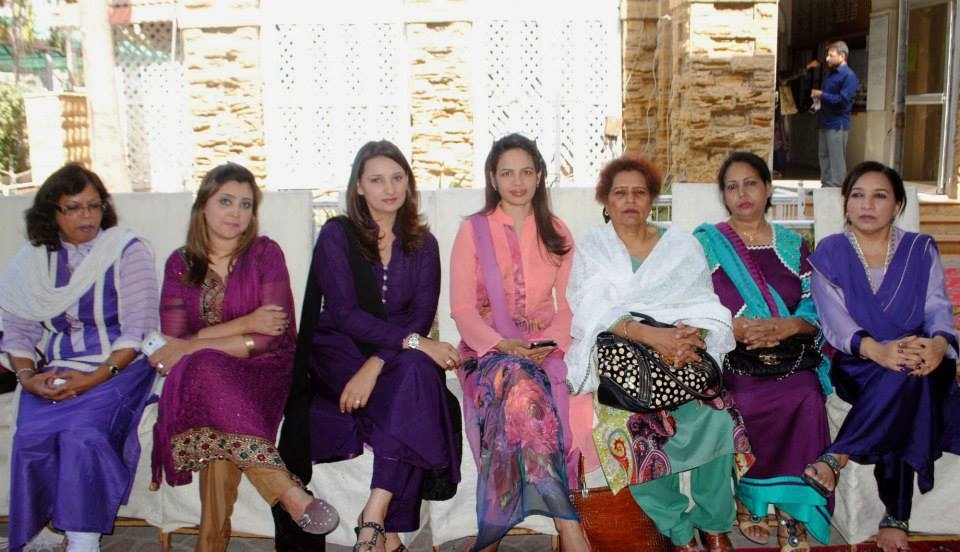 She urged all media houses to set up day care centres at their offices as, keeping in view the increasing prevalence of the nuclear family system, it was becoming very difficult for mothers to work.
Rashidi also spoke about the gender bias, stating that when men felt insecure by empowered women, their first instinct was to resort to character assassination. "Do not be disheartened. Hazrat Ayesha (RA) had to face the same troubles. We, after all, are nowhere near her status."
MPA Erum Farooqi of the MQM said, "Women parliamentarians stand with the female journalists. We always have and will support legislation for women empowerment."
PTI's Seema Zia lauded their bravery, stating, "Women journalists are very courageous. They go to places where even we are scared to enter."
Surat Thebo, an MPA of the PML-N, said, "Whenever women get together, they scare men off. Men feel that women will now rule the workforce and they will have to wash dishes and sweep the floor. My only request to them is that they should help women with the domestic chores."
Other parliamentarians, including Sharmila Farooqi, Nusrat Sehar Abbasi and Saman Jaffri, and Commissioner Shoaib Siddiqui also attended the launch ceremony. The News