Archive for the 'Target Killing in Karachi' Category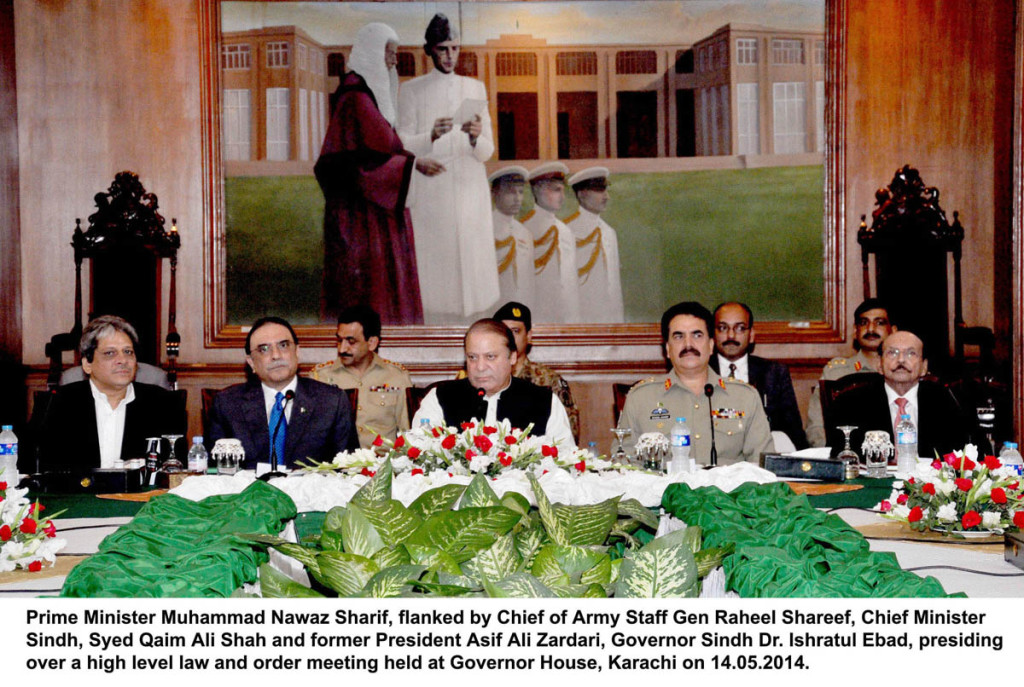 Prime Minister Muhammad Nawaz Sharif chaired a high level meeting regarding Law & Order at Karachi today. The meeting was also attended by Former President Mr. Asif Ali Zardari, Governor Sind Dr. Ishrat-ul-Ebad Khan, Chief Minister Sind Syed Qaim Ali Shah, Federal Interior Minister Chaudhry Nisar Ali Khan, Army Chief General Raheel Sharif, ANP Senator Shahi Syed, Ex-MNA MQM Syed Haider Abbas Rizvi, Secretary General Jamat-e-Islami Mr. Liaqat Baloch, DG ISI Lt. General Zaheer-ul-Islam, Corps Commander Karachi Lt. General Sajjad Ghani, Secretary to PM Mr. Javaid Aslam, Chief Secretary Sind Mr. Sajjad Saleem Hotiana, Federal Secretary Interior Mr. Shahid Khan, Federal Secreatary Law Mr. Zafar Ullah Khan, Director General Intelligence Bureau Mr. Aftab Sultan, DG Rangers Sind Maj. General Rizwan Akhtar, DG ISPR Maj. General Asim Saleem Bajwa, Acting IG Police Sind Mr. Ghulam Haider Jamali, CCPO Karachi Mr. Shahid Hayat, Commissioner Karachi Mr. Shoaib Ahmad Siddiqui and senior officers.
Prime Minister Muhammad Nawaz Sharif apprised the participants about Federal Government's efforts towards restoring peace in Karachi and reiterated that improvement in law and order should be above politics. PM further said that terrorists and criminals should be brought to justice without any  political prejudice. "We started operation in Karachi with the agreement of all political parties and stakeholders", said the Prime Minister.
Prime Minister said that Karachi holds special significance for him, being the economic hub of Pakistan. "We want cooperation of all stakeholders in Karachi and I see no one who will not want to improve the law & order situation of Karachi, therefore, a joint solution is the only option", said the Prime Minister.
Prime Minister emphasized upon capacity building of Sindh Police and appreciated acquisition of services of retired army personnel for maintaining law and order in Karachi.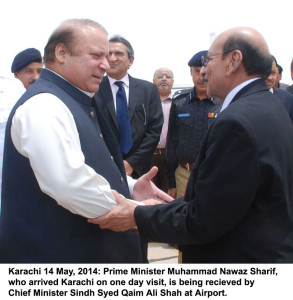 Prime Minister said that it is very natural that there will be retaliation from extremists and terrorists, but the government is prepared for that and all possible support will be provided to law enforcement agencies to counter the retaliation.
Prime Minister directed to constitute special committees to address any kind of hurdles or grievance being faced in the Karachi operation.
Prime Minister reiterated that the present government implemented Pakistan Protection Ordinance with a view to deal with the menace of terrorism and bring criminals to justice.
Federal Interior Minister Chaudhry Nisar Ali Khan briefed the meeting that state-of-the art equipment is being provided to law enforcement agencies and about Seven Hundred Thousand illegal mobile SIMS have been cancelled. He further elaborated that once 3G mobile technology is in place, we will further carry out crackdown against illegal SIMS.
Chief of the Army Staff General Raheel Sharif said that Pak Army is ready to provide any kind of support to the Federal and Provincial Governments with hundred percent honesty and sincerity. "We will give our honest opinion and assistance whenever sought from us", said the Army Chief. He also suggested that posting & transfers of Police personnel should be depoliticised and also stressed upon the need to equip them with modern equipment and resources.
Former President Mr. Asif Ali Zardari said that Sind Police needs to be equipped with resources. He further said that support from all political parties is need of the hour to bring peace in Karachi.
Chief Capital Police Officer Karachi briefed the participants that closure of illegal SIM will reduce crime by 50% and also assured that police is acting against criminals without discrimination and that there was no political pressure on Police.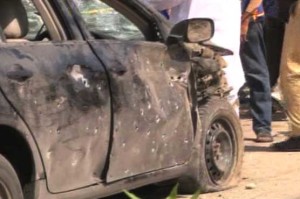 At least four people have been killed and more several others injured in a suicide blast targeting a government vehicle in Defence area of Karachi, Dunya News reported on Friday.
The incident took place in Gizri area of Defence Phase 4.
Several nearby vehicles and buildings were damaged due to the huge blast.
The injured were shifted to Jinnah Hospital where some of them are said to be in critical condition.
Police and Rangers personnel have arrived at the scene and cordoned off the area.
Geo News senior anchor and renowned Pakistani journalist Hamid Mir was injured in a targeted-shooting here on Saturday evening.
Hamid Mir was heading to the Geo News office when his car was targeted by gunmen as it left the Jinnah International Airport on Shara-e-Faisal near the Natha Khan Bridge. The senior anchor was shot three times and was rushed to a private hospital where he underwent an operation.
Dr. Aamir Liaquat Hussain told Geo News that the operation was successful and prayed for Hamid Mir's quick recovery.
Gunmen in a car and riding two motorcycles opened fire on Hamid Mir's car a few kilometers away from the Airport police station.
Karachi police chief, Shahid Hayat said Hamid Mir has been shot thrice; one bullet has pierced his intestine while the other two have wounded his leg and pelvic area. Hayat added that a committee had been formed to probe the attack on Hamid Mir.
Geo News Islamabad bureau chief, Rana Jawad said Hamid Mir spoke to him after the attack and said the gunmen followed him and continued to fire on the car.
Speaking to Geo News the driver of the car said a single attacker had opened fire and targeted Hamid Mir.
The attack has been condemned by politicians including Prime Minister Nawaz Sharif. Following the attack journalists held protests in several cities of the country and called for an inquiry.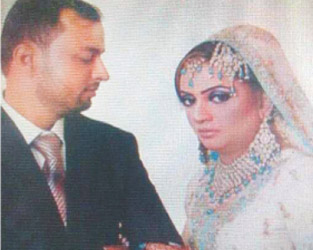 A domestic dispute between husband and wife turned into a sorrowful incident when a Rangers official fired on the couple, killing the man and injuring the wife.
The incident occurred at Nagan Chawrangi. The couple was fighting on the road over a domestic dispute when suddenly a Rangers' official present there opened fire on the man. According to reports the man was seriously injured and died while being shifted to hospital. The couple had married just four months ago, but their relationship had deteriorated.
The wife also received injuries; however, she is under treatment. The incident sparked severe protests in the area, with protesters pelting Rangers and police vehicles with stones.
They destroyed two motorbikes of a law enforcement agency. The protesters expressed severe anger over the killing of the man by Rangers official. A rescue team shifted the dead body and the injured woman to the Abbasi Shaheed Hospital. According to DIG East initial investigations indicate that the Rangers' official fired at the couple accidentally. "We have opened investigations into the incident… It is yet premature to reach a conclusion," he said. Daily Times
Atleast Eleven policemen were killed and more than 40 injured when a suicide blast occurred near a police vehicle in Razzaqabad area of Karachi Thursday morning, Geo News reported.
According to the initial report, the incident occurred in Razzakabad near the police training center where eleven cops were martyred and over forty injured when a suicide blast took place near a police bus early today morning.
SSP Malir Rao Anwaar told that evidences indicate that a suicide bomber had rammed the explosives-laden vehicle into the police van carrying more than 50 personnel who were on their way to discharge their duties at Bilawal House. However, police is investigating the matter to ascertain the facts.
Security forces cordoned off the area and sealed the blast site.
The dead bodies and injured were shifted to Jinnah Hospital for medico-legal formalities and treatment respectively where six policemen were said to be in critical condition, according to the hospital sources.
Traffic on National Highway was suspended after the security forces closed the main artery for any sort of commuting. (The News)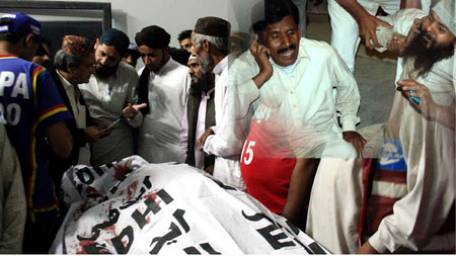 At least nine people were killed and 10 others injured as gunmen fired on a shrine in the city on Sunday. Police and rescue sources said some six armed men on motorcycles came to the shrine of Meharban Ali Shah alias Jalali Baba in Baldia Town and fired on the people, who were attending a mehfil-e-sama. The attackers, who were wearing crash helmets, fled after the shooting.
The bodies and injured were shifted to the Civil Hospital Karachi (CHK). The deceased included a two-year-old girl. The injured included a women, said hospital sources, which added that the condition of three of the injured was critical. Police said the attackers also hurled a grenade before firing at the people with automatic weapons. They said the shrine belonged to a retired DSP. Heavy contingent of police and Rangers reached the shrine and cordoned off nearby areas after the attack. No group claimed responsibility for the attack. A case has been registered against the unidentified attackers and police have started investigation. Three persons were killed and several others injured in a fresh spate of violence in different areas of the city on Saturday. Security personnel also arrested 23 suspects, including two foreigners, during a search operation and recovered weapons and drugs. (Daily Times)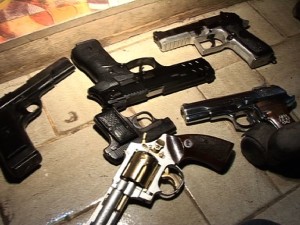 Gujjar Arts Production is going to make a film on #Karachi situation named Gang War, said CEO Gujjar Arts Production and the Director of film Shahzad Ahmeed Ghujjar at a press conference at Karachi Press Club (KPC) on Monday.
He said that they are going to make a film on the current situation of metropolitan city, Karachi. He said that the film will be based not on any organization, linguistic group and on area, but it will describe the overall situation of whole country because nowadays every area of country is affected from this war. He said that this film is based on the theme of national unity.
He said that the film would be shot in ten places including Karachi and with a cost of Rs 30,000,000. He said that producer of the film is Riaz Gujjar and it is written by Saleem Murrad. Its playback singer Rahat Fateh Ali Khan and the music directed by Ali Afzal.
The director of the film said that the shooting will start within ten days and the movie will be released in six months. He said that they will introduce new artists from television and film industry in this film.
Sindh High Court's division bench headed by Justice Sajjad Ali Shah dismissed the appeal of accused Mohammad Baksh, car driver of Afreen Baig against his conviction by a sessions court. Baksh was found guilty of killing of Afreen Baig in October 2004 in her DHA residence. The trial court had acquitted Farooq Mengal, her husband and co-accused in the case, from the charge of masterminding her murder.
According to the prosecution, her driver Mohammad Baksh and his wife Zahida killed TV Artist and producer Afreen Baig. Her husband Farooq Mengal was alleged to have masterminded the murder of Ms Baig.
However, the seesions court in its judgment announced on June 22, 2009 said that Farooq Mengal was charged with having masterminded the murder of his wife because he was annoyed over her alleged relationship with her ex-husband and had an eye on the wealth of the deceased, but the prosecution had failed to establish that charge against him.
Protests erupted this morning after the arrest of former member of Sindh Assembly Nadeem Hashmi in the murder case of 2 police personnel.
Violence erupted in various cities of Sindh today [Wednesday] after the arrest of former member Sindh Assembly Nadeem Hashmi belonging to Muttahida Qaumi Movement in the murder case of two police personnel.
According to Radio pakistan people took to streets and forced the traders and schools to close down businesses in the city.
The transport alliance has also announced to keep the transport off the roads in the city today.
Incidents of violence have been reported from Hyderabad' Sukkur' Mirpur Khas and Tandu Allah Yar.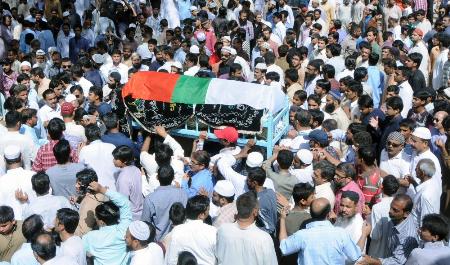 Former organizer of APMSO Sector B Syed Shiraz Azfar was laid to rest today in Shuhada Graveyard in Yasinabad. He was gunned down by armed terrorist near Payala Hotel. The funeral prayer was offered in Jama Masjid Gulberg FB Area Block 12 after the Friday prayer. Members of the MQM Co-ordination Committee Waseem Aftab, Wasay Jalil, Tauseef Khanzada and Saif Yar Khan, office-bearers of the Karachi Tanzeemi Committee, APMSO and various wings of the MQM working at Nine Zero, former MNAs, MPAs and a large number of workers belonging to the FB Area Sector attended the funeral.
The funeral prayer of the personnel of the City Warden Naseerullah was offered in Adil Jafri Shaheed Ground. He was also buried in the Shuhada Graveyard. Members of the Co-ordination Committee and office-bearers of the Karachi Tanzeemi Committee of the MQM attended the funeral of Naseerullah.