Archive for the 'Karachi Politics' Category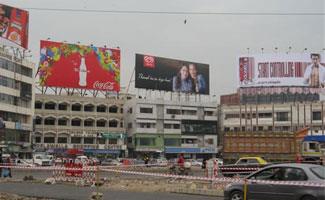 | | |
| --- | --- |
| KMC Administrator Karachi Shoaib Ahmed Siddiqui said the campaign of removal of illegal hoardings in the city was underway and will continue till the removal of all such boards. He also directed that the removal of illegal hoardings be speed up further. Inspecting the removal of illegal hoardings at Karsaz Road and near Hassan Square he instructed local taxes department to remove all those advertisements for which the concerned parties have not paid the advertisement fee. He said no illegal or unlawful practice will be tolerated in the city. He also directed all KMC departments to ensure performing their duties in accordance to the rules and regulations. | |
| | |
Karachi Water and Sewerage Board (KW&SB) Managing Director Syed Hashim Raza Zaidi has directed the officer in-charge of Hydrants and Tankers Operation that nearest water hydrants of KW&SB in the event of any fire incident in the city automatically and instantly be placed at the disposal of Fire Brigade Department of KMC or any other firefighting agency as an emergency measure. According to a statement issued on Tuesday, the fire tenders of KMC, KPT, DHA or any other agency could be filled or refilled from nearby hydrants in the affected area of the city for firefighting and protection of human lives or loss of property. Other than any emergency filling, fire tenders of any agency will not be allowed filling adding that strict action will be taken against those officials who failed to comply with the instructions.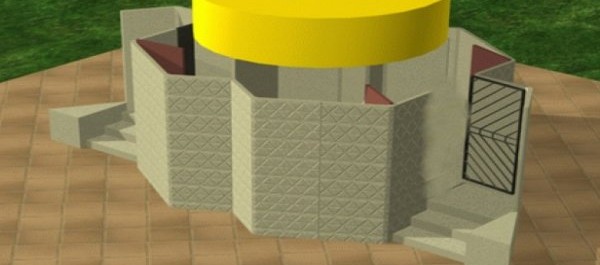 The commissioner office has planned to build 200 public toilets in the government offices. According to a news source, the commissioner office has taken this initiative on orders of the Sindh High Court.
Commissioner Shoaib Ahmed Siddiqui told reporters that the public toilets would be built at different locations in the city and old toilets would be revamped. The news source reported further that the Karachi Water & Sewerage Board and K-Electric would provide free of cost water and electricity to the public toilets.
Brian Heath assumed charge as the U.S. Consul General in Karachi on August 20, 2014. A career member of the Senior Foreign Service, Mr. Heath most recently served as the Minister-Counselor for Management Affairs at the U.S. Mission to the United Nations in New York.
Since joining the Foreign Service in 1998, Mr. Heath's overseas assignments have included Director of the U.S. Regional Embassy Office in Al Hillah, Iraq; Consul General at the U.S. Consulate in Lahore, Pakistan; Management Officer at the U.S. Consulate General in Karachi, Pakistan; General Services and Human Resources officers at the U.S. Embassy in Berlin, Germany; and Consular Officer at the U.S. Consulate General in Mumbai (Bombay), India.
In the course of several assignments in Washington, DC, Mr. Heath has studied at the National War College; worked as a Senior Advisor in the Under Secretary of State for Management's Office of Management Policy; and served as a Special Assistant to the Assistant Secretary of State for Administration. Mr. Heath is the recipient of multiple Department of State Superior and Meritorious honor awards.
Mr. Heath graduated from Fordham University with a Bachelor's degree in political economics, earned a law degree from Rutgers University, and received his Master's degree in national security studies from the National War College. He is a member of the New Jersey and New York State bars.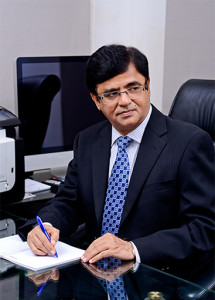 BOL, Pakistan's mew media group, has welcomed on-board globally acclaimed journalist Kamran Khan as the group's President and Editor-in-Chief. This is a major milestone for BOL which has meticulously acquired a dream-team of highly experienced professionals with decades of experience to their credit.
Mr. Kamran Khan is one of the most respected, experienced and celebrated professionals of Pakistani journalism with unparalleled fan following in Pakistan and abroad. His experience with more than 3000 fantastic investigative news stories and around 3000 daily news and current affairs shows make Mr. Kamran Khan, in many ways, Pakistan's most distinguished journalist with global recognition.
His legendary daily news and current affairs show "Aaj Kamran Khan Kay Saath (AKKKS)" gained incomparable heights in viewer ship, ratings and above all, in credibility. From The New York Times to Gallup surveys in Pakistan, viewers found AKKKS as most watched and most credible news and current affairs show in Pakistan. Before that, his 25 years in print journalism had earned Mr. Kamran Khan a celebrity status as Pakistan's most famous investigative journalist.
Mr. Kamran Khan's decision to join BOL is a momentous honor and privilege for BOL. His candid journalistic style and high professional standards symbolize the ideals of modern journalism and have brought him well-deserved international acclaim. He has been known to leave a trail of leaders in his wake and BOLwalas stand to benefit immensely from his diverse expertise.
"We are at the brink of revolutionizing the country's media industry," said Mr. Kamran Khan, while commenting on his decision to join BOL. "This will herald the beginning of not just a better and stronger media industry but also a new Pakistan."
BOL has been launched by Axact, world's leading IT company, with the objective of revolutionizing the country's media industry. The industry has been incredibly supportive and welcoming with a number of leading media professionals joining BOL to help realize the channel's long-term vision and to spread the message of SEDAxact.
BOL senior leadership, including Chairman and CEO Shoaib Ahmed Shaikh, are immensely delighted to welcome Mr. Kamran Khan to the fold. "We have promised Pakistan a revolution and we do not default on our promises," said Mr. Shoaib Shaikh, adding that Mr. Kamran Khan's decision to join BOL represents the beginning of the revolution. (PR)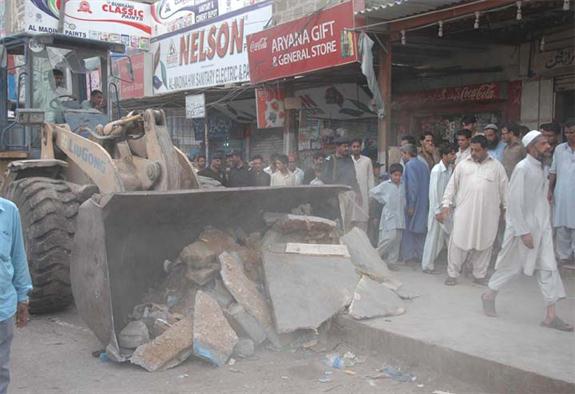 Anti Encroachments squad of KMC took action in Shanti Nagar and removed many encroachments including jhuggi hotels, patharas, sugarcane juice machine and push carts during an operation in the presence of police and rangers. The operation was supervised by the Director Anti Encroachments Mazhar Khan along with the Assistant Commissioner East Mushtaq Shaikh and other officers. On this occasion he said Pak Navy offices were also located in this area and the maintenance of traffic flow on surrounding roads was affected due to the presence of encroachments and illegally expanded pavement alongside the main road.
These encroachments were creating hurdles and other problems for citizens and it was necessary to take action against these encroachments. He said the ongoing campaign against encroachments was going on successfully in the city under the directive of Administrator Karachi Rauf Akhtar Farooqui in which the district administration and citizens have also cooperated.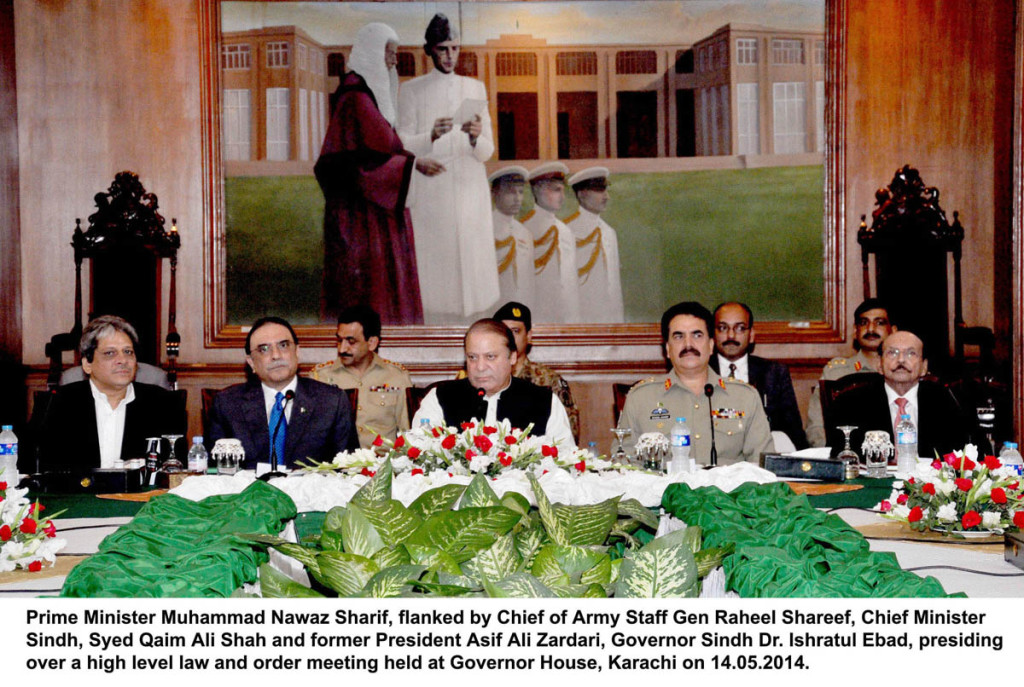 Prime Minister Muhammad Nawaz Sharif chaired a high level meeting regarding Law & Order at Karachi today. The meeting was also attended by Former President Mr. Asif Ali Zardari, Governor Sind Dr. Ishrat-ul-Ebad Khan, Chief Minister Sind Syed Qaim Ali Shah, Federal Interior Minister Chaudhry Nisar Ali Khan, Army Chief General Raheel Sharif, ANP Senator Shahi Syed, Ex-MNA MQM Syed Haider Abbas Rizvi, Secretary General Jamat-e-Islami Mr. Liaqat Baloch, DG ISI Lt. General Zaheer-ul-Islam, Corps Commander Karachi Lt. General Sajjad Ghani, Secretary to PM Mr. Javaid Aslam, Chief Secretary Sind Mr. Sajjad Saleem Hotiana, Federal Secretary Interior Mr. Shahid Khan, Federal Secreatary Law Mr. Zafar Ullah Khan, Director General Intelligence Bureau Mr. Aftab Sultan, DG Rangers Sind Maj. General Rizwan Akhtar, DG ISPR Maj. General Asim Saleem Bajwa, Acting IG Police Sind Mr. Ghulam Haider Jamali, CCPO Karachi Mr. Shahid Hayat, Commissioner Karachi Mr. Shoaib Ahmad Siddiqui and senior officers.
Prime Minister Muhammad Nawaz Sharif apprised the participants about Federal Government's efforts towards restoring peace in Karachi and reiterated that improvement in law and order should be above politics. PM further said that terrorists and criminals should be brought to justice without any  political prejudice. "We started operation in Karachi with the agreement of all political parties and stakeholders", said the Prime Minister.
Prime Minister said that Karachi holds special significance for him, being the economic hub of Pakistan. "We want cooperation of all stakeholders in Karachi and I see no one who will not want to improve the law & order situation of Karachi, therefore, a joint solution is the only option", said the Prime Minister.
Prime Minister emphasized upon capacity building of Sindh Police and appreciated acquisition of services of retired army personnel for maintaining law and order in Karachi.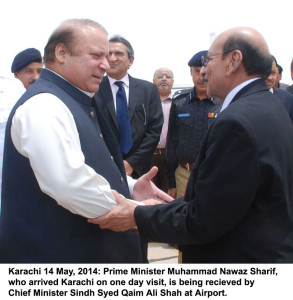 Prime Minister said that it is very natural that there will be retaliation from extremists and terrorists, but the government is prepared for that and all possible support will be provided to law enforcement agencies to counter the retaliation.
Prime Minister directed to constitute special committees to address any kind of hurdles or grievance being faced in the Karachi operation.
Prime Minister reiterated that the present government implemented Pakistan Protection Ordinance with a view to deal with the menace of terrorism and bring criminals to justice.
Federal Interior Minister Chaudhry Nisar Ali Khan briefed the meeting that state-of-the art equipment is being provided to law enforcement agencies and about Seven Hundred Thousand illegal mobile SIMS have been cancelled. He further elaborated that once 3G mobile technology is in place, we will further carry out crackdown against illegal SIMS.
Chief of the Army Staff General Raheel Sharif said that Pak Army is ready to provide any kind of support to the Federal and Provincial Governments with hundred percent honesty and sincerity. "We will give our honest opinion and assistance whenever sought from us", said the Army Chief. He also suggested that posting & transfers of Police personnel should be depoliticised and also stressed upon the need to equip them with modern equipment and resources.
Former President Mr. Asif Ali Zardari said that Sind Police needs to be equipped with resources. He further said that support from all political parties is need of the hour to bring peace in Karachi.
Chief Capital Police Officer Karachi briefed the participants that closure of illegal SIM will reduce crime by 50% and also assured that police is acting against criminals without discrimination and that there was no political pressure on Police.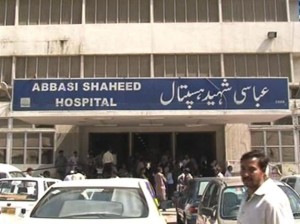 Dr Nadeem Rajput, Medical Superintendent of Abbasi Shaheed Hospital and five other doctors were suspended on Thursday on negligence of duty, which led to the death of a patient.
According to details 35-year Shakil Ahmad was admitted to the hospital for treatment of appendix. He was not attended properly and resulted in his death. Relatives and friends of the patient while protesting broke furniture and tortured some members of the hospital staff.
"An inquiry has been initiated," said Karachi Administrator Rauf Akhtar Farooqui. "This is the first time that a patient has died due to negligence of the doctors and the people responded by attacking the hospital." He added that such occurences were unacceptable.
According to Farooqui, Medical Superintendent Dr Nadeem Rajput and other doctors had reached the hospital when the staff made phone calls to them. He said that a committee will submit its report about the incident while a charge-sheet will be also be issued to those who were responsible.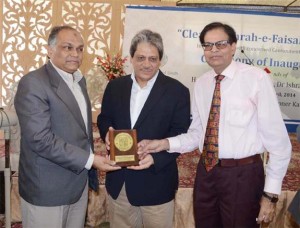 Governor of Sindh Dr. Ishrat-ul-Ebad Khan said better results could not be achieved in public service works without making inter-coordination strong and effective between different organizations. This coordination was needed most for working on various uplift projects in Karachi. If we start working together it would not only increase the level of mutual confidence and establish fine working relations among the organizations but also make it easy to provide better services to people. He expressed these views while addressing as chief guest in the launching of cleanliness drive of Sharae-Faisal held at the Frere Hall on Sunday. Commissioner Karachi Shoaib Ahmed Siddiqui, Administrator Karachi Rauf Akhtar Farooqui and Deputy Commissioner South Mustafa Jamal Qazi also spoke on this occasion whereas the program was attended by the Metropolitan Commissioner Samiuddin Siddiqui, deputy commissioners of different districts, administrators, various departmental heads and a good number of prominent citizens. Governor Sindh said besides improving the law and order conditions, development works were also being carried out in the city. Citizens would feel refreshing change with the solution of their problems hence, all civic organizations should work in coordination. He said work on bringing gradual improvement on the major city corridors was begun now and before this I.I Chundrigar was also made better due to its importance for the city and now security arrangements on this Wall Street of the city were being made under a comprehensive plan.
Governor Ishrat-ul-Ebad said he felt pleasure on that the Commissioner of Karachi and the Administrator Karachi has already done lot of home work for the beautification of Sharae Faisal and other organizations were also fully cooperating in this connection. He said that he prayed for joint working of all city organizations for its betterment. About 10 Lac saplings were planted in past and the city's environment will improve further with the addition of 3 Lac saplings more in Karachi.
Earlier Commissioner Karachi Shoaib Ahmed Siddiqui in his welcome address said the city administration was taking all civic bodies on board in the beautification of the city. We have a passion working for Governor Sindh's vision of green and peaceful Karachi. About 3 Lac saplings will be planted in this campaign and we have this desire that this work for the cleanliness and beautification of city corridors extend to all areas of the city. He said the Administrator and Metropolitan Commissioner of Karachi have also fully supported this work and we all will continue to work with this spirit for making city clean and green.
Administrator Karachi Rauf Akhtar Farooqui said the projects which were completed in Karachi with the patronage and special attention of the Governor of Sindh Dr. Ishrat-ul-Ebad Khan was not only an example but also a milestone for future. He said KMC has completed lot of development projects and work on many projects still going on which will be completed soon. Though KMC was not directly responsible for the cleanliness of whole city as the city was divided into many organizations which have their own land control and these bodies were charging for municipal tax in these areas, therefore it was their duty to provide municipal services in these areas. However the Municipal Services Department of KMC was working under mutual coordination of district municipal corporations. He said KMC was responsible for the maintenance of city's major corridors and the big parks, therefore it has chosen Sharae Faisal for the beautification of city in the first phase. Besides carrying out cleanliness work on this central corridor of the city about 25 thousand evergreen saplings were also being planted alongside it. Deputy Commissioner South Mustafa Jamal Qazi thanked the Governor of Sindh Dr. Ishrat-ul-Ebad Khan and other notables for attending this program and expressed resolve that we all will work together for the beauty and cleanliness of the city. In the end Commissioner Karachi Shoaib Ahmed Siddiqui and Administrator Karachi Rauf Akhtar Farooqui presented a souvenir to the Governor of Sindh Dr.Ishrat-ul-Ebad Khan.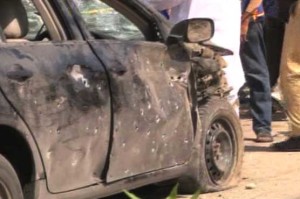 At least four people have been killed and more several others injured in a suicide blast targeting a government vehicle in Defence area of Karachi, Dunya News reported on Friday.
The incident took place in Gizri area of Defence Phase 4.
Several nearby vehicles and buildings were damaged due to the huge blast.
The injured were shifted to Jinnah Hospital where some of them are said to be in critical condition.
Police and Rangers personnel have arrived at the scene and cordoned off the area.