Archive for the 'Karachi Crimes' Category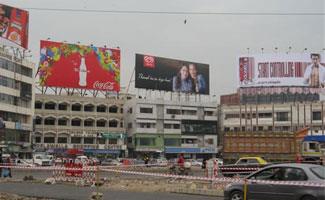 | | |
| --- | --- |
| KMC Administrator Karachi Shoaib Ahmed Siddiqui said the campaign of removal of illegal hoardings in the city was underway and will continue till the removal of all such boards. He also directed that the removal of illegal hoardings be speed up further. Inspecting the removal of illegal hoardings at Karsaz Road and near Hassan Square he instructed local taxes department to remove all those advertisements for which the concerned parties have not paid the advertisement fee. He said no illegal or unlawful practice will be tolerated in the city. He also directed all KMC departments to ensure performing their duties in accordance to the rules and regulations. | |
| | |
Karachi Water and Sewerage Board (KW&SB) Managing Director Syed Hashim Raza Zaidi has directed the officer in-charge of Hydrants and Tankers Operation that nearest water hydrants of KW&SB in the event of any fire incident in the city automatically and instantly be placed at the disposal of Fire Brigade Department of KMC or any other firefighting agency as an emergency measure. According to a statement issued on Tuesday, the fire tenders of KMC, KPT, DHA or any other agency could be filled or refilled from nearby hydrants in the affected area of the city for firefighting and protection of human lives or loss of property. Other than any emergency filling, fire tenders of any agency will not be allowed filling adding that strict action will be taken against those officials who failed to comply with the instructions.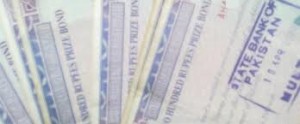 The State Bank of Pakistan (SBP) Tuesday hinted that the police were responsible for the disappearance of thousands of prize bonds on May 8 while being transported from Lahore to this metropolis.
Quoting the Federal Treasury Rules, the SBP said the Lahore remitting office was to hand over the treasure to the police escort.
"It moves in their custody till it is received at the Karachi destination office," said the bank in a statement issued Tuesday.
The bank clarified that some 20,000 missing pieces of prize bond forms of Rs 1,500 bearing serial numbers AW070001 to AW090000 were missing.
A consignment of un-stamped prize bond forms was dispatched by SBP Lahore Office for receipt at the State Bank's office here via 16 Down Karachi Express, it said.
"The train departure from Lahore was delayed by approximately 12 hours and reached Karachi Cantt behind the schedule," added the bank.
It said that the brake railway car carrying the treasure was unlocked at Karachi in the presence of all concerned including police escort and to their dismay they found one box out of the 10 was missing.
On further investigation, it transpired that one of the panels of the brake railway car was found to be tampered and broken into.
The SBP has issued 'Stop Payment' instruction to all SBP BSC Offices, commercial banks and Central Directorate of National Savings (CDNS), in respect of the missing un-stamped prize bond forms.
Moreover, CDNS has been requested to notify withdrawal of above serial numbers from circulation with immediate effect through the Finance Division, Ministry of Finance, by issuing gazette notification in exercise of the powers conferred by Rule 4(1&2) of the Prize Bond Rules 1999, the bank said.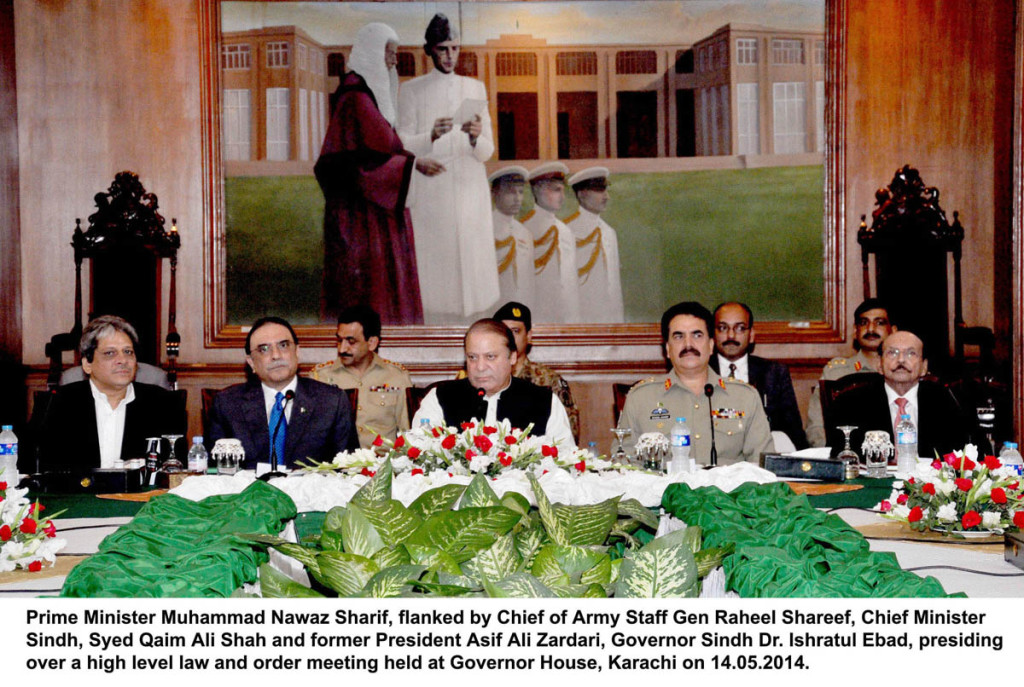 Prime Minister Muhammad Nawaz Sharif chaired a high level meeting regarding Law & Order at Karachi today. The meeting was also attended by Former President Mr. Asif Ali Zardari, Governor Sind Dr. Ishrat-ul-Ebad Khan, Chief Minister Sind Syed Qaim Ali Shah, Federal Interior Minister Chaudhry Nisar Ali Khan, Army Chief General Raheel Sharif, ANP Senator Shahi Syed, Ex-MNA MQM Syed Haider Abbas Rizvi, Secretary General Jamat-e-Islami Mr. Liaqat Baloch, DG ISI Lt. General Zaheer-ul-Islam, Corps Commander Karachi Lt. General Sajjad Ghani, Secretary to PM Mr. Javaid Aslam, Chief Secretary Sind Mr. Sajjad Saleem Hotiana, Federal Secretary Interior Mr. Shahid Khan, Federal Secreatary Law Mr. Zafar Ullah Khan, Director General Intelligence Bureau Mr. Aftab Sultan, DG Rangers Sind Maj. General Rizwan Akhtar, DG ISPR Maj. General Asim Saleem Bajwa, Acting IG Police Sind Mr. Ghulam Haider Jamali, CCPO Karachi Mr. Shahid Hayat, Commissioner Karachi Mr. Shoaib Ahmad Siddiqui and senior officers.
Prime Minister Muhammad Nawaz Sharif apprised the participants about Federal Government's efforts towards restoring peace in Karachi and reiterated that improvement in law and order should be above politics. PM further said that terrorists and criminals should be brought to justice without any  political prejudice. "We started operation in Karachi with the agreement of all political parties and stakeholders", said the Prime Minister.
Prime Minister said that Karachi holds special significance for him, being the economic hub of Pakistan. "We want cooperation of all stakeholders in Karachi and I see no one who will not want to improve the law & order situation of Karachi, therefore, a joint solution is the only option", said the Prime Minister.
Prime Minister emphasized upon capacity building of Sindh Police and appreciated acquisition of services of retired army personnel for maintaining law and order in Karachi.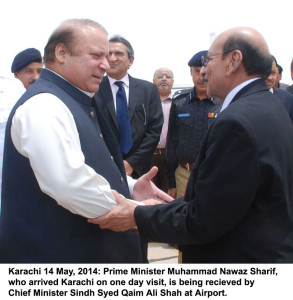 Prime Minister said that it is very natural that there will be retaliation from extremists and terrorists, but the government is prepared for that and all possible support will be provided to law enforcement agencies to counter the retaliation.
Prime Minister directed to constitute special committees to address any kind of hurdles or grievance being faced in the Karachi operation.
Prime Minister reiterated that the present government implemented Pakistan Protection Ordinance with a view to deal with the menace of terrorism and bring criminals to justice.
Federal Interior Minister Chaudhry Nisar Ali Khan briefed the meeting that state-of-the art equipment is being provided to law enforcement agencies and about Seven Hundred Thousand illegal mobile SIMS have been cancelled. He further elaborated that once 3G mobile technology is in place, we will further carry out crackdown against illegal SIMS.
Chief of the Army Staff General Raheel Sharif said that Pak Army is ready to provide any kind of support to the Federal and Provincial Governments with hundred percent honesty and sincerity. "We will give our honest opinion and assistance whenever sought from us", said the Army Chief. He also suggested that posting & transfers of Police personnel should be depoliticised and also stressed upon the need to equip them with modern equipment and resources.
Former President Mr. Asif Ali Zardari said that Sind Police needs to be equipped with resources. He further said that support from all political parties is need of the hour to bring peace in Karachi.
Chief Capital Police Officer Karachi briefed the participants that closure of illegal SIM will reduce crime by 50% and also assured that police is acting against criminals without discrimination and that there was no political pressure on Police.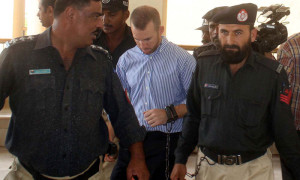 Pakistani and US officials said that the Federal Bureau of Investigation (FBI) agent, who was caught yesterday carrying bullets and a knife by security officials at the Jinnah International Airport, is being held under anti-terrorism charges in Pakistan, according to a Washington Post report.
The suspect was produced in a local court on Tuesday on the charges involving violation of local anti-terrorism laws that proscribed carrying arms and ammunition on a plane.
The judge in his ruling of the case said that the suspect should remain in custody of security officials until Saturday so the issue could be further probed.
The US officials confirmed that the agent was temporarily in Pakistan to help the government investigate corruption.
The officials requested withholding of the agent's name, as according to them the issue was sensitive in nature.
It was also contended by the US officials that the agent had forgotten a loaded gun magazine in his luggage and wasn't 'armed'.
Spokeswoman for the US Embassy in Islamabad, Meghan Gregonis said that the US officials were closely coordinating with the Pakistani authorities to solve the issue.
The US citizen, identified as Joel Cox Eugene, had been carrying 15 bullets of 9mm calibre along with a magazine when Airport Security Force officials checked him. He was going to Islamabad by a PIA flight (PK 308). DAWN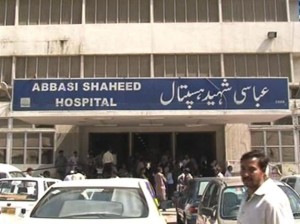 Dr Nadeem Rajput, Medical Superintendent of Abbasi Shaheed Hospital and five other doctors were suspended on Thursday on negligence of duty, which led to the death of a patient.
According to details 35-year Shakil Ahmad was admitted to the hospital for treatment of appendix. He was not attended properly and resulted in his death. Relatives and friends of the patient while protesting broke furniture and tortured some members of the hospital staff.
"An inquiry has been initiated," said Karachi Administrator Rauf Akhtar Farooqui. "This is the first time that a patient has died due to negligence of the doctors and the people responded by attacking the hospital." He added that such occurences were unacceptable.
According to Farooqui, Medical Superintendent Dr Nadeem Rajput and other doctors had reached the hospital when the staff made phone calls to them. He said that a committee will submit its report about the incident while a charge-sheet will be also be issued to those who were responsible.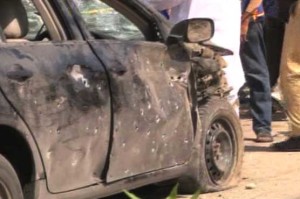 At least four people have been killed and more several others injured in a suicide blast targeting a government vehicle in Defence area of Karachi, Dunya News reported on Friday.
The incident took place in Gizri area of Defence Phase 4.
Several nearby vehicles and buildings were damaged due to the huge blast.
The injured were shifted to Jinnah Hospital where some of them are said to be in critical condition.
Police and Rangers personnel have arrived at the scene and cordoned off the area.
Geo News senior anchor and renowned Pakistani journalist Hamid Mir was injured in a targeted-shooting here on Saturday evening.
Hamid Mir was heading to the Geo News office when his car was targeted by gunmen as it left the Jinnah International Airport on Shara-e-Faisal near the Natha Khan Bridge. The senior anchor was shot three times and was rushed to a private hospital where he underwent an operation.
Dr. Aamir Liaquat Hussain told Geo News that the operation was successful and prayed for Hamid Mir's quick recovery.
Gunmen in a car and riding two motorcycles opened fire on Hamid Mir's car a few kilometers away from the Airport police station.
Karachi police chief, Shahid Hayat said Hamid Mir has been shot thrice; one bullet has pierced his intestine while the other two have wounded his leg and pelvic area. Hayat added that a committee had been formed to probe the attack on Hamid Mir.
Geo News Islamabad bureau chief, Rana Jawad said Hamid Mir spoke to him after the attack and said the gunmen followed him and continued to fire on the car.
Speaking to Geo News the driver of the car said a single attacker had opened fire and targeted Hamid Mir.
The attack has been condemned by politicians including Prime Minister Nawaz Sharif. Following the attack journalists held protests in several cities of the country and called for an inquiry.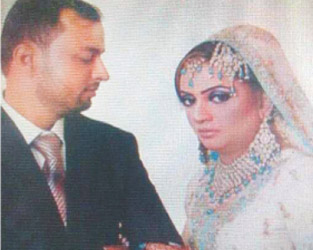 A domestic dispute between husband and wife turned into a sorrowful incident when a Rangers official fired on the couple, killing the man and injuring the wife.
The incident occurred at Nagan Chawrangi. The couple was fighting on the road over a domestic dispute when suddenly a Rangers' official present there opened fire on the man. According to reports the man was seriously injured and died while being shifted to hospital. The couple had married just four months ago, but their relationship had deteriorated.
The wife also received injuries; however, she is under treatment. The incident sparked severe protests in the area, with protesters pelting Rangers and police vehicles with stones.
They destroyed two motorbikes of a law enforcement agency. The protesters expressed severe anger over the killing of the man by Rangers official. A rescue team shifted the dead body and the injured woman to the Abbasi Shaheed Hospital. According to DIG East initial investigations indicate that the Rangers' official fired at the couple accidentally. "We have opened investigations into the incident… It is yet premature to reach a conclusion," he said. Daily Times
Atleast Eleven policemen were killed and more than 40 injured when a suicide blast occurred near a police vehicle in Razzaqabad area of Karachi Thursday morning, Geo News reported.
According to the initial report, the incident occurred in Razzakabad near the police training center where eleven cops were martyred and over forty injured when a suicide blast took place near a police bus early today morning.
SSP Malir Rao Anwaar told that evidences indicate that a suicide bomber had rammed the explosives-laden vehicle into the police van carrying more than 50 personnel who were on their way to discharge their duties at Bilawal House. However, police is investigating the matter to ascertain the facts.
Security forces cordoned off the area and sealed the blast site.
The dead bodies and injured were shifted to Jinnah Hospital for medico-legal formalities and treatment respectively where six policemen were said to be in critical condition, according to the hospital sources.
Traffic on National Highway was suspended after the security forces closed the main artery for any sort of commuting. (The News)