Brian Heath assumed charge as the U.S. Consul General in Karachi on August 20, 2014. A career member of the Senior Foreign Service, Mr. Heath most recently served as the Minister-Counselor for Management Affairs at the U.S. Mission to the United Nations in New York.
Since joining the Foreign Service in 1998, Mr. Heath's overseas assignments have included Director of the U.S. Regional Embassy Office in Al Hillah, Iraq; Consul General at the U.S. Consulate in Lahore, Pakistan; Management Officer at the U.S. Consulate General in Karachi, Pakistan; General Services and Human Resources officers at the U.S. Embassy in Berlin, Germany; and Consular Officer at the U.S. Consulate General in Mumbai (Bombay), India.
In the course of several assignments in Washington, DC, Mr. Heath has studied at the National War College; worked as a Senior Advisor in the Under Secretary of State for Management's Office of Management Policy; and served as a Special Assistant to the Assistant Secretary of State for Administration. Mr. Heath is the recipient of multiple Department of State Superior and Meritorious honor awards.
Mr. Heath graduated from Fordham University with a Bachelor's degree in political economics, earned a law degree from Rutgers University, and received his Master's degree in national security studies from the National War College. He is a member of the New Jersey and New York State bars.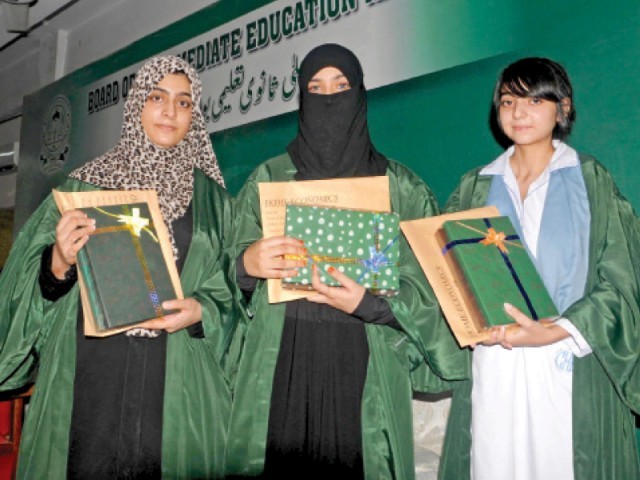 The pre-medical college results announced on Monday by the Board of Intermediate Education, Karachi (BIEK), reasserted the alarming trend of growing gender disparity in the healthcare professions. This year, only 1,603 male students will be eligible to apply to medical colleges as compared to 9,203 females this year.
According to the results announced by the education board's examinations controller, Imran Khan Chishti, a total of 19,902 students sat for the pre-medical exams, of which nearly 75% were girls. Those who managed to pass the exams were 10,833, or 54%. However, this percentage was skewed in favour of the girls since 58% of them passed the exams as compared to merely 40% of the boys. Nearly seven per cent of all students got through with A-1 grades, 16% with As, 15% with Bs, 12% with Cs and four per cent with D grades.
BIEK chairperson Anwar Ahmed Zai, while talking to The Express Tribune, expressed his concerns over the increasing ratio of girls getting into pre-medical education as compared to boys.  "This gender disparity persists even when these students join healthcare facilities after studying medicine from universities," said Prof Ahmed Zai. "The situation will pose serious issues for the country's healthcare system in the next few years."
Meanwhile, the statistics issued by the Pakistan Medical Association corroborate the concerns posed by Prof Ahmed Zai. Around three quarters of the female students of medicine abandon the field right after graduating or after marriage.